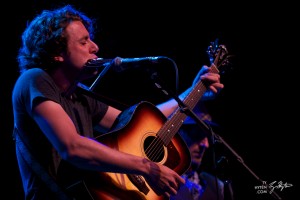 Photos by Ty Hyten
 eTown Hall, the home base of the nationally syndicated eTown radio broadcast, was the scene of yet another outstanding pair of artists last month, Joe Pug and Anais Mitchell. Neither artist is a stranger to Colorado, but seeing them on the same stage back-to-back, with interviews in the mix, made for an extra special show for no more than 200 lucky fans.
After the formalities that precede a radio taping, the evening began with Austin, Texas based singer-songwriter Joe Pug. "To meet me is to dare into the darkness…" Pug began, in his unassuming tone on "Hymn #76." With only an upright bass and second guitar player at his side he followed with "I Do My Father's Drugs."
The wonderful thing about eTown is the opportunity to see the guests get interviewed by host Nick Forster. Forster always has a way of coming to the table with poignant questions and an incredible knack for making guests feel relaxed.  Forster led discussion along the geographic and sonic path of Pug's life. Beginning in hardworking Greenbelt, Maryland, gathering some country influence in Chapel Hill, taking shape in Chicago, and most recently landing in the musical hot bed of Austin, Pug has grown a large fan base through sharing his music for free. Joe admitted that Dylan comparisons, while valid, are less than interesting. He humorously followed that his first album perhaps was a Dylan record, but after all, Dylan's first album was a Woody Guthrie album. Pug shared that his first real foot in the door in the music scene was when he was asked by Steve Earle to open a show. Shortly after, this was followed by Steve's son, Justin Townes Earle, providing the same honor. Forster ended the interview with a bit of stumper, asking Pug who he would most love to travel with, living or dead, to which Pug replied with the late Levon Helm.
After the presentation of the eCheivement award via telephone, a very pregnant Anais Mitchell and collaborator Jefferson Hamer arrived on stage. The two are currently touring in support of Child Ballads, a gorgeous collection of modern adaptations of English and Scottish folk ballads as penned by Francis James Child in the late nineteenth century. The two musicians kept their cool and even offered to play without monitors when the show was briefly slowed due to a troublesome amp, but the top-notch sound crew at eTown was able to get the show rolling as planned.
The pair opened with "Willie of Winsbury" a whimsical tale of a king whose daughter becomes pregnant much to his horror but he eventually has change of heart and offers the daughter's suitor his riches. Mitchell's tender voice is one of my favorites and its distinct timbre angelically floated along side Hamer's smooth vocals. For their second song, "Riddles Wisely Expounded," they were joined by Nick Forster on what I believe to be baritone guitar. It's hard to keep up with Nick's talents and I've come to believe that if it has strings, he can probably play it, and play it well. The traditional songs on Child Ballads were played with a finesse that that could be appreciated by a much broader audience.
During the interview the audience cheered when Nick acknowledged Hamer's onetime residency in Colorado. The pair shared the difficulty of memorizing the long poems from Child's collection and the three shared a few laughs and then the interview was followed by "Willie's Lady" with Forster on Weissenborn. They ended their set with the beautiful "Clyde Waters." Hamer's leads, Mitchell's melodies, and the harmony of the two gave me goose bumps and was my favorite song of the evening.
Joe Pug returned to the stage to played a raw "Not So Sure" with great Dobro fills, followed by the infectious "Great Despiser." He ended his set with "Hymn 101." Throughout the evening I gained a greater appreciation for Pug's music. In it's stripped down live state you can feel the conviction in his voice. I really enjoy his studio albums, but hearing him live was notably more powerful.
The evening came to a close as all eTown tapings do, with both guests and hosts collaborating on a cover. The selection for the evening was the song "Choices" as recorded by George Jones. Hamer and Pug's voices both sounded great in a country music setting and the cry of Nick Forster on pedal steel completed the package.
Joe Pug:
Energy: A-
Musicianship: B+
Sound: A+
Stage Presence: A
Set/Light Show: A
Anais Mitchell & Jefferson Hamer:
Energy: A-
Musicianship: A
Sound: A+
Stage Presence: A
Set/Light Show: A
Overall: A