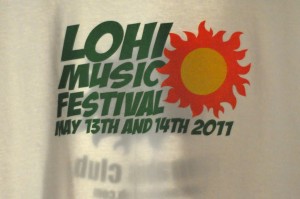 All Photos by Tim Dwenger
The first LOHI Music Festival opened it's gates on a sunny afternoon last Friday.  While the crowd was fairly sparse early in the evening, as the sun started to set, people rolled in from all directions to enjoy the funky sounds that were emanating from the typically vacant lot.  It was a very relaxed environment and all walks of life were represented in the crowd that probably topped out around 750 or so.  Aside from the great local bands, one of the nicest things about this festival was the fact that there was great local food available from Highland Tap and Burger, and beer from Colorado's own Odell's and Lefthand breweries.  The lines were fairly short and nothing was too expensive.
As we approached the festival from 32nd and Zuni, we could hear the Funky sounds of Bop Skizzum start up and when we walked into the festival they were in full swing and their horn laced sound was filling the lot.  These guys have been bumping around the Denver scene for a while now (about 10 years according to their website) and they have put together a high energy stage show that really gets people moving.  From guitarist and vocalist Andy Rok's searing guitar licks and colorful fohawk, to the powerhouse lead vocals and electrifying stage presence of Erin Jo Harris, the band took complete control of the stage and the audience for the duration of their 70 minute set.
For those are familiar with Deep Banana Blackout, Bop Skizzum's sound isn't to far removed from that funky good times band from Connecticut and it contrasted nicely with Juno What?!'s 80's Synth Funk that followed about 30 minutes after they left the stage.
Made up of the core group of Joey Porter on Keys, Dave Watts on drums (both of The Motet) and Steve Watkins also on Keys, the group was augmented by Motet bass player Garrett Sayers and together they took the happily grooving crowd on a deep space funk odyssey.  Both Porter and Watkins relied heavily on Talk Boxes to distort their keyboards and give the music a robotic flavor.  One of the highlights of the set was a great cover Eddy Grant's "Electric Avenue" that had most of the crowd singing along with Porter.
Though they did have some sound issues during Juno What?!'s headlining set, and the fans had to deal with some muddy terrain, overall I'd say that the day went very smoothly for an inaugural event of this kind.  Despite the rain that no doubt dampened spirits a bit and slowed gate sales on Saturday, this was a great little festival that will hopefully return  for an encore later this summer or next year to get some of the kinks ironed out.
Organization: A
Crowds: A
Sound: B-
Prices: A
Line-Up: B-
Venue: B
Overall: B
Music has always been a part of my life. It probably all started listening to old Grateful Dead, Peter Paul & Mary, and Simon & Garfunkel records that my parents had, but it wasn't long before they were taking me to concerts like Starship, Crosby, Stills & Nash, and Huey Lewis & The News. I got the bug to write about music after reviewing an Eric Clapton concert for a creative writing project in high school but didn't really take it up seriously until 2002. Since then I have published countless articles in The Marquee Magazine and done some work for Jambase.com, SPIN Magazine, and various other outlets. I started Listen Up Denver! as a way to share the music information that is constantly spilling out of my head with people who care. Please enjoy!