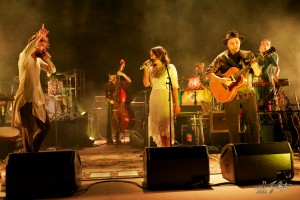 Photos by Ty Hyten
Edward Sharpe & The Magnetic Zeros and Alabama Shakes wowed a sold-out crowd on a beautiful summer night at Red Rocks Sunday evening. After a lack luster opening set from Fly Golden Eagle, the highly animated Brittany Howard of Alabama Shakes' ignited the audience with the jet engine roar of her voice bouncing off the still sunlit rocks. The soulful five-piece played a healthy set spanning an hour and covering most of 2012's Boys & Girls. The crowd response validated that these guys could have certainly held their own as the headliner for the evening.
After the lengthy break in sets required to set up and soundcheck a  12+ member band, the whole outrageously large army of musicians known as Edward Sharpe & The Magnetic  Zeros walked on stage lead by exuberant front man Alex Ebert. Within minutes of starting Alex escaped the confines of the stage and made his way into the audience, hugging, high fiving, and singing with the ecstatic audience. Ebert returned to the audience again and again throughout the evening, crazed fans reaching to touch the hem of his garment – which, by the way, was some sort of long and well worn tunic.
Highlights of the evening included "40 Day Dream," "Man on Fire,"  "That's What's Up" and "Janglin." There was playful chemistry between Ebert and lead female vocalist Jade Castrinos throughout the set. Castrinos and the rest of the band are all incredibly talented and the sound was impeccable, which is quite the feat for so many members. The crowd sang loudly and danced for every song of the set. Before playing a cover of Bill Withers' "Lean on Me,"  Ebert called for Alabama Shakes to come out, exciting the crowd. After a very awkward minute or two he informed us that they must have left – or something. Oddly enough, this wasn't the most awkward moment of the evening which came during an interlude in closing song, "Home," when Ebert entered the crowd and asked the audience if anyone had any stories to share. The resulting stories included a girl's drunken and awkward story of a man who's head was crushed by a rock while climbing, a marriage proposal that was not only missing a ring but the girlfriend was apparently several rows back. The proposal was followed with "sorry for leaving you, you're probably pissed." Storytime was then redeemed by two stories of people beating cancer and a return to the chorus of "Home," ending one of the most fun shows I've ever seen at Red Rocks. Excellent stage energy, sound, lights, and great songs made for one hell of a Sunday night.