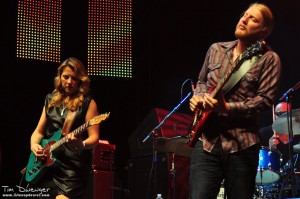 Why You Should Go: Tedeschi-Trucks Band, the Grammy winning 11-member Blues-Rock group led by husband-wife team Derek Trucks and Susan Tedeschi, have proven to be one of the hottest, most uplifting acts on the road today.  This year the Tedeschi-Trucks Band is teaming up with Grace Potter & The Nocturnals and JJ Grey and Mofro to deliver another star-studded show to Colorado.  Formed in 2010 when Derek and Susan decided to set aside their successful solo careers and join forces, Tedeschi Trucks Band has since been touring the globe – and accruing fans and accolades in the process. Fronted by Trucks' signature slide-guitar sound and Tedeschi's pliant, honey-to-husky voice, TTB delivers a hearty roots-rich musical blend of rock, blues, jazz, gospel, funk and soul.
Grace Potter & The Nocturnals' self-made 2005 debut album, Nothing but the Water, revealed a musically sophisticated young band inspired by the music of the late '60s/early '70s and fronted by a then-21-year-old dynamo whose nuanced singing, organ playing and songwriting belied her age. Their major label follow-up, 2007's This Is Somewhere, confirmed that the band had no interest in following trends but was instead in pursuit of timeless expression as it forged its identity. On 2010's self-titled third album, toughened by a half decade of nonstop roadwork, flexed their rock 'n' roll muscles and confirmed that they were in it for the long haul.
Over the course of six albums and a decade of touring, JJ Grey's grimy blend of Front Porch Soul and down-home storytelling has taken him around the world and back again. Beating the streets on nearly every continent, he and his band Mofro have sewn a continuous thread of laying-it-on-the-line shows that move folks to dance and at times to tears. JJ was raised in North Florida by a typically Southern extended family that valued hard work and self-reliance. This upbringing permeates his no nonsense approach to writing and performing and has given him an abundance of material to write about in his songs.
Venue: Red Rocks Amphitheatre, 18300 West Alameda Parkway, Morrison, CO 80465 – (720) 865-2494
Doors: 5:00 pm. Music starts at 6:30 pm.
*Price: Sold-Out – Try Craigslist
*All prices are gathered from other sources and we are not responsible for mistakes or inconsistencies. They are intended only as guidelines. Please, always call the venue if you desire the most accurate information possible.