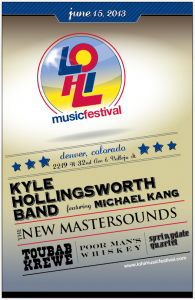 The Third Annual LoHi Music Festival is set for this Saturday, June 15th, outside Highland Tap & Burger at 32nd and Vallejo St in Denver, with some late-night music moving over to Cervantes'.  With two stages, and eight solid hours of foot-stompin', groovin' & pickin' tunes, Denver music-lovers should be prepared for for the best of what Denver's music scene has to offer.
Last week Listen Up Denver! sat down with festival co-coordinator, Justin Picard of Music Marauders, who has been working with LoHi Production's Paul Brown to put on this year's installment of the festival.  We asked Picard what the strategy was behind booking the awesome line-up for this year's festival and he told us that he and Brown had hand-selected each of these eight incredible bands.  They started with their headliners and were able to fill the remaining spots with some of their favorite local and Colorado-based bands.  Picard stressed the importance of a festival being simultaneously varietal and cohesive, something that LoHi's lineup reflects in spades, as he combined his musical tastes (Umphrey's McGee, String Cheese Incident, Jerry Garcia, Bill Monroe, John Coltrane and Miles Davis) with that of Brown's and mixed in some suggestions from their friends to create a solid vision of what LoHi should be.  The result is an experimental yet fluid array of bands coming from the East and the West, while a majority come from right here in Colorado.  So, which bands are LoHi's head honchos most looking forward to seeing?  No one in particular!  Rather, Picard said he's looking more forward to seeing what happens then and there, that on-the-spot randomness that is one of the greatest perks of seeing music performed live in the festival setting.
Recognizable for their connection to The String Cheese Incident, Kyle Hollingsworth Band naturally revolves around one of our favorite keyboardists: Kyle Hollingsworth.  Known for his fearlessness in writing and performing music, Hollingsworth has built a catalog that includes a mosaic of musical styles, with an ability to seamlessly intertwine all genres.  Over the years, Hollingsworth has collaborated with artists such as Paul Simon, Bob Weir and Bela Fleck, and has toured with jam-band pioneers, Phil Lesh and Mickey Hart, on separate occasions.  Hollingsworth's first solo album dropped in 2004, reflected his Jazz tastes, and from there his musical ingenuity has greatly expanded.  We are sure Kyle Hollingsworth Band will be a killer headliner for the festival.
The New Mastersounds came together slowly but surely, at a club night dubbed The Cooker, and would eventually be brought together from there to release a total of 14 albums, including live albums, remix albums and compilation albums.  Having collaborated and/or jammed with an seemingly endless array of artists, The New Mastersounds are widely known for bringing the true Soul of Funk.  Songs like "All I Want (Right Now)" and "Mink" prove the rumors to be true, establishing the group's reputation as a widely renowned Soul-Funk band that has brought the genre back to life – and we are lucky enough to get to see them in action!
Hailing from Asheville, NC, Toubab Krewe is known to many as an "instrumental powerhouse" that meshes rock with African traditions, with jam sensibilities, with folk and more.  Toubab Krewe encompasses a broad musical community due to their experiences touring globally.  The best thing about Toubab Krewe?  Honoring their influences, the African originators of traditional song and music, while creating a sound that is alive, original and contemporary.  You may have caught this group at one of the big national music festivals like Bonnaroo, High Sierra, Rothbury or Wakarusa in recent years. This is a band that draws inspiration from whatever, wherever, or whomever crosses their path; This being why the group is known to be so incredibly innovative and unlike anything else we've ever heard.
Euforquestra came to Fort Collins from Iowa, and made quite the impression on both the Colorado and national music scenes along the way.  With music that integrates elements of Afrobeat, Reggae, Soukous, Soca and Dub, the group has been keeping dance floors everywhere ignited and impassioned.  After releasing their first two studio albums, Euforquestra chose to give their third studio album to listeners for free, and the word about the band's unconventionally groovy dance music spread like wildfire.  It's only natural that they show up in Denver, a place with such a diverse and incredible music scene – they're yet another great original band keeping us on our dancing feet.
Poor Man's Whiskey are Northern California natives who have turned out six studio albums.  Described as a place where Bluegrass, Southern Rock and old school Jams come together, this group is more of an outlier for LoHi, and this makes their appearance on Saturday all the more exciting.  They'll be sure to bring a little pickin' to the day, a different taste that is sure to impress and represent the West Coast tremendously well.
With their second album dropping this year, we know Springdale Quartet will be bringing their A-game.  The foundation of the group's dance music is in the traditions of Jazz & Blues and their distinctively contemporary Jazz-Dance music brings with it heavy jam sensibilities.  Another group from Colorado, Springdale Quartet has performed with artists such as Soulive, Karl Denson, The New Mastersounds and Kyle Hollingsworth and will bring very cool vibes to this eclectic lineup.
With a little bit of East Coast, a little bit of Colorado and everywhere in-between, Tiger Party is somewhat of a musical-chairs-sort-of-group, which will result in awesome and unexpected surprises for Saturday's festival-goers.  Rumor has it that Motet and Juno What?! keyboard whiz Joey Porter will be sitting in on Saturday!
By the sound that they've created, you wouldn't think the Garrett Sayers Trio (GS3) was precisely that – a trio.  GS3 has created their sound to extend far beyond the stage, blending Hip-Hop, R&B, Funk and Indie within original songs and cover compositions.  The most local of the LoHi line-up, you can catch GS3 around town, like downtown at The Armoury this past Wednesday night.  The festival will be an awesome preview to the group's debut album.  Having toured with bands like The Motet and Kyle Hollingsworth, GS3 will make the perfect addition to Saturday's lineup, so get ready to groove.
With only a few days left to prepare for the this year's LoHi Music Festival, go grab your tickets before they are gone and get set for a beautiful day of music in the Colorado sun.