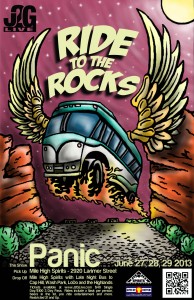 Let's face it, when Widespread Panic comes to Red Rocks, there are only two things you can do. Either you can run and "Climb To Safety," or you can throw-down with the boys, singing "Ain't Life Grand" along the way and we all know you ain't running. Let's be honest, a full weekend of partying with Panic is hard work…but we have something to lighten the load. J2G Live and Listen Up Denver! have put together a transportation package that will allow you to party with your friends while we worry about getting you to and from the show safely. All you need to do is make sure you have plenty of fun along the way.
Each day, the busses will leave from Mile High Spirits in Downtown Denver and as people gather, the tasting room will be rocking with pre-parties to get everyone ready for the ride to The Rocks.  There will be live music from members of The Whales, Fox Street Allstars and Kinetix and tastings of the fine spirits distilled in house by the guys up at Mile High. We guarantee it will be better than any "Party at Your Mama's House." After getting loosened up, we will all board air conditioned coach buses and head out to the "Proving Ground."
Just in case you need a little nip during the ride, we will be handing out souvenir flasks all filled up for your sipping pleasure. Once we get to the lot, J2G Live and Listen Up Denver! will provide plenty of beer from Breckenridge Brewery and "Chilly Water" to keep your whistle wet as the Georgia boys prepare to take the stage. After the show we will return to Mile High Spirits, where you can jump on our late night bus that will make stops in Highlands, Capitol Hill, Wash Park, and Lodo so you can head home and start "Pickin' Up The Pieces," or to the spot where you will be "Up All Night." Just lace up your "Imitation Leather Shoes" and focus on getting down, we'll transport you in comfort and help you get a proper buzz on as well.
Dates: Thursday, Friday, and Saturday June 27, 28, and 29, 2013
Price: $40 for a Single Day Ticket, $100 for a Three Day Pass
Location: Mile High Spirits – 2920 Larimer Street, Denver, CO
Time: Pre Show Entertainment starts @ 2:00 PM, Bus Departs @ 4:30 PM
Bus Leaves 40 minutes after lights up, stopping at Mile High Spirits with a late night bus to Cap Hill, Wash Park, LoDo, and the Highlands.