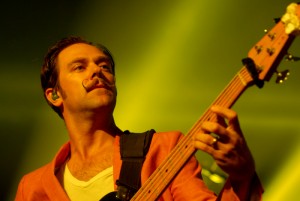 Photos by Todd Radunsky
The Scene: Before Saturday's show at the Chautauqua Auditorium many people picnicked and played Frisbee in Chautauqua park which created a party like atmosphere even hours before the show. The energy built all day as more and more Umphrey's McGee lovers came strolling into the park to have a good time, and wait patiently to see the band they love.
Entering the venue the first thing to strike most people was the aesthetics. I'm sure many fans wondered where the horses were, or why there wasn't any hay on the floor. "This place looks like a barn." one fan said to the other upon taking their first steps into the mostly wooden structure. "I know, doesn't it!" said her friend. They were right too. A stark contrast to the majestic, much larger outdoor venue the band played the night before Chautauqua Auditorium offered a really cool space to see a band. With it's low stage and large, old school ceiling fans, it's ambiance couldn't be over looked.
Umphrey's McGee: Characterize Umphrey's McGee any way you like. "Progressive rock." "Jam band." "Improg," If you go see one of their shows, you'll quickly realize they're all of those things… And more!
The Indiana band finished up a short but sweet two show run here in Colorado (which started with a Friday night show at Red Rocks) with an intimate, sold out and rare (for a band like this) show at Chautauqua on Saturday night. Curfew for this show was 11:00, which was an early night compared to the after midnight ending at Red Rocks but that didn't bother the band's hardcore following who came from all over the country, by any means necessary, to see them.  The band seemed to love it too as they played through a trippy, sometimes technical set of music that included opener "Thin Air," "No Diablo" and a great version of The Doobie Brother's classic "Black Water" in which both guitars were acoustic and most of the crowd sang along, in unison, with the band.
The second set had the crowd jamming just as hard as the first and, as usual, Umphrey's light show disappointed no one. The different colors and patterns on the ceiling and walls mixed with the intense lighting backdrop gave the room and stage extra depth and feel which just added to the overall psychedelic vibe in the house. After a nice 6 song second set, the band gave Boulder two final encores to go home to, the last of which was a smooth and memorable version of The Beatles "Dear Prudence" which left everyone smiling and wanting more. The fact is, it's more that the Umphrey's faithful will get as UM announced they will be playing a three show New Year's run here in Denver at The Fillmore Auditorium on Dec 28th, 29th, and 31st.
Setlist:
Set 1: Thin Air, Puppet String, The Linear, No Diablo, Dim Sun, The Weight Around, Black Water (Doobie Brothers), All In Time
Set 2: Robot World, Example 1, Nemo, Walletsworth, Nothing Too Fancy, Booth Love, 
Encore: Syncopated Strangers, Dear Prudence (The Beatles)
Energy: A
Sound: B+
Musicianship: A
Stage Presence: B+
Set/Light Show: A+
Overall: A
I work in the music industry photographing bands live and offstage for publicity. My work includes shooting concerts, festivals, and portraits of musicians and bands. I shoot for promoters, record companies, publicists, magazines, band managers, and individual musicians. I also photograph weddings, and portraits and have traveled the world to do so. I've shot weddings in Cali, Ireland, Mexico, Cape Cod, and Amsterdam to name a few.