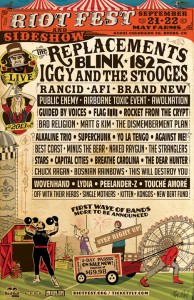 As previously announced, Riot Fest is coming to Denver September 21st and 22nd.  The festival, which will take place at May Farms in Byers Colorado, will feature Ferris Wheels, Pumpkin Shooters, carnival games, and some of the biggest names in Punk and Alternative music.  The first wave of the line-up, which includes The Replacements, Blink 182, Iggy & The Stooges and more, was announced today and the organizers promise to add even more bands to this stellar line-up.  See below for the complete line-up.
2-day passes are on sale now, starting at $69.98 a day / in limited quantities PURCHASE HERE
Line-Up: The Replacements, Blink 182, Iggy and The Stooges, Rancid, AFI, Public Enemy, Brand New, Airborne Toxic Event, AWOLNATION, Guided by Voices, FLAG, Rocket From The Crypt, Bad Religion, Matt & Kim, The Dismemberment Plan, Alkaline Trio, Superchunk, Yo La Tengo, AgainstMe!, Best Coast, Minus the Bear, Naked Raygun, The Stranglers, Stars, Capital Cities, Breathe Carolina, The Dear Hunter, Bosnian Rainbows, This Will Destroy You, Wovenhand, Lydia, Peelander-Z, Touche Amore, Off With Their Heads, Sing le Mothers, Kitten, Kongos, New Beat Fund and more to be announced.