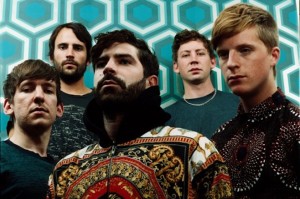 The Scene: James Murphy of LCD Soundsystem recently stressed that making people dance is axiomatic, remarking, "It's like food – if they're not eating it, you've screwed it up."  U.K. band Foals obviously got the memo, taking Denver back to the basics at the Ogden Theater last week.  A mixed crowd of glittered faces, hoodies, and retro victory roll hairdos braved the rare rainy Denver evening proving that if dancing is fundamental, it's also universal.
Opener: Blondfire. Getting the primitive stirrings going first was L.A. power pop band, Blondfire, who at times sounded reminiscent of another L.A. band, The Oohlas.  Even at the early, still daylight, hour of 8pm, lead singer Erica Driscoll managed to get the audience clapping along as they played the very catchy "Where the Kids Are" off their recent Where the Kids Are EP.
Opener: Surfer Blood. Bringing the east coast power Pop Punk response was Surfer Blood.  Channeling a sort of Buddy Holly vibe, frontman John Paul Pitts kept it subdued, wearing a very buttoned-up button-down shirt and staying relatively stationary during favorites like "Floating Vibes" and "Twin Peaks" from their first 2010 album Surfer Blood.  However, perhaps sensing the frenetic energy about to come from Foals, Pitts loosened up by venturing into the crowd with a beret to sing "Take it Easy."   While there was some good power chord energy infused into the crowd, the giant banner "FOALS" in the background was symbolic of the crowd's preoccupation with the main act.
Foals: There was a perceptible shift upwards and outwards as soon as guitarist's Jimmy Smith's rhythmic riff from "Prelude" was heard.   Soon joined by the rest of the band, Foals did not waste any time getting down to business.  As if realizing that Jack Bevan and his snare drum essentially act as a light switch, Bevan was put center stage, he and his drums elevated on a platform, leading the way to the dance party.  As there seemed to be significant issues lead singer Yannis Philippakis wanted to confront with pure kinetic energy, the audience members took the hint, perhaps also recognizing their own need to blow off some steam.  Foals' lyrics are indicative of this, as they are often moody and not exactly happy ("You've lost your way/There's nothing I want today" from "Bad Habit" for instance), but Yannis Philippakis uses his physicality to confront these sentiments and turn them on their danceable head.  Philippakis' acted out the songs literally at times, pointing to his head and pounding his heart during "Red Socks Pugie," a throwback from Antidotes, Foals' first album.
Fist pumping to "You don't have my number" in the anthemic 80's tinged "You Don't Have My Number", the audience followed Philippakis on his cathartic journey, helped along by his curly locks wildly swaying in time and plumes of thrown bottled water.  In a sound that recalls Bloc Party, TV on the Radio, and even the progressive rock of local act Snake Rattle Rattle Snake, the band went onto play a majority of their latest album, Holy Fire, including "Bad Habit," "Milk & Black Spiders" and "Providence," while the crowd surfed, jumped, bobbed, and even engaged in a bit of moshing.  In a final act of purging, Philippakis ended the set by pounding a giant bass drum on "Late Night" and then climbing the wall up to the Ogden's balcony only to jump off (carefully).  This dance therapy session was complete.  James Murphy would've been proud.
Energy: A+
Musicianship: A
Sound: B
Stage Presence: A+
Set/Light Show: A
Overall: A

Patty is a Washington State native that was lured to Colorado by the sun and the mountains. When not listening to music, there is a pretty good chance she can be found eating ice cream.