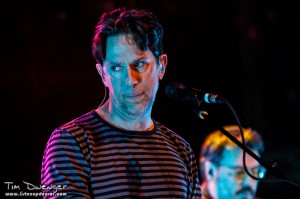 Photos by Tim Dwenger
The Scene: As I walked into the The Ogden last Friday I realized that it had been 20 years since the first time I saw Brooklyn's Ambassadors of Love, They Might Be Giants.  That night I was a senior in High School, and the show was to a sold-out house at the legendary Toad's Place in New Haven, CT.  I remember literally being lifted off my feet by the surging crowd when the Johns hit the stage but I held my ground and was riveted as the band broke down the walls between comedy and music with finesse and precision.
20 years later I was expecting the crowd to largely be in their 30's and 40's, but I surprised to see a large contingent of 20-somethings and even younger.  Clearly TMBG is still as relevant to the dorks, misfits, pre-hipsters and nerds today as they were all those years ago . . . and there is nothing wrong with that!  The crowd of wasn't as tightly packed but as a stage hand threw out giant foam fingers, people did surge forward as they tried to get the best spot on the floor . . . it was almost showtime.
They Might Be Giants:  Known for the tongue-in-cheek razor sharp wit of their lyrics, and their genre bending sound, John Flansburgh and John Linnell have been entertaining intelligent music fans since their first album hit the shelves in 1986.  Since then, they have released 15 studio albums including masterpieces such as Flood, Lincoln and Here Come The ABCs (a positively genius children's album that pleases kids of all ages) and though they steered clear of the children's songs, the band brought out tracks like "Put Your Hand Inside The Puppet Head," "Ana Ng," "Birdhouse In Your Soul" and one of my personal favorites, "Minimum Wage," during the 30-plus song marathon of a show last week.
As quirky songs like "Dr. Worm," "James K. Polk" (our 11th president) and "Istanbul (Not Constantinople)" filled the air, nearly everyone in the room mouthed the words in unison.  It's clear that They Might Be Giants fans are a loyal lot and Flansburgh even marveled from the stage at how full the room was when he said "we usually play in Boulder when we come to Colorado, but clearly we should come to Denver more often!"  He then went on to comment on how tall the people in the back of the room (up in the balcony) must be, prompting one witty audience member to shout out "they might be giants!"
From witty audience participation moments like that, to a puppet show featuring Avatars of They, They Might Be Giants delivered a crowd pleasing show that may not have packed quite the same punch as I remember from 20 years ago, but hey, these guys are 53 and still putting out music that is relevant and filling theaters around the country.  Whatever your thoughts are about this band, their fans are can't be silent, 'Cause they might be giants, And what are we going to do unless they are!
Energy: B+
Musicianship: A-
Sound: B+
Stage Presence: A
Set/Light Show: B
Overall: B+
Music has always been a part of my life. It probably all started listening to old Grateful Dead, Peter Paul & Mary, and Simon & Garfunkel records that my parents had, but it wasn't long before they were taking me to concerts like Starship, Crosby, Stills & Nash, and Huey Lewis & The News. I got the bug to write about music after reviewing an Eric Clapton concert for a creative writing project in high school but didn't really take it up seriously until 2002. Since then I have published countless articles in The Marquee Magazine and done some work for Jambase.com, SPIN Magazine, and various other outlets. I started Listen Up Denver! as a way to share the music information that is constantly spilling out of my head with people who care. Please enjoy!