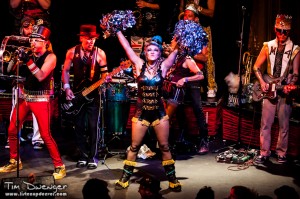 Photos by Tim Dwenger
The Scene: Denver is a town that isn't afraid to dance. The music fiends who inhabit our fine city embrace the liberating feeling of fully letting go at a show, whether that means freaking out, getting down or dressing up. Although not "weird" like Portland per se, Denver does let it's freak flag fly, and it usually happens on a dance floor. Last Friday night when MarchFourth Marching Band pulled into town like a psychedelic gypsy caravan, we joined the brass menagerie of sights and sounds, seduced by this 18 member magical marching band.
MarchFourth Marching Band: I first saw MarchFourth at Telluride Blues and Brews last year, and they won myself and many others over in those hills with a parade through town, a sparkling mainstage set, and a late night throw down under a circus tent. This time they brought their celebratory songs to the stage of the Bluebird Theatre, and it might have been the best setting I had seen them in yet.
The stage was packed with musicians and the two stilt walking members of the troup elevated the party to a whole other level. If you can't have fun in front of a bouncing brass band sporting traditional Marching Band regalia with a vaudevillian flare, stilt walkers, acrobats and dancers, you may want to consult a physician.
Not only is the production value high, but so is the caliber of musicianship. MarchFourth took us through a set that was filled with sounds I seldom hear created at the same show. Everything about this band is unique. They take New Orleans marching band music and add World rhythms, Gypsy grooves and straight up Funk to the mix. The pounding of a 5 piece percussion section kept our feet moving the entire time, and the energetic acrobatics and dancing kept our eyes wide open and our mouths too at times. "Dynomite" brought out a particular explosive reaction from the crowd, and "Powerhouse" packed a punch as well, but it was "Happiness" that brought me the most joy. The night ended with the entire band taking the show out into the middle of the Bluebird where they continued to play enveloped by the crowd. Looking down from the balcony it looked like MarchFourth was the eye of a beautiful storm that blew everyone's inhibitions away.
Energy: A+
Musicianship: A-
Sound: B+
Stage Presence: A+
Set/Light Show: A-
Overall: A
Brian Turk grew up in the shadow of the Catskill Mountains, near Woodstock, NY. He comes from a family of music lovers, audiopliles, Dead Heads and avid concert goers.The musical magic that can only be created in the Catsklills, both past and present, is what Brian cosiders the epicenter of his music addiction. The music of The Band, and most recently The Levon Helm Band, is the soundtrack of home for him. Brian's mother took him to his first concert at 5years old...it was Johnny Cash and Roseanne Cash at Jones Beach Amphitheatre. For Brian, music is a family affair. He feels the same way about live music...we all convene to celebrate together. Brian's writing life started when he wrote his favorite author, southern fiction writer Clyde Edgerton, a fan letter at age 13. When most kids were idolizing baseball players and television, he was worshipping writers and musicians. The two became friends and Clyde shared his craft with Brian. The next year Brian attended Duke University's Young Writers Camp. This is the extent, of what Brian considers, his "formal" training in writing. From then on his goal was to capture snapshots of life through words. Brian has been involved with live music in various facets over the years, and combined with his enthusiasm and love for Denver's music scene, he creates a vivid description of what he sees and hears. If you see him out at a show, dancing with a notebook in hand, say hello.