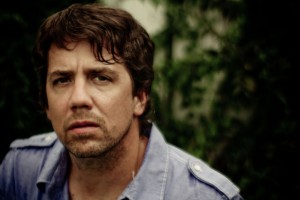 The Scene: The ambiance of certain venues says a lot about the act you are about to witness. Nestled behind the main restaurant, the cramped, dimly lit performance space at The Walnut Room radiates a charm of dedication and loyalty, both from the staff and the attendees. A small bar draped in Christmas lights, bar stools, and a handful of tables dot the room. The quaint stage sits under five single lights alternating in blue and orange hues. Another thing I noticed: A Monday night show centered on Blues and Rock brings out 9-5ers in their 30s and 40s who, seemingly, like to go to concerts with their parents. Filter out the recurring image of the festival goer in their 20s, replace this with the demographic of a Pearl Jam concert, sprinkle in a few elderly people clutching their canes, and you have the scene. Now that's the charm of dedication.
Opener: Carmelita's Lovers.  There were several cheers from the crowd when Carmelita's Lovers took the stage and once they started playing, I was confused as to why. I think I imagine them more at a venue like Marquis Theater. The Punk rockers were loud, yet barely audible. The singer was difficult to understand and the backup singer spoke awkwardly in between each song. Those who were there for future blues legend Patrick Sweany didn't vibe with the rockers; however, they remained glued to their chairs. Having a barstool in this packed venue was like landing on the Free Parking square in Monopoly.
Patrick Sweany: The Walnut Room is an interesting venue because there is no way for the artist to get to the stage without ducking under a small door located in the back and walking through the crowd with their instruments before claiming the stage. During both the opener and the set break, Patrick Sweany himself hung out by the merch table with his bass player, both clad in suits with slicked back hair. Sweany's grin went ear to ear and the bass player looked as cool as ever. They nodded, snapped, and happily greeted fans. Once it was time for Patrick Sweany and his band to take the stage, the crowd moved forward. Sweany smiled and nodded again, waving to the crowd with his cheesy 70's style grin and busted right into hidden gem  "The Edges" from his most recent album, That Old Southern Drag.
Inclusively, he can be described as a Blues Rocker with elements of Folk and Soul; he can jam out on Slide guitar and finger pick like nobody's business. The energy this man emits is simply incredible. Think The Black Keys meets Elvis Presley meets Billy Bland meets Wilson Pickett. If you don't know the last two, Google them. They are the embodiment of Blues, Rock, & Soul, and Sweany pays homage to these legends better than any other modern, up-and-coming Blues singer I've seen. In between all of his songs, Sweany addressed the crowd, shouting, "How's everyone doin' out there? Ladies and gentleman, I am glad to be here. I said, 'I'm glad to be here!'" channeling his 1970s roots.
Next, the dapper front man played a bluesy, high energy track from his new album, Close to the Floor, which comes out July 16th.  Knowing very little of Sweany's discography, I had no problem with his set list, however, I could sense an air of irritability exuding from the crowd in hopes for some fan favorites. He did play some great ones from the bluesier album, That Old Southern Drag, like "Sleeping Bag," "Shoestring" and "Corner Closet," but my personal favorites were indeed from his new album. It's raw, it's real, and you can tell there is a story of grief, pain, and resilience behind it all. It's Soul, Rock, Blues, and Folk all tied into one.
Something must be said about the men behind the music: his band. Sweany gave many introductions to his lead guitarist, bassist, and drummer, repeating their names and pointing at each musician during their solos, grinning like a giddy school girl. This was only their second show together and their first tour, but damn did they mesh well. After about the ninth song of the night, Sweany pulled out a barstool and excused his band. The next three songs were gritty, intimate, and soulful: just Sweany, his guitar, and a single box acting as a kick drum. He began with a beautiful performance of the very poetic and sultry "Deep Water." But, my favorite song during this solo section was "Chelsea Swing," a track from his 1999 album, I Wanna Tell You. He prefaced this with a long 5-minute story, never letting his foot off that kick drum while his fingers never stopped picking those strings. It was comical, yet we learned a lot of Sweany's roots: trying to make it in the music industry at a young age in Arkansas, living under a restaurant and above a bar listening to the unknown bands passing through. Sweany proved he is the epitome of a modern day bluesman.
The band was called back onstage and they rocked out a few more, mostly from the new album. As the last song was announced, many were let down to hear that it was indeed from, you guessed it, the new album. He ended with head bangs and more screams, and of course, many smiles. As Sweany started to walk off the stage, realizing he would have to walk once more through the crowd to make his exit, he turned, grabbed his guitar, and said, "Well, how about one more. What do ya'll wanna hear?" and all in unison the crowd responded, "THEM SHOES!" One must assume this is THE song Sweany is known for, and I can tell why: it's damn catchy.  The show ended and he walked through the crowd with people patting him on the back and shaking his hand. This man is a rock star and I highly recommend everyone see him some day. Between now and then, definitely check out his album coming out July 16th.
Energy: A+
Musicianship: A+
Sound: A
Stage Presence: A+
Set/Light Show: C
Overall: A+

Lindsay was born in Georgia, raised in Florida, and moved to Colorado when she turned 18. All Lindsay asks for in life is music, hoppy beer, and the written word. The necessities of family, friends, water, and food naturally follow.