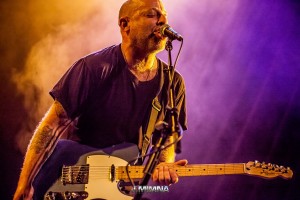 Photo by Jim Mimna
Why You Should Go: His songs have been played by southern jam titans Widespread Panic and he is a founding member of the super group Stockholm Syndrome with Panic bassist Dave Schools, but for more than 30 years now, Jerry Joseph has been strapping on a guitar and chasing down truth, understanding and soul with such tenacity and resonant skill, he's marked as a hard charging kindred spirit to Joe Strummer, Warren Zevon and Patti Smith. While not a household name or critic's darling, Joseph is the archetypal musician's musician – something that's resoundingly clear on his sweeping new double album, Happy Book. Captured with muscle and blood by Joseph's longtime trio the Jackmormons, this latest chapter in his long, strange journey flows like glowing quicksilver through the modern psyche; where war and disaster wrestle with hope and faith and sometimes the best option is to sashay down to the local disco to mambo with the chicks with dicks, just to remind one's self that you're never too old or too dead to learn a couple new tricks.   Joseph and company will be supported by Idaho born L.A. based singer-songwriter Jeff Crosby and his band The Refugees making this a night of must see music!
Venue:  Cervantes' Other Side, 2635 Welton Street, Denver, CO 80205 – 303/297-1772
Doors: 8:00 pm. Music starts at 9:00 pm.
*Price: $12.00 Adv. $15.00 DoS
Buy Wednesday Tickets
Buy Thursday Tickets
*All prices are gathered from other sources and we are not responsible for mistakes or inconsistencies. They are intended only as guidelines. Please, always call the venue if you desire the most accurate information possible.