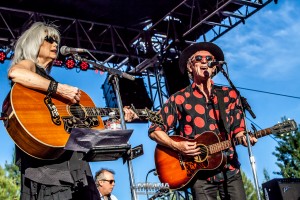 Photos by Jim Mimna
The Scene: After dealing with what has to be the worst parking situation in all of Denver concert venues, and then walking a ridiculous distance many would have called a cab to span, I arrived at Denver Botanic Gardens.  Despite their obvious lack of parking to handle the traffic the venue generates, the show was sold-out to an anxious crowd of baby-boomers.  I certainly was not among my peers at all.  The fans came with low-rider lawn chairs and picnic baskets.  Wine and cheese was abundant on this beautiful summer evening.  The vibe was copacetic as the surrounding flowers and floral arrangements set the mood for a musical treat.  The audience proved to be a lively group, often dancing down front in the limited space allotted for such merriment.
Emmylou Harris & Rodney Crowell:  Emmylou Harris is an icon of the music industry and has had a legendary career performing with the biggest and brightest artists of the last half century.  With a resume so long and illustrious that any new material has a lot to measure up to, her new studio work with Rodney Crowell has managed to do just that!  The Harris – Crowell duo is making waves among critical circles and fans alike with their first studio recording in four decades, Old Yellow Moon.  The chemistry between them was instantly evident as they complimented each other in both pleasantries in their banter and in harmony in song.  Their deep friendship was quite evident.  Harris even said that this tour was a celebration of their 40-year friendship.
The show started pulling songs like "Pancho and Lefty" from their previous setlists of yesteryear when Rodney was a member of her Hot Band forty years ago.  As the show progressed the new songs over took the selection, and with great vigor too, as Emmylou seemed excited to play them.  She kept making cracks to engage the audience, like all the slow songs about heartbreak are their bread and butter and later expressing the need to play cowgirl music so she could dance.  And dance she did!  At 66, she shows no signs of slowing down or dulling of the edges.  Her vocals were sharp and on point, while her guitar playing was fresh and out front.  The band was a mix of veterans and new blood alike.  Emmylou was surrounded by a skilled cast of players with Byron House on bass, Steve Fishell on pedal steel, Jedd Hughes on guitar, Gerry Roe on drums, and Chris Tuttle on keys.
About midway through the set the band cleared the stage and the audience was treated to a few solo acoustic songs, just Emmylou and a stool for a song, and then just her and Rodney displaying their incredible chemistry.  Slowly the band filled the stage and complimented the duo with songs like "Long Time Girl," which found Byron House creep slowly into the song warming the ambiance masterfully with his standup bass and a bow, melodic and soothing like Chicken Soup for the soul.  I found the flow of the set to be perfectly orchestrated in selection and execution and finally completed just like the new record.  The encore was back to where the show began, with a toe-tapping ending of "Two More Bottles of Wine."
I found the performance to be a polished act that left me glad I came despite the long hike I had back to my car.  Emmylou Harris and company get a solid thumbs up from me.
Setlist: Return of the Grievous Angel, Wheels, Pancho and Lefty, Earthbound, 'Til I Gain Control Again, If I Needed You, I'll Be Your San Antone Rose, Red Dirt Girl, Rock O My Soul, Heaven Only Knows, Love Hurts, Luxury Liner, Darlin' Kate, The Angels Rejoiced Last Night, Long Time Girl, I Know Love is All I Need, Hanging Up My Heart, Invitation to the Blues, Spanish Dancer, Chase the Feeling, Dreaming My Dreams, Back When We Were Beautiful, Bluebird Wine, Learning How to Fly, Leaving Louisiana in the Broad Daylight, I Ain't Living Long Like This, Old Yellow Moon,
Encore: Stars on the Water, Two More Bottles of Wine
Energy: A-
Musicianship: A+
Sound: B
Stage Presence: A+
Set/Light Show: C
Overall: A-
Capturing life in various forms is what I do. I consider myself an archivist by nature. It is not a career choice that I consciously made, but it is something that has called me. I strive to freeze a moment in time with every frame, a moment that can retell its story with each viewing, forever. I also have a deep passion for music and have been photographing and recording live music for years. Capturing the energy and magic of a live performance in a photograph is one of my passions. In addition, I enjoy photographing in a wide variety of settings, from wildlife scenes to family portraits and everything in between. I am a lover of the earthscapes that we see all around us every day, both natural and manmade, and aim to make unique images that do justice to their beauty. Where others see darkness, I see streaks of light through long exposures. I shoot a very wide variety of subject matter including individual/family portraits, event coverage, landscapes, live concert/performance, HDR, product and commercial photography, architectural, weddings, food, and editorial photo journalism. With artistic expression, I aspire to create visual art that speaks volumes.