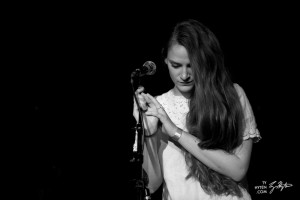 Photos by Ty Hyten
The Scene: In most cases, a band with siblings merely plays out as an interesting footnote to a band's biography, save for the instance where one sibling is trying to stab the other, or if plums are being thrown.  Luckily, no disgruntled fruit was spotted anywhere near the Hi-Dive last Tuesday when The Staves made their first appearance in Denver.  Summer had officially arrived with a small but appreciative crowd baring shoulders and legs, but not neglecting to accessorize properly with long pendant necklaces and leather headbands.  In that vein, a lot has been said, some not entirely positive, about the so-called "nu-folk" revival from the U.K., but The Staves' tremendous live show proved they're not to be so dismissively packaged.
Opener: Misakanto.  Bringing some Bluesy-Soul to the Folksy mood was Chicago based Musikanto.  Led by lead singer Mike Musikanto, he and the other two members of his band seemed impervious and adaptable to the heat wearing long sleeves and pants and Musikanto even sporting a wool cap.  Playing guitar and harmonica, Musikanto sang, often with eyes closed, acknowledging pain was to be expected but not an inevitable end.  His musings were the same, both thanking the guy who hit their tour van in Amarillo, Texas and Gary Louris of the Jayhawks, who produced Musikanto's 2011 record, Sky of Dresses.  Highlights included "Byzantine" and "Take What You Need."  
The Staves:  The way sisters, Emily, Camilla, and Jessica Staveley-Taylor harmonize their vocals while singing lines like "Pick me up, wish me luck, fare thee well, I don't give a fuck anymore" you would expect to be in for a heavy show.  Soon however, with Jessica on guitar, Camilla on ukulele, and Emily singing and playing the occasional drum (too "lazy" to learn guitar as Jessica disclosed later), their self-deprecating British open mic origins peeked through.   Lined up across the stage, the sisters cheerfully announced that it had been laundry day and certain shrunken jeans were making it hard to climb the steps to the stage.
Starting off with "Gone Tomorrow," it became apparent that the stage banter not only provided a nice levity to their often serious lyrics, but also made us want to have brunch with them the next day.  One only needs to look to their Facebook page ("Just chilling eating a burger and filling up.  Living the dream…") to see that this trio's sense of humor pleasantly belies the fact they have opened for Bon Iver and The Civil Wars.  In between talking about childhood cartoons and those awkward moments when no one shows up to your party, the audience was treated to the Staves' completely and utterly seamless vocals on "Pay Us No Mind," "The Motherlode" and "Mexico," just to name a few.  Particularly goose bump inducing were "Facing West" and "Wisely and Slow," the latter of which they were accompanied by a back-up band.
After playing most of their debut album, Dead & Born & Grown, in lieu of being forced to walk through the crowd due to the Hi-Dive's intimate stage set-up, the band opted to turn their backs from the stage and crouch in a huddle to wait for the encore cue.  Having already readily agreed to this arrangement several songs beforehand, the crowd cheered and clapped at the band's backs.  Taking a few peeps at the crowd the band was reassured that the audience did indeed want more, and settled down for the solemn "Dead & Born & Grown," before leaving for the night.  We would have asked them to stay over, but they had other friends to see.
Energy: A
Musicianship: A+
Sound: B
Stage Presence: A
Set/Light Show: C
Overall: A-
Patty is a Washington State native that was lured to Colorado by the sun and the mountains. When not listening to music, there is a pretty good chance she can be found eating ice cream.