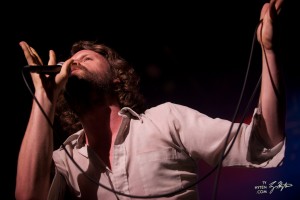 Photos by Ty Hyten
The Scene: "We couldn't quite fill that place, so we had to bring in a bus full of convicts to fill this show" Josh Tillman scoffed about the last minute move of his show from the Ogden to the Gothic this past Tuesday. Though a smaller venue, the large, gaudy psychedelic stage set framed by two giant disco balls fit just fine and twenty-somethings filled the room all the way to the back. After a fantastic sounding, yet sparsely populated opening set from Portland surf-atmospheric-indie rockers Pure Bathing Culture, the crowd drank like a Friday night and awaited the arrival of the irreverent reverend of indie-rock, Father John Misty.
Father John Misty: The slender and sardonic Josh Tillman, aka Father John Misty, walked out to a rabid crowd, hungry for his antics. Tillman's shows are filled with eccentric dance moves and theatrics alongside dry, cutting humor between songs. At one point Tillman sarcastically said he was "very sorry to hear about the rash of weed related crime that has swept the city since the legalization of marijuana" and the "decimation of Hot Pockets."
After opening with "I'm Writing a Novel" Tillman lunged into the crowd on "Well, You Can Do It Without Me," fans groping his thin loosely clothed torso. Tillman's dance moves were as fabulous as ever all evening. His Mick Jagger meets drunk bridesmaid moves are feminine, hilarious, and overtly sexual. While Tillman, quite literally, occupied the spotlight the entire evening he backed himself with a very talented band. Most notably, Benji Lysaght, formally of Ambulance LTD. Lysaght's twangy telecaster colors the country into Misty's music, and lends itself equally to the absurdity of the lyrics and the power of the music.  "Everyman Needs a Companion" was a favorite of the evening, complete with ad-libs about "Kanye & Princess Kim" and Satan. The set ended with a huge "Hollywood Forever Cemetery Sings" packed with the most ridiculous dance moves of the night and epilepsy inducing strobe lights.
After returning for the encore, Tillman joked, "I can't tell which 'take it off!' is satirical and which is confused" and bantered about that for a bit. "Let me tune this G chord machine" he said as he tuned his acoustic and played a new song that was more reminiscent of his solo work as J. Tillman than Father John Misty. That was until a refrain of  "bored in the USA" followed by phrases like, "save me president Jesus," mentions of "sub prime loans," and not being able to get off due to prescription medications. A high-energy cover of "Happiness Is a Warm Gun" followed and the evening ended with another mellow song by Misty, the apocalyptic "I Love You, Honeybear."
Father John Misty's sarcastic swagger, smooth voice, and flamboyant moves more than made up for a venue change and harsh sound, resulting in a fun evening, as always.
Energy: A+
Musicianship: A
Sound: C-
Set/Lights: A-
Stage Presence: A+
Overall: A