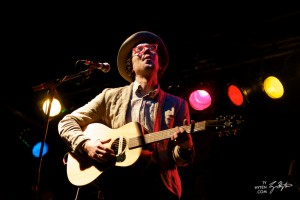 Photos by Ty Hyten
The Scene: The snowmelt-filled Poudre River roared down the canyon and behind the stage at the scenic Mishawaka Amphitheatre last Saturday night. The crowd of college kids, older cowboys and mountain men and their sundress clad girlfriends showed up early to enjoy beer and a nice summer evening. The rugged stage and buildings that surrounded it looked and smelled like the dinning hall at a summer camp with a little less bug spray and a lot more beer. The scenic drive to the venue was long, but it was worth it for the outstanding night of music that was to come.
Opener: Patrick Dethlefs. It's hard to imagine a more fitting artist for the scenic mountain stage than Colorado's own Patrick Dethlefs. Fresh off of a performance at Red Rocks for Film On The Rocks and a few days before hitting the road for a few dates with Paper Bird, the singer-songwriter had the chance to win over a few new fans at The Mish. Pulling mostly from his most recent album, Fall & Rise, Dethlefs' gentle and unassuming voice resonated with the audience up front. The volume swells on lead guitar and the gentle march of the drums beautifully filled out songs like "Another Colorado Song" and a lively "Will I Ever Find a Way?" that got folks dancing. Dethlefs also held his own solo at times, particularly on "Fall & Rise," the title track to his equally gorgeous 2012 album. If you're yet to hear his music, you're truly missing out.
Justin Townes Earle: As lightning flashed in the distance just over the mountains, the rough-and-tumble Justin Townes Earle finished a cigarette side stage and walked out solo to the delight of the packed amphitheatre. Earle opened with his syncopated, percussive fingerstyle on "They Killed John Henry" and a mellow "Memphis in the Rain" before being joined by his band. Throughout the evening Earle moved around stage with a twitchy energetic swagger and shared wisdom with his southern drawl between most songs. "Any artist not subject to change is stuck in a rut" he sneered. He meant it too, as he changed up a good number of his songs throughout the evening. This can be dangerous and alienate a fan base, but Earle's renditions were all excellent and close enough to the original that fans could still sing and dance along. He also mused more than once that "the Blues and Country are the same damn thing" without much explanation other than sharing that Hank Williams stole the 12-bar progression from Blues before breaking into "Ain't Glad I'm Leaving" with Paul Niehaus channeling that Hank Williams lap steel sound on pedal steel. One of the best parts of the show was Niehaus' guitar and steel licks. They colored in that distinct Country character to the entire set.
The crowd was loud and seemed to love every note Earle sang and every word he said all night. He introduced "One More Night in Brooklyn" saying that he lived in Brooklyn, but "not the area where the fucking kids wear tight jeans" followed by a shout-out to his "shitty landlord." The sing-a-long with the backdrop of the gushing Pourdre River was one of my favorite parts of the evening. Other highlights included "Mama's Eyes," "Harlem River Blues," & a killer cover of Lightin' Hopkins' "Automobile Blues." Justin's percussive right hand playing paired with the cry of the steel guitar were like nothing I've seen in quite awhile. The well earned encore began with the Blues standard "Nobody Knows You When You're Down and Out." He then shared that Townes Van Zandt, who is his namesake, loved Colorado and people he stayed with say he drank less when he was here. He followed with "Rex's Blues" dedicated to Townes. The night ended with the feel-good catchy riff  and big chorus of "Can't Hardly Wait" as covered on Midnight At The Movies. I couldn't have imagined a more perfect way to experience The Mish than with Patrick Dethlefs and Justin Townes Earle.
Energy: A+
Musicianship: A+
Sound: A
Stage Presence: A+
Set/Light Show: C-
Overall: A