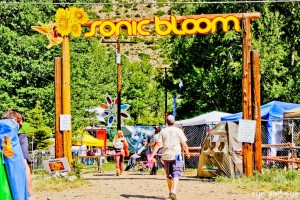 The big white Chevy truck loaded to the gills with everything from sleeping bags to vats of liquid used for blowing bubbles made its way through the picturesque mountain landscape. Muffled Hip-Hop scratched itself through blown speakers and with each mile marked on the odometer a special joy of the unknown filled the tiny cab. Excitement attached to a growing need for the unexpected slowly grew as Idaho Springs and the rest of our existence became merely blurs in the rearview mirror. For the captain of the petrol powered ship, this was to be his first Sonic Bloom; for me the second journey into the Unified Field. It's a strange feeling to know that you have no idea what is about to happen but are completely certain that it will be an experience remembered far beyond the bounds of time.
Whether you subscribe to the idea of mass consciousness or not, there is no denying the amount of energy in the air as you exit the highway and come upon the front gate of Shadow's Ranch that reads "Sonic Bloom." In nearly a decade Sonic Bloom has grown from a small, relatively unknown gathering to one of the premier boutique transformational festivals. Riding on the heels of a sold-out 2012, this year's Bloom had quite the shoes to fill. Based on the pre-parties and simple street rumbles, Jamie Janover pulled all the stops in order to make this year the most memorable one yet.
Friday
This year things were done a little differently. Instead of being able to drop your gear at the camp site and then park, cars were herded into a parking lot down the road and shuttles ran back and forth. It took a couple trips and a handful of beers to completely compile our goods and settle down. The time finally came to go inside and begin the real fun.
Luke the Knife: Luke Miller from Lotus was the first stop of our weekend. His solo side project quickly captured my attention with funky rhythms laced with Indie-House beats. A big hope of mine was for up-tempo sounds this weekend and Luke got things rolling in perfect style, catering to my every four on the floor need. I quickly knew that the Submission Dome was going to be the place to frequent over the weekend.
This year I showed up with little to no knowledge regarding a large portion of performers. That being the case, I made it a point to go out of my way to check out artists whose names I was not familiar with. Luke The Knife started this journey off with a soulful bang of groovy good sounds.
Random Rab (Round 1): Although I made the commitment to chase artists unknown, there were a few performers that had to be seen. Random Rab was one of them. He may have been a returning performer, but this year was different. Rab was playing both a sunrise set and the 10pm slot on Friday, plus a surprise renegade sunrise set that I regretfully didn't show up to.
The first time on stage was a special treat, as it always is to see Random Rab with a live band. There is something amazing about watching Rab perform. Aside from the fact that he plays nearly every instrument known to man, he also sings with such a conviction that leaves you hanging on every word. Each song is full of so much grace and elegance that his music has the ability to lift you from the solid ground and place you in a state of pure bliss. Of course, since this was to be his first of three sets, he chose to play many of his new songs and save his classic anthems for the much anticipated sunrise set. Which, according to the conversation I had with him early in the day, was going to be something not to be missed. When asked what he most looked forward to he said: "My sunrise set of course! I can't wait."
Eligh and the Grouch: When I first saw the line-up this year these names stuck out to me. At first they seemed a little out of place at a festival focused mainly on electronic music. The nostalgia based on memories of driving around my town and freestyle rapping with old friends in between skipping classes during high school is what brought me to the main stage for this set; the rocking bass and crisp lyrics is what convinced me to stay.
These California based rappers have been destroying beats on-stage for many years. Known for their connection with Rap super-group The Living Legends, their team effort has become one of the more recognizable in underground Hip-Hop. With an ability to hit every syllable with flawless clarity while commanding everyone's attention through an unmatched stage presence, it quickly became clear why they were on the bill.
It was a healthy break from the whomps, blips, and bloops. One DJ with two turntables and two MC's that made something that seemed so simple into a uproarious display of vocal mastery. At the time I had no idea, but by the end of the weekend this was without a doubt one of the top three performances of the festival.
Andreilien: In recent times I have found myself growing more and more fond of the glitchier side of music. Andreilien, formerly known as Heyoka started the journey into space-funk-circus-glitch. Judging by the faces and conversation around me it was clear that a large majority of the crowd had not the slightest clue that they were in store for a Heyoka set. His music travels along one of the strangest veins of sound out there, in all of the best ways. It became a perfect prequel to the funky good time that is the sounds of Opiuo.
Opiuo: A self described musical addict residing in Australia, Opiuo has made a name for himself in a short period of time. Riding the high left by Andreilien he got right to dropping the groovy tunes that forced our feet to move. He was joined on stage by a Saxophone and even a Trumpet at times both of which added an element of Jazz to the broken beat, Soul vibrations that came from the man behind the drum machines and other master controls. Filling every need I had for glitchy Hip-Hop influenced beats, Opiuo did exactly what he needed to do in order to close out the main stage festivities and leave everybody in the place tapping their feet right on into the night.
Saturday
The transition between Friday and Saturday became a blur. I found that when you bring so many members of one like minded family together it is awfully difficult to stick to any plan made prior to arriving. It seemed as if almost every ten feet travelled you could run into a conversation worth remembering for the rest of your life. Whether you came to the concert with the goal to find something, figure something out, or simply get away, we were all there for one basic reason. For the chance to, if only for four days, unify this field of existence. There may be constant music, a whole hell of a lot of talks, yoga and other meetings, but I found that one of the greatest things this festival provides is a sense of warmth. As long as you show up with an open mind and pure intentions you are going to meet some beautiful people. The conversation and friendships made quickly became just as important, if not more important, than the music itself.
Bluetech: I started my musical adventure on Saturday with an artist that I attribute to first getting me into this scene. Sunrise sets are always a cherished slot at festivals of this nature, but there is something magical to be said for the ones at the opposite end of the day. Bluetech was chosen to usher in the night this year. On top of that it was a special day for the downtempo pioneer. It was the day of his birth and his excitement sounded through the speakers. A live Bluetech set has never let me down, and this one was no different. As I've said in previous reviews, his sound is like no other. Once described to me as underwater-cosmic-mescaline-funk, every time I hear a set I pick up on subtle nuances and tricks that leave me breathless. I can only compare his sounds to getting lost in the clouds, or staring deeply into an endless canyon of colors that haven't quite yet been discovered. At the end of it all Janover took the stage as everyone on the ranch joined together in one gigantic Happy Birthday song.
Atomic Reactor: Early in the weekend I heard rumbles of Funktion One speakers on the grounds. These rumbles came after a friend of mine caught Random Rab's surprise set on the Hummingbird Stage. After far too many distractions I was finally able to make my way around the lake to where these beauties sat. On the stage was a local artist by the name of Atomic Reactor. While I only caught last bit of his set, what I heard had me scratching my head with an ear-to-ear grin. I'm still not quite sure how to describe what the hell was happening out of those speakers, but I do know it was amazing and this fellow deserves a portion of your attention in the coming years.
Mat The Alien: Up until this point, except for the Grouch and Eligh set, I felt the festival lacked in the field of traditional DJ's and Turntablism. I stumbled over the Dome once again to be brought back to my comfort zone of beat matching and wax scratching. I've lately become enamored with the idea of picking the perfect tracks. Producing songs is an amazing art in and of itself, but the ability to pick songs that simply take care of the vibe while throwing in other elements of performance is something that truly entertains the holy hell out of me. When a decent DJ takes the stage I can't help but nestle up right next to the stage and be amazed by what song comes next and how, if done right, it happens without flaw. Mat The Alien's set was seamless. He is a master of beat juggling. Doing something that I always look for in a DJ, the ability to make something so damn difficult look so easy. As I looked back and saw a plethora of other artists from the weekend standing around in awe of what was happening, it was clear that this man needed much longer than an hour of time.
Polish Ambassador: Over the course of the weekend so far there was a huge buzz around the Polish Ambassador. I was, in a sense, a virgin to his sounds, but when my friends cracked at least five bottles of champagne with the intention of drinking them as soon as possible so as not to miss his set, I knew something unique was about to happen. I had witnessed quite a few remarkable sets already, but there was something different about even the presence of the Polish Ambassador. This became the first time during the last few days that I found myself completely lost in the music. His set was legendary. All I could do was dance my freaking heart out. Before I knew it, the music was over, and it seemed as if everyone in the crowd was just as thankful to be there as the one on the stage. It ended far too soon but earned its place in my top three sets of the entire weekend.
Gaudi: On the way back to the main stage, I decided to pass through the Dome area once more. At the front of the crowd was a strange looking man bouncing back and forth with long curly hair held back by a Rasta colored head band. A mixture of bongos, congos, and good old fashioned Dub music blasted from the speakers. This was the sound I was looking for all weekend. Each song was blended with an ease that only  makes you wonder what in the hell could possibly be going on in this man's head.
Coming all the way from Italy, Gaudi made his first appearance at Sonic Bloom. He is a master of mixing world music. Working both Turntables, some strange sort of oscillator, and an array of other machines that took up the entire stage, he was able to create a set of both borrowed and self produced tracks. On top of that he provided the element of improvisation as he sang hooks and looped them. At one point he even brought out a megaphone and blasted sounds into the mic that were then manipulated and forced upon us in such charming ways. I knew the headliners were on the main stage, but I could not bring myself to leave his sounds. Proving again that the artists unknown to me were the ones that I needed to focus on. By the end of his set largely based around world music I was convinced. If you had to talk to me anytime after this moment there was a good chance I had something to say about how impressed I was regarding Gaudi. On a personal level, it became the best set of sounds that graced my ears in a very long time.
The rest of the night was spent reveling with friends in the campgrounds and simply being free. I caught the gangster downtempo styling of Thiftworks on the bridge as the sun slowly began to rise. Rab followed, but was more personal for me than anything. His sunrise sets are special moments in time that words have trouble doing justice. I stood on the bridge with some old friends and quite a few new ones as the sun made its way to the middle of the sky. Four hours later he came to an end. Marking for me, one more year of complete bliss all crammed into a two day time span.
Sonic Bloom remains to be one of my favorite musical moments of the year. The vast joy that is available for the taking continues to blow my mind. The amount of love that swells out of that small mountain town proves that there are still beautiful things happening within the human race regardless of the incomprehensible turmoil and hate that seems to be spreading like a disease. There are still amazing people willing to give everything they have in order to promote the happiness of others. A gathering of souls that create a community based on unity, if only for a 4 day period. It is a festival of transformation not to be missed in the coming years.

I rode my skateboard from school in 7th grade to my buddy Vince's house where he put on the song "Perfect Government" by NOFX and I was hooked. The next day I bought the album Duh by Lagwagon. The next year I saw Against Me! at the Starlight Theater in Fort Collins, my mom dropped me off. I've since devoted every waking hour to anything done with passion. My speakerbox bumps everything from Lil' Wayne to Pablo Casals. I was never very good at making music, but I am damn good at listening to it. I've been filling up yellow notepads with random thoughts and misspelled words for as long as I can remember. I enjoy whiskey of all sorts, Newport cigarettes and the company of my family. I've got an addiction to run-on sentences that I'll probably never cure. A solid handshake with a stranger who has become a friend over a few beers means the world to me. You'll often find me wide eyed and wandering with an ear to ear grin. I live for funky break beats and spreading the love.