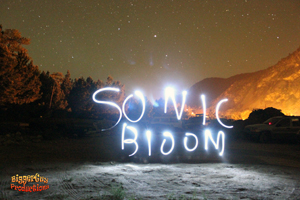 After a manic morning of packing with near absolute certainty that I would forget more than one essential item on my list, I arrived to the parking lot adjacent to Georgetown for my first ever overnight camping festival.  I had been up to Sonic Bloom as a day trekker in years past, but never had the wherewithal to turn it into the full on 4-day event that it should be.  I showed up with the hope of being comfortably early, with plenty of time to spend lounging in the sun and drinking an adult beverage or two while waiting in line to get into the gates.  Much to my consternation I was greeted with a line of at least a hundred people and no real direction as to where things were heading.  The box office that initially was supposed to open at 10am, noon and again at 3pm, finally they opened around 4pm to a mob of heady hippies eager to pitch a tent and get grooving.   Given that the organization of the festival is obviously not their strong suit, I was saddened to hear that they had blocked access to the lower parking lot near the venue and would be requiring patrons to shuttle all of their gear into the grounds this year from 2 miles away.  After nearly an hour waiting for the initial shuttle to arrive, and with that "5 o'clock somewhere" feeling coming on strong, me and my camp of merry pranksters decided to hoof it to the gates.
After a 40-minute trek with a 60-pound pack, this guy was ready to hunker down and get into the groove.  We settled into to a nice nook near the back of the beautiful inner camping area shaded by wind swept trees and set off to take part in Sonic Bloom's opening ceremony.  The festival officials called for the 100 or so in attendance to gather in a circle and join hands to create a harmonious intention for the weekend that lay ahead.  As a man who loves to consider the possibility of all things spiritual, I was up for the gathering and the thought behind it but honestly the words that were spoken fell wildly flat for me.  It seemed to be a quick consolidation of new age spiritual guidance that didn't have much direction beyond the end of the ceremony when we were all asked to visualize the energy that Sonic Bloom could create and how it could affect the world outside of Shadow's Ranch.  With that said, and much incense burned, the festival was underway and the music could begin.
Thursday
Knowing that this event would be a marathon and not a sprint, I knew I had to pick my spots musically to make sure I saw the top acts on my list.  There was no one act in particular that I was absolutely dying to see, but with three stages running all night for three nights in a row, an EDM junkie like myself had no problem staying entertained.  The first group I caught for the last 5 songs of their set was Reno/Tahoe based Glitch-Hop combo Love and Light.  These two received plenty of love from the crowd, certainly know how to keep heads bumping, and were a great way for me to light the musical fuse for the weekend.
Their set was immediately followed by Phutureprimitive, who I have missed the past few times through Denver and was anxiously awaiting.  The bass infused music from this Northwest producer has caught my eye in the past few months, specifically through repeated listenings of his most recent album Kinetik.  Phutureprimitive's music showcases a unique ability to reflect a duality between beauty and heavy bass that is all too often lost in the shuffle of gnashing Dubstep that has become increasing popular in the past few years.  The self produced craftily woven harmonies and melodies set the main stage's giant LED rigs swirling with circuitry.  Centered around tracks like "Center of Gravity" and "The Changeling," Phutureprimitive showed that he has created a distinctive, living/breathing niche of sound for himself in a genre that seems at times to lack new and original voices.
After being entranced in dance for over an hour, I stuck around to see what bespectacled Dubstep DJ Minnesota had to serve up.  The first few songs of the set were mashups of old school Hip-Hop lyrics a la Dre and Snoop but left me feeling hollow.  I for one have not caught one to the EDM movement of the moment known as "Trap."  I figured it was best to head off in search of greener pastures and was gladly met with some beautiful original tunes on Sonic Bloom's newest stage, dubbed The Hummingbird.  Local Glitch-Laser-Hop producer The Digital Connection perked my ears up with his set of 100% original music.  As a crowd begin to gather, DC shined and gave the new stage's sound system a serious test ranging from melodic Downtempo to breakneck Drum and Bass.  Like any good Sonic Bloom dance session, you know the getting is good when you find yourself dancing not only in a crowd of people but also a cloud of dust.  I continue to believe that The Digital Connection is one of Colorado's finest up and coming talents with nothing but potential to expand in the years to come.  If you get the chance, I highly recommend giving him a listen up at Red Rocks during this year's Global Dance Festival.
My friends and I then headed to the CO Dome stage, built to resemble a giant kid's playground fixture to see another set of local musicians that I try not to miss when I have the chance.  Future Simple Project is the brainchild of Family Moons resident DJ/Producers Miraja and Mikey Fisher.  Individually they both have trouble engaging me stylistically, but the amalgamation of the two minds creates a wonderful array of dub infused sound that I just can't resist.  The boys were on their "A" game for the Bloomers and enveloped the crowd with Grime and Hip-Hop and only missed a beat when they invited sometime collaborator and MC Precious onstage with them.  I suspect that Precious may have had a bit too much to drink, and spent the vast majority of her time on stage creating dull and repetitive rhymes that could have been done without.  With that said I always love seeing the two DJs interacting on stage and deciding where to take the "choose your own dance adventure" next.  It was a long day of setting up camp and getting acquainted with fellow campers and the lay of the land, and shortly after 1am I felt the cool ground beneath my tent calling me home.
Friday
I woke with the sun on Friday morning and took a stroll amidst the still and silent grounds.  Festival mornings are an inviting place to ruminate on stories of the night before and to spend time getting to know the rare breed of fellow early risers.  I made it a point of my experience to try and get as much activity in as I could, not simply music.  Sonic Bloom does a wonderful job of providing all types of different activities to take part in throughout the day to keep the patrons enlivened and engaged.  I took part in a morning yoga class on the edge of the pond in the middle of the festival grounds.  Given the toll that the trek into the grounds and my dancing session from the night before had taken on my body, a 90-minute vinyasa flow was just what the doctor ordered.  About 60 other Bloomers joined in for the class and by the end I was refreshed and ready for the first full day of my time at Shadow's Ranch.
After a lazy afternoon of napping and chatting with my fellow campers, I set off with the sunset for the Friday night collection of sonic vibrations.  I caught a fair amount of the set from Sonic Bloom creator and local musician Jamie Janover who's music blends the music box twinkle of his world class Hammer Dulcimer work with earthy bass lines that create a beautiful harmony.  He was joined by reSUNator, a multi talented instrumentalist who provided smooth and soaring vocals to the set and meshed perfectly with the grassroots vibe of Janover's musical work.
I then headed back over to the tight communal setup of the Hummingbird Stage to catch Miraja's solo set.  Sonic Bloom ran a couple of competitions leading up to the festival and allowed local labels to run the stage for the night.  Friday night was given to the aforementioned Family Moons crew.  Sadly, Miraja's set began with more than one technical issue that deflated the energy of the crowd.  An experience like this makes one realize how important the link between human performers and the technology that they relay on so heavily truly is.  Even just one moment of unintended silence can leave a dance floor in a state of self-consciousness and uncertainty, distracting from the escape an artist is trying to create.  The music was tribal and reminded me of something I may hear from Thievery Corporation, but due to the sheer amount of music going on I left quickly to check out a couple of other acts I hoped would be able to get me moving again.
I looked no further than the CO Dome to get me back in the groove.  A crowd was gathering in anxious anticipation of the set from String Cheese Incident and EOTO member Michael Travis' first ever DJ set.  Watching him set up his computer and equipment on stage it was apparent that he was feeling some nerves.  I for one was in awe of a musician who has played a countless number of shows throughout the world for adoring crowds who still could feel this way in preparation for a new musical frontier.  The set began slowly with some straightforward rhythm and increased in intensity throughout.  At his best, Travis displays the ability to read a crowd and showed off some of the mixing work that he has been able to obtain working with fellow SCI member Jason Hann through their all live and improvised EDM vision, EOTO.  His thick and theoretically precise bass lines were just the shot of life that the crowd needed to get moving and prepared for the long evening to come.
Immediately after Travis' set, one of the most versatile musicians of the festival jumped on stage and began to enthrall the crowd with her wide array of talents.  Her name is ill-Esha, and if you enjoy the EDM music scene and live in Denver she is an absolute must see act.  For anyone who complains that EDM lacks originality and versatility, ill-Esha is the antidote.  On stage, she wears many hats: producer, DJ, vocalist, MC and hype woman.  One would be hard pressed to say which skill is her forte, as she blends them all seamlessly into a performance that got the crowd romping and stomping in the dusty confines of the dome.  Her personal glitch-hop creations shine bright with complexity and put her in the rarified air of what some would call IDM (Intelligent Dance Music).  Utilizing off kilter rhythms and drum fills, her tunes keep you on your toes and never give your mind a rest, or a notion of where things may head next.  She gracefully transitions between crunchy beats and sexy vocals with comparative ease and she continues to display a unique set of talents that have her quickly rising from the underground and into the attention of music lovers far and wide.  I've seen her a few times now, and I will say that it gets better every time. This, for me, is the highest compliment that can be given to a musician frenetically honing her craft.
In my state of ill-Esha soaked bliss, I wandered back to the main stage to catch an old favorite of mine who has recently taken on a new moniker.  Formerly known as Heyoka, Andreilien presented himself on stage a bit differently this time around.  With his dreadlocks down and out of the usual tightly wound topknot, he set the audience bouncing to his Glitch inspired take on Dub.  Playing in front of a massive display of swirling digital fractal art that he himself created, he showcased a few classic tracks from years past including "Roswell Stomp" and "Mandelblues."  Being an avid fan of his creative sense and musical structure, I have seen him more than 5 times now.  While his music from this time period was breath taking and fresh, it seems that the creative juices may not be flowing quite as readily for him these days.  I continue to enjoy dancing to these favorites, but was hoping to hear some new tunes that will open my eyes to the fractal inspired visions that I experienced initially.  With that said, I spent a good amount of time throughout this set sitting and chatting with friends preparing for the headliner for the night.
Hailing from Australia, and having carved a distinctive sonic niche in the past few years stateside and beyond, Opiuo was given top billing for the first full night of Sonic Bloom.  The rumblings throughout the festival were varied on the choice to make Opiuo such a featured act.  Some didn't think he deserved the attention and others claimed that his sound and ability had evolved so much in recent years that he was more than ready for the opportunity.  His stage presence sure fit the bill, hyping the crowd through the music and through his verbal expression of appreciation for being in the humbling beauty of the Colorado mountains.  In recent years, the EDM scene has become increasingly saturated with DJs and performers who stick to a specific mold; standing on stage in front of a laptop and MIDI controller all by themselves.  In an attempt to shake loose of this paradigm, Opiuo invited fellow producer and multi-instrumentalist Russ Liquid onstage for the entirety of the set to help him breath life into his Crunk and Glitch-Hop creations.  The decision was brilliant, as it took the onus off of himself as the main attraction and showed that the man doesn't carry a massive ego that disallows sharing the stage.
Opiuo runs his set through a MIDI controller, but adds to the show by grabbing a paid of drumsticks and creating live percussive beats through an electronic drum pad.  As I've said before, versatility is at a premium in this music culture and his ability to run both aspects of the music at once only added to my admiration for his abilities.  Russ Liquid was a man on fire throughout the set, running back and forth from the DJ table to the front of the stage and switching from one instrument to the next like the seasoned pro that he is.  I knew that Russ had come from playing in Jazz quartets and relies on a rare palette of sonic skill, but his performance on this night left me giggling with envy.  He played the Trumpet, Saxophone, Keyboard and helped Opiuo on the MIDI controls.  His knowledge added a new dimension to Opiuo's tunes and made me hope they will continue to explore this kind of partnership in the future.  A fellow Bloomer and I discussed the fact that Australian EDM performers are beginning to develop a signature sound of slap-Crunk bass laden music.  This trend is all thanks to the rise of Opiuo and his star shined as bright as I could have imagined under the moonlight in Georgetown.  My back and knees rocked by hours of movement, I left the final main stage set and headed straight back to camp while other Bloomers stayed awake until sunrise to catch the remainder of the nights jams.
Saturday
Yet another night full of dancing and time spent with wonderful friends both old and new relegated me to another afternoon lounging in the shade.  It made me feel old, as if I could no longer hang with these raging whippersnappers.  Slow and steady wins the race was the weekend's mantra, and I set off later in the evening on Saturday to get started with what I knew would be a full docket of musical madness.
The night kicked off with a set from down-tempo producer BlueTech.  During past live performances his music has been a call for bedtime rather than a dance floor scene.  On this night, and his birthday, BlueTech brought the tempo up a few notches while still delivering thought provoking layers of mixing work.  It was a great way to spend the sunset and made me think that his music would wonderfully befit a sunrise set with its organic dreaminess.
Between this set and the headliner for the night came a welcome lull in the night's music schedule.  I took the opportunity to grab a few friends and head to one of the many art installations on site at Sonic Bloom.  This particular experience, provided by relaXsonic and dubbed "The Sonic Portal" may have been my favorite event of the entire weekend, musical acts included.  The relaXsonic team invited us into their "sonic spaceship," basically a smaller version of the CO Dome style playground adorned with gongs of various sizes.  Once inside, the group was seated cross-legged in an outward facing circle and we were asked to close our eyes, let go and enjoy the ride.  The journey was visceral, and put my mind in the state of complete relaxation that one works tirelessly to achieve through meditation, yoga or similar mindful practices.  I experienced immense visions of golden shimmering light, creeping through my mind's eye at paces dictated by the waves created by the gongs.  How something so encapsulating and blissful can be created by what seems like a simple concept is beyond me, and perhaps beyond words.  My recommendation is that if you ever get the chance, hop on board as quickly as you can and any reservations you may have had will quickly be washed away through the flow of kinetic frequencies of sound.
Refreshed and ready to take on the world, we headed back to the main stage once again for the Saturday night headliner Lucent Dossier Experience.  Replacing a Sonic Bloom mainstay like Glitch God Tipper is a difficult task, and I honestly had no idea what to expect when they took the stage at 11:30pm.  Their time on stage eloquently captured the best aspects of the Sonic Bloom performance art spirit.  Led by the music of their two resident DJs, who would also jump out in front of the booth and play live drums and guitar, the set took off with a bang.  The dance troupe accompanying the widely varied tunes trotted mechanically onstage like windup dolls.  Using both the raw emotion of Hip-Hop dance and the understated intricacies of Ballet, they brought the music to life and silently touched on a wide variety of topics.  Lucent Dossier's uncanny ability to direct a kinetic conversation on duality, beauty, aggression, fear and spirituality kept me entranced for an hour and a half with no problem.  At times the music seemed to lack direction, but very well could have been a statement in itself.  The dance and aerial dance performances are what set Lucent Dossier apart from the norm in the EDM scene.  Sure, there were fire twirlers aplenty throughout the weekend, but this troupe took these abilities to the next level with their various custom aerial rigs.  The experience contained a good amount of the macabre, and at times resembled the feeling of Rocky Horror Picture Show with black and white faces, sexual ambiguity and drastic makeup.
The climax of the show came when a female dancer was raised into the sky above the stage enclosed in a welded steel Lotus flower.  While chaos ensued both musically and in the deranged dancing on stage, she kept her cool in a meditation pose, spinning beneath the moon.  Eventually the Lotus bloomed and she emerged from its grasp, making movements requiring incredible strength look feminine and effortless.  I heard mixed reviews of the show from other Bloomers, but I felt that given the nature of the festival this was a match made in heaven and Lucent Dossier created an experience that I will never forget.
Next up on the main stage was The Polish Ambassador, who brought a welcome lightness compared to the heavy performance that everyone had just seen.  Donning a ridiculous neon onesie jumpsuit, the man was all smiles and ready to take everyone back into time with his blend of Funk, Hip-Hop and remix work.  The look he sports on the stage is done tongue-in-cheek, and honestly it's refreshing to see a guy work the stage without taking himself seriously at all.  The music is complex and doesn't lack technical skill by any means, but his stage persona is all for laughs and he had me wrapped up in dancing to his beats and seemlessly blended classics for an hour.  The nature of his business is to get people moving and have fun, I was thoroughly impressed by what I saw and am greatly anticipating the next time he rolls through town.
I made a bold decision to forsake the main stage during the set of VibeSquaD to check out Italian born musical madman Gaudi.  You always go to a festival hoping to catch lightning in a bottle; the magic moment when you experience something surreal and special that you didn't know was out there.  For me musically at Sonic Bloom, it was Gaudi.  Beginning the set by brashly proclaiming "Mr. Gaudi uses no computer!!!" he set off on a classic Dub Reggae inspired adventure that left my knees quaking from exhaustion and my abs tight from laughing at his absurd stage persona.  He acted as his own hype man with a smattering of screams through a megaphone and then the mic.  The best way to describe his look would be a blend of Tim Burton and Robert Downey Jr, with zaniness and swagger to boot.  His rare ability to multitask and create songs on the fly through analog synthesizers left me questioning how the hell, or maybe what the hell, was he doing up there.  One such instrument is what looks like a small antennae mounted on a small synth.  When Gaudi brings his hands close to the antennae, the frequency of the sound would change, creating a seamless visual representation of the music he was manufacturing.  At one point, he was creating beats by karate chopping the air around the antennae.  I know this sounds crazy and, trust me, it is.  When his set was complete, he romped around the stage waving a Bob Marley flag and then disappeared like a ghost into the night air.  I was stuck with a permanent Cheshire Cat grin after being witness to his madness and will gladly pay the price of admission the next time I am graced with the opportunity.
In the deep dark of night, only a certain type of music will do, and the final act that I waited to see was Bay Area based producer Thriftworks.  As the sun rose through the pines, he took to the stage and graced us with his personal gooey stew of beats and warbling vocals.  I know that the vast majority of Bloomers are in love with the sunrise sets of Random Rab, but I for one thought Thriftworks provided the perfect soundtrack to reminisce on a night well spent in the forest dancing like the EDM elves we are.  He continues to hone in on an original style, using shifted sections of the beat to keep the listener on their game.  Draped in a blanket to stave off the cold, I danced like a whirling dervish in time with his extreme Downtempo tunes and knew that when he stopped I would be down for the count.
Sadly I was unable to stay and partake in the events of Sunday and Monday, but it may have been for the best as both the weather and the mood of the festival changed drastically.  I don't really feel comfortable discussing the death of one of the festivalgoers given that not much information has been released as to how it happened or what really transpired.  It undoubtedly changed the vibe of the weekend, but the Sonic Bloom crew put together a makeshift ceremony and seemed to handle the curveball with grace.
The entire weekend was an unforgettable experience for me.  I'd be hard pressed to find a better list of music or activity, especially in the rarified air of the Colorado hills.  Sonic Bloom calls itself a transformational festival, and I would have to agree.  I walked away feeling refreshed, enlivened and more ready than ever to get back into taking on the real world again, come what may.  To all my fellow Bloomers, I hope to see you again next year, until then, shine on you crazy diamonds.