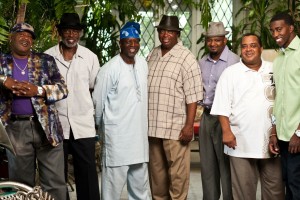 Why You Should Go: For a band that has always been known for pushing boundaries forward, it was a bit of a dilemma when the Dirty Dozen Brass Band were faced with the celebration of the 25th Anniversary of their debut release, My Feet Cant Fail Me Now. The album heralded the coming of a new breed of brass band in the city of New Orleans, and for that matter, around the world.  So how does a band known for their revolutionary spirit in a traditional world celebrate the anniversary? By looking forward, of course.
While the Dozen have always been known for reinventing and rearranging their stellar catalog, the band has recently been digging deep into their repertoire and revisiting certain pieces that haven't been played live since the original release of the album and earlier. Of course, over time, tracks such as the title track and "Blackbird Special" have become showstoppers throughout the bands career, songs like "I Ate Up the Apple Tree" and "Mary Mary" have been on the proverbial shelf for far too long. Don't be surprised when some classic tunes return to the stage with 'em and do not miss this show!
Venue:  The Bluebird Theatre, 3317 E. Colfax Ave, Denver, CO 80206 – 303/377-1666
Doors: 8:00 pm. Showtime 9:00 pm.
*Price: $20.00 Adv. $25.00 DoS
Buy Tickets
*All prices are gathered from other sources and we are not responsible for mistakes or inconsistencies. They are intended only as guidelines. Please, always call the venue if you desire the most accurate information possible.