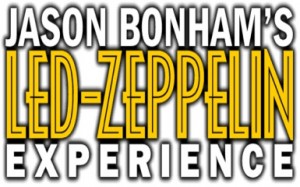 Jason Bonham has been a part of several notable bands over the course of his career, but some things loom larger than life and in his case, the specter of his father, the legendary Led Zeppelin drummer John Bonham, will always be following one step behind him.   Over the past year, Bonham has decided to face this reality head-on and stage an ambitious project that aims to pay tribute to the man he called "Dad."  Almost exclusively focused on Led Zeppelin material, The Led Zeppelin Experience concert features fan favorites like "Black Dog," "Dazed and Confused," "Kashmir," and of course "Moby Dick," while also diving deep to bring up rarities like "Achilles' Last Stand" and "In the Light."  The latter of which Zeppelin never played live. First performed last year, just after the 30th anniversary of his father's death, the ambitious multimedia production is Bonham's way of celebrating his dad's life and music with video and audio clips, personal stories and of course the immense drumming chops that were passed down from father to son.
Listen Up Denver! was fortunate enough to be able to speak with Bonham recently and talk a little about his father, and about how sharing the stage with the surviving members of Led Zeppelin has influenced his staging of The Led Zeppelin Experience concerts.
Listen Up Denver!: I wondered if you might be able to share with us a couple of your favorite memories of your father whether musically related or not?
Jason Bonham: Sure. A lot of people always ask me what kind of music I was into when I was younger, you know, when Dad was alive. My Dad got me into a band called The Police and at the time my dad had a blue vinyl version of Outlandos d'Amour which we still might have somewhere so I'll keep that, treasure it. But he took me to see The Police and it was a cool moment. I had never been to a concert with my Dad ever before.
I remember we also saw the Osmond's and Bay City Rollers. Yes, Dad did take me to see the Osmond's and I saw Marie Osmond with her hair in curlers which ruined the illusion at the time. But I fondly remember The Police and is was a very, very cool concert and I remember my Dad put me on his shoulders so I could see the band better.
He got us backstage afterwards so we could say hello, and it was just a great moment when my Dad stepped on Sting's foot who was wearing blue suede shoes at the time and Sting said something like "Don't step on my blue suede shoes."  My Dad turned to him and said "I'll step on your head in a minute." So that was a nice father, son moment. The meeting of old and new. It was quite funny looking across and seeing Andy [Summers] and Stewart [Copeland] sniggering underneath their breath and I'm thinking "Dad, come on, don't cause any trouble."
We had some very special times. Dad was a gentle giant really. He was a sweet, you know, nervous kind of guy, you'd never imagine that.
I used to race dirt bikes, so on the weekends, when he was home, he would always be the first one up making the sandwiches in the morning, then we'd get in the Range Rover and head off to the race.  If it was a three hour drive we'd listen to Rumours (by Fleetwood Mac) about four or five times on the way. He was very into Rumours and Buffalo Springfield and Neil Young and Crosby, Stills and Nash and Abandoned Lunchonette, Hall & Oates first album.
So yeah he was a very sweet guy that you all know as this beast, this animal, but he was actually kind of a quiet chap at home.
LUD: That's great, thank you for sharing that.  On a couple of gigs over the years you performed in your fathers place during Led Zeppelin reunions and I'm wondering what you take away musically and personally from those performances?
JB: What I managed to take away from the last one was the element of "wow" because I was at an age where I was just honored and humbled to be up there. I was such a fan at that point in my life that I always felt that early on, I'd taken things for granted. When I got the chance to go up there and have a go at it, it was a very special time.
Just to play with those guys and to play their songs and to do the show that we did at the O2; it was a very special moment that I will treasure forever. You know, I knew them when I was a young kid so to relate to them on another level now, in another element, was phenomenal.
I felt like a journalist because I bombarded them with questions. I was like, "oh yeah, but you know this in 1977 well now what did you really think when you did this and, you know, did you know at that point you were really special? And if so, how special did you really think you were and – and did you kind of . . ." and they were like "okay one question a day from now on," ha! But it was a great moment, let me say that.  I treasure it very much and I've had the greatest privilege to play with them more than once. When I look back at my wedding video, you know, it's hard to believe but yes, they were there and they got up and jammed on the local band's equipment and we did some Zeppelin songs so that was very bizarre.
LUD: Did you draw on any personal memories of seeing Led Zeppelin perform live when you were completing the staging for this project?
JB: Oh, yeah. I mean up till the final moments and when I'm performing the songs. They're all from memories of certain songs from different times I saw them.
However, I didn't see them often, and one of my mates was so shocked that he said, "how many Zeppelin concerts did you actually go to?" I went to Tampa Bowl Stadium which was rained out so I only got to see the first three songs. I went and saw a show in '77 which was at Madison Square Garden. I saw the show in Ellis Court in '75, I saw the show in Knebworth in 1979.
Still when I look back at Knebworth it was such an amazing experience.  I really remember, and still love it when I watch the "Kashmir" version that Dad did in Knebworth, and I draw from that moment when I'm playing live. The change that I do on "Kashmir" on the outro was drawn from my memories of Zeppelin doing it at Knebworth where my Dad would change it around a bit.  In my head I am doing that version. It might sound a little different but I used it as a guideline, when he had a more free flow at the end and would go for a lot longer than the actual recorded version.  And, it was a moment to let the hair down or whatever hair I have left.
LUD: So you only saw them five times?
JB: Yeah, I've got friends of mine who saw them more times in one tour than that.
LUD: I'm sure. So how has undertaking a project like this affected your understanding and respect for what they accomplished as a band?
JB: Oh, hugely… I mean you can't go and fake this. I had done so much homework prior to the 02 reunion in 2007 that I felt oh, I've got all this knowledge again and I don't know what to do with it.
When there was a possibility of doing this it was great, but still, I wanted to know more. It was meant to be because there were some interviews and stuff that I'd never seen, or couldn't remember ever seeing, that Dad did, which I found.  I found some footage, and audio, of Dad being interviewed which is really special. One of the extra special ones is an interview from 1970 when a reporter asks; "do you have any family?" He goes "oh, I've got a wife, and a son called Jason and he's a drummer." The interviewer says, "oh, really." "Yeah," he says, "he's four years old now. His technique is crap, but he's got good time. My ambition is that one day he'll play next to me at the Royal Albert Hall."
Just reading some of those moments were very, you know, kind of things that you, well I had forgotten what he sounded like.  Somebody asked me "what did he sound like" and I went "I have no idea. I can't remember."  That hurt me, that the fact I couldn't remember his voice. So when I found this audio of him talking and the strangest thing was at first I thought it was me because we sound very similar.
But yeah, this tour, no matter how old I get I don't know if it's because I've just become more of a sensitive kind of person, but some of these songs just trigger emotions in me, memories, and some people won't understand if I start to crying. It's just moments in my childhood or my past where I go "oh my god, I remember doing this."
We started doing "My Brother Jake" in the show, which is an old Free song, and I remembered when my dad used to put on the jukebox and make me play it when I was eight years old. It sent me back to when I was a kid. I closed my eyes and I was looking out and my Mom and Dad were watching me. It was very special, these songs mean so much to me, they really do.
There isn't any other way of doing this but honestly, and people will see that in the show.
Jason Bonham Brings the Led Zeppelin Experience to The Ogden on Friday night (May 20th).  Tickets are available here.
Music has always been a part of my life. It probably all started listening to old Grateful Dead, Peter Paul & Mary, and Simon & Garfunkel records that my parents had, but it wasn't long before they were taking me to concerts like Starship, Crosby, Stills & Nash, and Huey Lewis & The News. I got the bug to write about music after reviewing an Eric Clapton concert for a creative writing project in high school but didn't really take it up seriously until 2002. Since then I have published countless articles in The Marquee Magazine and done some work for Jambase.com, SPIN Magazine, and various other outlets. I started Listen Up Denver! as a way to share the music information that is constantly spilling out of my head with people who care. Please enjoy!