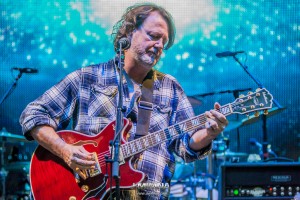 Photos by Jim Mimna
 The Scene: When Widespread Panic rolls into town, they bring with them a very distinct crowd of devoted followers and their recent run at Red Rocks saw Morrison swarming with Whiskey loving, visor wearing Southern boys who are as mad about sports as they are about JB and the rest of the band.  There were almost as many Falcons, Braves, and Georgia Bulldogs shirts dotting the crowd as there were bootleg tees emblazoned with Widespread Panic lyrics.
Panic took a hiatus last year and, as a result, skipped their annual run of shows at Red Rocks, but they made up for this year by adding a fourth night to their standard three night run.  Friday night of this run was the band's 40th consecutive sell-out at the lauded amphitheater and while there was no special fanfare from the band celebrating the occasion, Mother Nature let us know she approved with one of the most dazzling displays of lighting I've ever seen from Red Rocks (or anywhere else for that matter) that lasted much of the second set and even forced a 25 minute delay.
Widespread Panic: I've got to admit right up-front that I've never been the biggest fan of Widespread Panic.  I've seen them 10 to 15 times over the last 20 years, but it's usually been because of the venue (Red Rocks) or friends of mine that were going.  Don't get me wrong, their shows are always fun, but I've never been particularly moved by the music.  Their hard-charging, testosterone-fueled, brand of Southern Rock has a dark underbelly and rarely do I feel like the band is truly cranking up the energy, that was until Friday night.
The band came out the gate on the opener "B of D" with more energy than I'd heard out of them in a long time.  They were firing on all cylinders and from Sunny Ortiz's popping percussion fills on "Surprise Valley" to JoJo Hermann's rollicking piano lines on "Blackout Blues" I could tell the band was having a blast, and so was I.  The energy reached a fever pitch when the band broke into fan favorite "Love Tractor" from their 1991 self titled record and when JB screamed "yeee-haw!" the crowd ate it up and screamed right back.
I looked around as the band slowed things up with "Up All Night" and realized I was having a damn good time at a Panic show and it wasn't just because of the scene going on around me, it was actually because of the music.  "Shut Up And Drive" slipped into "Stop-Go" and finally into a crowd pleasing version The Grateful Dead's "Cream Puff War" that built nicely and allowed Jimmy Herring to really stretch out with some beautiful guitar licks to take us all into a well deserved set-break.
While the first set was solid, it was nothing compared to the raging second set that played out under the blanket of a lighting laced sky that slowly crept toward us as the band played on.  The boys started things out with the triple threat of "Disco > Diner > Sleeping Man" to the delight of the sold-out crowd as we oohed and ahh'd at both the band's chops and the bolts of electricity that danced high above them.  As JB sang about a beautiful girl cookin' in a diner, the storm built in intensity but it wasn't until "Chilly Water" that we all realized that the storm was getting dangerously close to The Rocks.  As water poured down from above courtesy of hyped up fans who were launching water bottles high in the air, I started to think Mother Nature might be about to give us a good soaking herself.  The band segued into a beautifully mellow version of The Talking Heads "Heaven" that allowed us all to take a breather and as the song wrapped up Dave Schools stepped to the mic and announced that the band would be taking a break to "get things shored up on stage."  I have to admit this worried me a little bit.  It's rare that a band stops a set at Red Rocks and the last time I was on hand for such a stoppage was last summer when String Cheese Incident left the stage midway through their first set on account of one of the most severe rainstorms I had ever seen.  While I had the good fortune to ride that one out backstage, I didn't have the same kind of access on Friday and opted to take the high road back to the luxury of the J2G Live buses with some like-minded friends in case things got nasty.
In the end the weather never got too bad, and I'm kicking myself a bit for skipping the set closing run of "Space Wrangler," "Ain't Life Grand" and "Fishwater," but it was the band's lone encore of Jimmy Cliff's "Many Rivers To Cross" that I was really disappointed to miss.  It was a hell of a show and one that will probably drive me to go to at least few more Panic shows in years to come . . . it's this kind of chase that keeps all going to shows I guess.  Well done boys, I'll be back.
Setlist
Set 1: B of D, Surprise Valley > Blackout Blues, Clinic Cynic, Tail Dragger, Sell Sell > Love Tractor, Up All Night > Shut Up And Drive > Stop-Go > Cream Puff War
Set 2: Disco > Diner > Sleeping Man, Chainsaw City > Mercy > Chilly Water > Heaven, Space Wrangler, Ain't Life Grand > Fishwater
Encore: Many Rivers To Cross
Energy: A
Musicianship: A
Sound: A-
Stage Presence: B
Set/Light Show: A
Overall: A
Music has always been a part of my life. It probably all started listening to old Grateful Dead, Peter Paul & Mary, and Simon & Garfunkel records that my parents had, but it wasn't long before they were taking me to concerts like Starship, Crosby, Stills & Nash, and Huey Lewis & The News. I got the bug to write about music after reviewing an Eric Clapton concert for a creative writing project in high school but didn't really take it up seriously until 2002. Since then I have published countless articles in The Marquee Magazine and done some work for Jambase.com, SPIN Magazine, and various other outlets. I started Listen Up Denver! as a way to share the music information that is constantly spilling out of my head with people who care. Please enjoy!