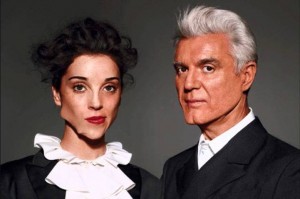 Why You Should Go: David Byrne and St. Vincent developed like many a New York City-bred friendship. Both parties are kind of hazy about how it began, but after a couple of semi-chance encounters, David Byrne and Annie Clark, who records and performs as St. Vincent, embarked upon a creative dialogue that has flourished over the last three years. Called "marvelous" by the New Yorker and "magical" by NPR, the duo's album, Love This Giant, and tour last year earned rave reviews from TIME, New York Magazine, the New York Times, and SPIN.
Curious, mutually appreciative acquaintances became determined co-conspirators, and the result is an album that's brash and, quite literally, brassy. Byrne and Clark spin their intriguingly enigmatic tales, by turns whimsical and dark, backed by a large brass band in lieu of a traditional rock lineup. There is a magical urbanity to Love This Giant: It's as if they're dancing in the streets, their voices soaring over the rhythms, the melodies, the barely contained cacophony of the city.  Here in Colorado you can catch the "magical urbanity" and "cacophony of the city" in the beautiful setting of the foothills of the Front Range, truly the best of both worlds.
Venue: Denver Botanic Gardens Chatfield 8500 W Deer Creek Canyon Road
Littleton, CO 80128
Doors: 5:00 pm. Show starts at 7:00 pm.
*Price: $52-$57 Buy Tickets
*All prices are gathered from other sources and we are not responsible for mistakes or inconsistencies. They are intended only as guidelines. Please, always call the venue if you desire the most accurate information possible.