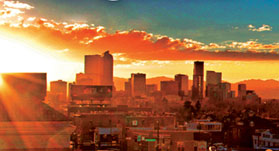 It was early in the 1960's.  Federico Fellini was making 8 ½ while Hollywood lay in ruins.  Television was taking its toll, pacified by the talking box.  Vertigo a distant memory, The Birds fluttered around aimlessly.  But slowly, surely, the sublime whistle of Ennio Maricone trickled through our collective conscious.  Jimi Hendrix played the "Star Spangled Banner" at Woodstock.  The Hays Code was lifted, things appeared right again.  The sun rose; the sun set. Easy Rider hit the screen.  We went to the movies, with the faint swell of a Rock & Roll Organ touching up a rosy glow in the distance.  Both Rock & Roll and Hollywood entered the 60s on shaky ground but they emerged from the decade basking in that rosy glow, a rosy glow you too can experience from the Cultureplex rooftop of the Sie FilmCenter as the sun sets over Denver.  This month's artists will take you back to the decade that defined more than one generation of music lovers and film buffs.
The Blue Rider has that great 60s vintage garage band feel, from the Gibson SG to the gritty organ, think the rowdy rockers of the British Invasion: The Who, The Kinks, The Animals.  And, like those groups, The Blue Rider has a fair smudge of proto-Punk as well.  In short, they rock.  Their high-energy show is sure to get the rooftop swaying and gyrating much like led singer and keyboardist Mark Shoosz who opts out of being stuck behind his keys to shake a tambourine to death.  The gritty yet catchy riffs of guitarist Alex Eschen gel well with the "who me?" head bob and booming bass lines of Rett Rodgers (could there be a more 60s name?).  All this laid on top of the stone solid foundation and stoic gaze of Charlie Watts-esque drummer Scott Beck.  With songs like "Too Hip To Dance" The Blue Rider also showcase a comedic side, which will fit right in at Raise The Roof.
After having great success with local Indie-Folk band Paper Bird, Esme Patterson has struck out on her own following in the footsteps of female singer songwriters like Joni Mitchell  by blending Folk, Jazz, and Rock into textured, dreamy soundscapes.  Case in point, Patterson's song "Elysium" speaks of transcending the mundane while at the same time championing it, all to the back drop of vibrato soaked guitars and ethereal steel slide.  With deeply metaphorical lyrics in songs like "The Swimmer" Patterson affirms and wonders; "a bird may love a fish but where would they live?"  Like Mitchell, Patterson's voice is sultry and soaring, hitting in intervals that are new and fresh to the ear.  Her music is laid back and relaxed and yet full of fire, perfect for a beautiful sunset over Denver.
The comedic element will also be represented, as local comedian and creator of Mile Hi Sci-Fi Harrison Rains will emcee Raise The Roof.  This Thursday will also feature the comedic stylings of Adam Cayton-Holland.  The CulturePlex rooftop will open at 6:00 pm and music starts at 7:00 pm.  Local restaurants from off Colfax will serve food, drinks, and sweets.  The Raise The Roof concert series will conclude on August 15th so stay tuned to Listen Up Denver! for more featured artists and look for our booth at this week's event!
Nate Todd was born on the central plains of Nebraska, but grew up on the high plains of the Texas panhandle. With not much to do in either place, music was his constant companion. His parents dubbed the first two albums he ever owned onto a tape for him. Side A was Bert and Ernie's Sing Along. Side B was Sgt. Peppers. His lifelong love affair with music started early as he practically grew up in a Rock & Roll band, with his father and uncle often taking him out on the road or into the studio with them. Nate began performing live at sixteen and hasn't looked back, having played in numerous bands from L.A. to Austin. At the age of twenty he was bitten by the writing bug, and upon moving to Denver decided to pursue a degree from Metropolitan State University where he recently graduated with a B.A. in English and a minor in Cinema Studies.