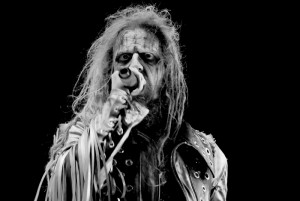 Photos by Todd Radunksy
Like a spiky haired, tattooed tornado with it's devil horned fingers held proudly high in the sky, the 2013 Mayhem Festival featuring Amon Amarth, Mastodon, 5 Finger Death Punch, and Rob Zombie on the main stage, roared it's way through Denver's Fiddler's Green Amphitheater last weekend.  The tornado left in it's wake thousands of screaming, exhausted but happy fans.
The audience at the festival was just as diverse as all the bands that gigged  there.  With 4 separate stages and about 20 different metal bands, fans from all around Denver were treated to about as many different styles of metal as one could hope for at such a festival.  Several generations of concert goers represented the fact that heavy metal, just like many other forms of music, is a universal language that speaks to both young and old(er).  Kids  10 and under rocked out next to the old school metal head 50 something's and green haired, leather clad women sang in unison with the bands as bald headed, muscle heads chugged their beers and looked menacing.  There was face paint and short shorts, leather pants and cut off shirts.  There was lots of piercings in lots of places.  There were those that looked like lifers in the metal scene and those who just might be rookies, but make no mistake all were there to ROCK!
Some of the bands  that played the "smaller"  side stages still played to thousands of concert goers.  Acts like Children of Bodom, Emmure, Motionless in White, Machine Head, Born of Osiris and Butcher Babies all had their shot to gain a bigger audience and blow the Denver Metal Heads away with their infectious brands of the art form
"I can't wait until next year!" said a fan to her friend after the multi-band concert.  I'm sure that sentiment rings true for thousands of fans that attended the 2013 Mayhem Festival here in Denver.  This festival seems to be getting stronger and stronger every year with more and more fans attending.  We'll have to wait a while to see next years line-up but when it comes out, you can be sure the Denver metal freaks will be ready, waiting, and amped up for some Mayhem in 2014.
I work in the music industry photographing bands live and offstage for publicity. My work includes shooting concerts, festivals, and portraits of musicians and bands. I shoot for promoters, record companies, publicists, magazines, band managers, and individual musicians. I also photograph weddings, and portraits and have traveled the world to do so. I've shot weddings in Cali, Ireland, Mexico, Cape Cod, and Amsterdam to name a few.