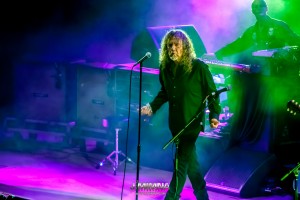 Photos by Jim Mimna
The Scene: Last Wednesday night at the legendary Red Rocks Amphitheatre seemed even more legendary than most. A hint of whimsical awesomeness sailed through the air; tacit comradery among the seasoned tailgaters was evident. Men with aged, peppered beards, lit cigars, and glasses of wine smirked in their lawn chairs; while the women gulped their solo cups and commented on the surprising amount of 20 somethings. Johnny Cash tees and Rolling Stones albums were the main topics of conversation in this crowd, along with stories of the 1960s and 70s when weed wasn't made to cure cancer like today's day and age. There's a reason this crowd was brought together on this beautiful mid-July eve: the renowned Robert Plant. And, of course, who could forget his wacky eclectic band, the Sensational Space Shifters? You will understand my modifiers as you continue to read on…
Opener: The Black Angels. Having little background on The Black Angels, I was caught off guard by the amount of people raving about them prior to a Robert Plant show. You would think that terrible renditions of Led Zeppelin hits would be the only thing belting from the mouths of the crowd, but no. Many were gibbering on about this Austin, TX based band…and I see why. They were the perfect band to open for this show. They rocked so hard that no one could continue to rave about them once they began. Most in crowd fell silent, everyone was dazed. The sound of The Black Angels seemed to blend every decade of Rock music. The lead singer's voice strongly resembled Colin Meloy of The Decemberists. A darker, way more psychedelic Colin Meloy. If Black Rebel Motorcycle Club and the Velvet Underground made a baby, this band would be that love child. Which makes sense seeing that their name derives from the Velvet Underground track, "The Black Angel's Death Song." Oh and did I mention they have a badass female drummer? Yeah. The Black Angels are a must see.
Robert Plant and the Sensational Space Shifters: After the set break, the Sensational Space Shifters took their places and Robert Plant graced the stage. Everyone gasped, grinned ear-to-ear, and giggled with excitement (specifically the men). Plant cruised right into it, belting out "Babe I'm Gonna Leave You," which made the giggles even more audible. Somehow, over the psychedelic face melter that was this show…the giddiness of the audience could be heard for miles.
To continue with the set list, "I'm in the Mood" followed, but then the tone shifted to a truly strange set. Hey, Robert Plant has to keep things fresh, doesn't he? One of my favorites of the night, "Tin Pin Valley" was next with John Baggott tripping everyone out on keyboard. And, to keep things even fresher, Plant brought in Juldeh Camara for an African infused version of "The Enchanter," a track off of Plant's 2005 album, Mighty ReArranger. Camara and Plant amped up both the band and the crowd with the collaboration of Classic Rock vocals (Plant) and Kologo/Ritti/Talking drums (Camara). While very few of you konw what those instruments are; you can try Googling them, but it will still be puzzling. The African influence continued into "Black Dog" which calmed it down a bit more—sounding more of a love song than a lover's song, if you catch my drift. One of the best performances of the night had to be "Going to California." As the legendary rocker sang about "mountain of dreams" in, indeed, a vast mountain in a sea of vast dreams it was a very poignant moment on The Rocks.
Before "Friends" Plant informed the crowd, in his very endearing British tenor, that his drummer was marrying a "very lovely girl from Boulder, CO" and you could tell that he was so truly happy for them. He looked for the girl and waved and you could then feel the immense jealousy from the entire amphitheatre.
The mood shifted from tribal tones to the Blues with "Heartbreaker," and went from a spectacular jam out of "Whole Lotta Love" into a mind-blowing rendition of "Who Do You Love?" Following this, the band took their exit but quickly returned for an obligatory encore.  "Satan Your Kingdom Must Come Down" made anyone who didn't care for Bluesy Folk become fans of the mash-up simply due to Plant's delivery. Finally a burst of life emerged with the classic "Rock and Roll" and as the echoes faded into the night, the great Robert Plant and his Sensational Space Shifters left the stage. Thankfully we were left with that great burst of life and the space was certainly sensationally shifted on this mid-July eve.
Energy: A+
Musicianship: A+
Sound: A
Stage Presence: A+
Set/Light Show: A-
Overall: A+
Lindsay was born in Georgia, raised in Florida, and moved to Colorado when she turned 18. All Lindsay asks for in life is music, hoppy beer, and the written word. The necessities of family, friends, water, and food naturally follow.