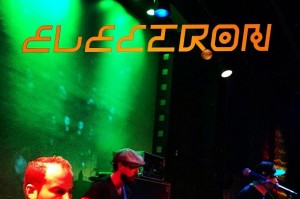 Photos by Ashley Renee Touseull
The Scene:   The Boulder Brahs were out in full force at The Fox last week and, combined with the usual Disco Biscuits faithful, a sizable crowd assembled considering it was a Wednesday night during summer break.  From things I heard waiting in the box office line, it sounded like there were a good number who were about to have their first exposure to the band and even some who had never even seen The Disco Biscuits.     The healthy mix of seasoned Bisco veterans, uninitiated noobs, and your average Boulder concert goer looking for a good time helped set the stage for a night of amazing music.
Electron: For those not familiar with Electron, here is a quick history lesson.   In 2000, bassist Marc Brownstein was dismissed from The Disco Biscuits.   During that time he formed Electron with fellow Disco Biscuit Aron Magner (Keys), Brothers Past guitar player and front man Tom Hamilton, and drummer Joe Russo  (Benevento Russo Duo, Furthur).   He then penned The Chemical Warfare Brigade, a rock opera, along with a handful of other songs and debuted these songs with Electron.   Soon after, he returned to The Disco Biscuits and brought along these songs that eventually became staples in The Disco Biscuit catalog.     After years of not playing shows together, Electron has reformed with Mike Greenfield from Lotus filling in for Mr. Russo who has a pretty full dance card these days.
Given this history, and the fact that almost the entire show was comprised of these now Disco Biscuit classics, it is impossible to see Electron and not be constantly bombarded with thoughts and comparisons to The Disco Biscuits (especially given the state of that band today).  If we want to play that game I will say that it was nice to see a guitar player be a bit more focused and engaged with his band mates on stage and Mike Greenfield brings a much more organic and loose approach to these songs than Disco Biscuit drummer Allen Aucoin.  At times it reminded me of early era Bisco shows with their old drummer Sammy Altman.
With all of that said,  if you can put all of that out of your mind and focus solely on the music being played on stage,  there are few bands that bring this type of electronic flavored Rock and Roll at the level Electron does.      There is a reason they have been dubbed by many in this circle as "The Greatest Band That Never Was."
The first set started off a bit rough as they muffed their way through "Little Lai" due to some technical issues.   Once Hamilton got things figured out, the set took off with a nasty version of "Triumph" that segued into the real meat and potatoes of the set "Grass is Green > Humuhumunukunukuapua'a > Grass is Green."  "Grass is Green" has one of the more memorable and catchy guitar/key melodies that are a trademark of both Brownstein's songwriting and The Disco Biscuits in general.  The transition from this into the very tropical feeling "Humu" was flawless and the heavier jam back into "Grass is Green" had the entire room bouncing.   These smooth segues are something that you would not think could be executed on this level seeing that this band plays together so infrequently.  Given how well or, to be honest, how poorly The Disco Biscuits have done  lately trying to pull off some of these same sort of transitions, it was more than impressive to see.  "Three Wishes," a song long lost from the Bisco catalog was an unbelievably pleasant surprise and the set closed with a ruckus version of "Home Again."
The second set started off with an impromptu "Scarlet Begonias"  jam out of the band tuning up and  into "Plan B,"  one of the heavier songs from the CWB opera and one that highlights Brownstein's, lets say "unique," vocal stylings.  At one point more than a few of us in the crowd picked out Brownie's bass line as he seem to tease another Grateful Dead tune,   "The Other One".  The band then gave a little taste of things to come delivering a blissful version of Pink Floyd's  "Fearless" as things started to heat up again.
I've said before on these pages that nothing gets me going like a good "Confrontation" and Electron's version was no exception.  The melodic dance between Aron Magner's keys and Hamiltion's guitar gave way to some pulsing and driving beats from drummer Mike Greenfield as the band plunged head first into a very heavy segue that ended up in an inverted version of "And The Ladies Were The Rest of The Night."  After yet another heavy techno laced jam the band bounced their way into the end of "Kamaole Sands"  then decided to take it from the top and played the beginning of the song (not your typical inversion as they stopped for a minute or two and discussed what to play) before seguing back into a monster jam for the ending of "Confrontation."  This kind of segment ("Confrontation>Inv Ladies>Kamaole Sands (end), Kamaole Sands>Confrontation" for those playing along at home) is truly what great electronic Rock and Roll is all about and was well worth the price of admission.
Anyone familiar with these musicians knows what huge Pink Floyd fans they are and the influence is especially clear when Electron gets together.   For the encore they brought out Big Gigantic drummer Jeremy Salken and absolutely crushed Pink Floyd classics "In The Flesh," "Hey You," "Another Brick in The Wall pt 2" and "Comfortably Numb."  Tom Hamilton's vocals shined (although I was a bit bummed Brownie didn't lend his take  to "In The Flesh") and he ripped these iconic guitar solos almost note for note  gaining more than a few "Hell Yeahs"  from even the most hardcore Floyd fans in the room.
All in all this was one of the best shows I've seen so far this year and most of us walked out of there wondering why the hell these guys don't play together more often.  At least for the time being "The Greatest Band That Never Was" is again and hopefully it's a sign of things to come.
Energy: A
Musicianship: A
Sound:  B+
Stage Presence: A
Set/Light Show: C+
Overall: A-
Gary is a lifelong music fan raised in Chicago. He is the "G" of J2G Live, a Denver based music production company that brings you "Dance Party Time Machine," "Revenge of the 90's" among other great events.