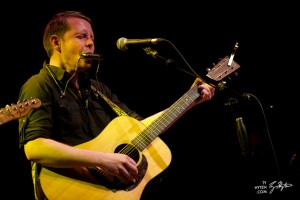 Photos by Ty Hyten
The Scene:  The basement of a sold out eTown Hall was packed with small groups of music fans chatting, drinking beer and eating snacks prior to another taping of the eTown radio show. Volunteers helped direct patrons and the room began to empty as seven o'clock neared. The intimate venue in a remodeled church holds only 200 guests, but reaches one million listeners each week when it airs on over 300 radio stations.
John Fullbright: After the shows staff dialed in the crowd applause levels for the taping and made a few announcements, Oklahoma singer/songwriter John Fullbright opened the evening with the Rock n' Rollin' "Gawd Above" from 2012's From The Ground Up. Piped through the pristine sound system at eTown John's voice instantly grabbed me in a way his recordings don't. His music comes from the working man's America and touches on several genres, from Folk to Rock to Blues to Country. While he plays both guitar and piano on stage, my favorite moments of the evening came with John's Boogie Woogie inflected piano solos and the sound of his voice.
After the first two songs, host Nick Forster interviewed Fullbright, who was reserved but not shy. Fullbright projected the same comforting blue collar Midwestern aura as his music. The two talked in depth about Fullbright's upbringing in Oklahoma and what has shaped the road to his current success. The interview was followed by the presentation of the E-chievement Award to Tom Costello, founder of the charity The Joy of Sox. Tom  shared how he went from an intense phobia of the homeless to helping thousands of homeless men and women get the often under-donated necessity of socks.
Bahamas: Toronto born Afie Jurvanen, who plays under the moniker Bahamas, came bearing just an acoustic guitar Thursday night. The last two times I've seen him he was accompanied by two female vocalists, a drummer, and an electric guitar. His songs took a much different feel during Thursday's incarnation. The Motown vibe was gone, but what was left were his intimate lyrics and his distinctive guitar runs, thrown in without warning. It was a new way to experience his songs and it was quite enjoyable. "Lost in the Light," which already exists quite minimalistically on record, sounded just as arresting without the backing vocals. During Afie's interview he spoke of humble beginnings, joining Jack Johnson's label, and his love of Tony Rice's music. The interview was followed by four more songs, including "Sobering Love" from his recently released iTunes Sessions EP.
Following Bahamas' set John Fullbright returned to play  a few more songs, most notably the southern rockin' "Moving" with Nick and Helen Forster. The night wrapped up with both artists, Nick & Helen, and the eTones collaborating on Chuck Berry's "Brown-Eyed Handsome Man." Both artists offered great performances and I think we'll be seeing a lot more from them in months to come. Be sure to check out the recording of the show when it airs in a few months.
Energy: B-
Musicianship: A
Sound: A+
Stage Presence: B+
Set/Light Show: B+
Overall: A-