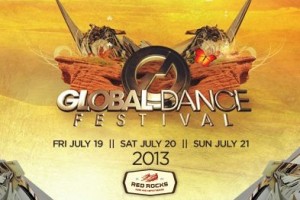 The Scene: Red Rocks Amphitheater and the lower south lot were packed to the brim with a collection of colorful and party hungry electronic music fans prior to the 11th consecutive Global Dance Festival at the hallowed venue.  Global Dance has undergone a transformation in recent years and now occupies a yearly and much anticipated spot on the Red Rocks calendar. With three days of high quality production and intense sound, Global has become one of the premier electronic festivals in the United States.  This year, Triad Dragons Entertainment went with a more diverse sound and recruited a lineup that included: Ott, Emancipator, Beats Antique, Griz, Gramatik, Papadosio and Sander van Doorn. The full lineup for the three-stage event can be viewed here. Although each day was tailored to a slightly different crowd, the music flowed effortlessly all weekend and new found friendships were born under a full Red Rocks moon.
Highlights of The Weekend
Bauuer & RL Grime: Sunday was the most intense day of the weekend with plenty of Dubstep and Trap music to keep the crowd dripping in sweat throughout the evening.  I've never been a fan or understood why Trap has become so popular but this set opened my eyes and moved me closer to understanding the appeal of this zany sound. Baauer and RL Grime are globally recognized for pushing this style and threw a set that had the crowd bouncing intensely as the sun slowly slipped behind Ship Rock. Mixing in bass music with elements of Hip-Hop and Dubstep, both artists wowed the crowd and proved why Trap music can be relevant in the EDM game.
Griz: Colorado loves Griz and Griz loves Colorado. The relationship always breeds incredible live sets and the Sunday evening show on The Rocks was worth the wait. Griz uses a Saxophone and mixes it with his funky brand of bass.  The combination turned an already frenzied crowd into a madhouse. With a massive multi-panel light show behind him, Griz kept the energy level high and helped make Sunday one of the best days of Global Dance Festival in recent memory. Griz eventually returned to the stage with Gramatik for their new Grizmatik creation that's been gaining steam in the last few months.
Emancipator: I've always felt that Douglas Appling's music would sound amazing at Red Rocks and Friday's sunset show exceeded all expectations.  With harmonious waves of live Violin provided by IIya Goldberg, Emancipator's music bounced off the rocks creating a wall of sound that washed gently over the crowd. Appling and Goldberg focused on songs off the newest album Dusk to Dawn and dove briefly into classic territory with "Anthem" off the 2006 album Soon It Will Be Cold Enough.
Before I knew it, I was exiting the venue on Sunday night attempting to digest the massive weekend of music. After 11 years, it's clear that Global Dance has stepped up their game.  The production quality and artist talent was much improved from 2012 including phenomenal live camera work on the crowd and artists. I think I speak for most EDM fans when I say that Global occupies a very important spot on the Colorado concert schedule. Here's to hoping the party continues for years to come.

I've worked various positions in the music industry with Madison House, Rock The Earth and Bohemian Nights. My dream is to travel the world and seek out all the good tunes, beer and food that make life so special. I have a healthy obsession with live music and I'm thrilled to share the epic moments with you.