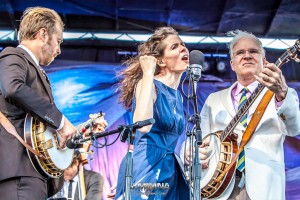 Photos by Jim Mimna
The Scene: Denver Botanic Gardens at Chatfield is, in many ways, just like the downtown location with all its beautiful surroundings and gorgeous flowers, but with one major difference: no nightmare parking making you grouchy before you enter the venue.  Instead, I found myself walking in from my convenient parking spot with lots of smiling faces, excited to see an American icon entertainer.  The crowd was an even mix of Bluegrass faithful and middle-aged picnickers with coolers and baskets full of food and drink.  I do think the audience was as much comprised of fans of the comedy of Steve Martin as music fans, but I doubt that ratio held up after the show to come.
Steve Martin, Edie Brickell, and Steep Canyon Rangers:  I think that, given Steve Martin's natural spotlight stealing nature no matter what stage he graces, I will start this review talking about the incredibly talented Steep Canyon Rangers standing there in his shadow.  They really impressed me, not only by how well they could follow the script and be part of the comedy side of the performance, but by how great they are as a Bluegrass band.  They have it all: from a lead singer with a sultry, smooth voice that seduced me instantly to a fiddle player that rivals the like of any playing today.  The a capella harmonies were pitch perfect and timed impeccably, followed by instrumentals that flawlessly embodied traditional Bluegrass fundamentals with a mix of modern time signatures, appealing to the new and old Bluegrass fan alike.  These guys are the best top-to-bottom Bluegrass group I have seen in a long time.  If you have the opportunity to see them, do it!  As a person who doesn't base a band's worth on awards, but rather live performance, I will be the first to say they deserve the accolades and a Grammy win.
Steve Martin is a master of the stage and his presentation of this show was absolutely brilliant.  He perfectly incorporated comedy into the performance, using the band and the audience to create a happy, fun-loving environment before the first note was even played.  His banter between songs was hilarious and became the perfect setup for the next song.
Martin and the Rangers began working together in 2009 and have since complimented each other very well on and off the stage with multiple tours and Grammy wins.  The incorporation of Martin into the Rangers seems to be a match made in heaven, giving him a viable platform to let his skills shine on Banjo while helping them gain recognition where another Bluegrass band might not.  Martin joked that he didn't consider the Rangers his band, but rather he was the Rangers' celebrity.  I think the party most benefited by the union is the fan in the audience.  I found the mix of comedy with first rate music was outstanding and something not often present in today's standard concert experience.
To up the ante, Edie Brickell is a part of this current tour and sang on about half the songs performed.  Brickell gained popularity in the 80's with her band The New Bohemians, but this tour is a departure from any old tunes and focuses on the new material she recently recorded on Love Has Come for You with Martin.  A few cuts from that album were featured, like "When you Get to Nashville" and "Sarah Jane and the Iron Mountain Baby."  The harmonies with Steve were really a treat and she seemed to bring the best out of his efforts at the mic.  She filled the missing element of sweetness to the vocal mix well and became one more target for Martin's unrelenting jokes.
The jokes did not stay between songs only; in fact, Steve sang lead on the "Jubilation Day," describing the exodus from a bad relationship. "Not all breakups are bad," Steve said.  He also sang another comedic tune called "Atheists Don't Have No Songs," a juxtaposition of the traditional Gospel Bluegrass tune, bringing the audience to a froth of laughter.  His humor often would start to steal the show and then he would play again, letting us all know why he and his five banjos were there.  His duet with fiddle player Nicky Sanders really was the cherry on Martin's banjo sundae, a self-proclaimed rip-off of the classic "Foggy Mountain Breakdown."
Overall, this show was the perfect mix of Hollywood and Nashville.  The sophisticated script and well performed comedy was only rivaled by the outstanding musicianship and great sound, blended perfectly together to give the audience dynamic entertainment rarely found in today's music venue.  I wish more of my favorite bands could find a celebrity and take their performances to this level.  Well done Mr. Martin and company, well done!
Energy: B+
Musicianship: A+
Sound: A+
Stage Presence: A
Set/Light Show: C
Overall: A-
Capturing life in various forms is what I do. I consider myself an archivist by nature. It is not a career choice that I consciously made, but it is something that has called me. I strive to freeze a moment in time with every frame, a moment that can retell its story with each viewing, forever. I also have a deep passion for music and have been photographing and recording live music for years. Capturing the energy and magic of a live performance in a photograph is one of my passions. In addition, I enjoy photographing in a wide variety of settings, from wildlife scenes to family portraits and everything in between. I am a lover of the earthscapes that we see all around us every day, both natural and manmade, and aim to make unique images that do justice to their beauty. Where others see darkness, I see streaks of light through long exposures. I shoot a very wide variety of subject matter including individual/family portraits, event coverage, landscapes, live concert/performance, HDR, product and commercial photography, architectural, weddings, food, and editorial photo journalism. With artistic expression, I aspire to create visual art that speaks volumes.