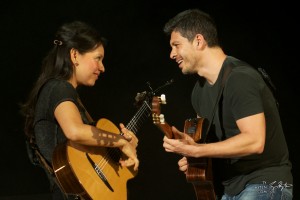 Photos by Ty Hyten
The Scene: Red Rocks Amphitheatre is the greatest amphitheater in the country announced a panel of experts via Rolling Stone earlier this year. Most of us wouldn't argue. While it is hard to have a bad Red Rocks experience, there are definitely some that stand out for all of us. It is starting to be proven that anything involving The Colorado Symphony Orchestra at Red Rocks is usually a memorable experience, even for those who aren't necessarily into symphonic music. When artists pair with our symphony, it gives us the chance to hear their music  in a totally new way. Some of the symphony collaborations seem like an obvious fit and others really make you wonder how artist and symphony will mesh. Rodrigo Y Gabriela was one of those obvious fit situations, considering the two play classically based acoustic guitars with virtuoso status.
Opener: Anders Osborne. Anders Osborne may not have been an "obvious" fit, but once Anders and his rhythm section started rocking, it was obvious this set was going to be a hit. Anders Osborne has two sides to him, the electric rock god and the sentimental songwriter. We saw a little of both at Red Rocks. Backed by the 50 piece orchestra, Anders and crew tore through some of his heavier material and the presence of the orchestra added layers and punctuation to already powerful tunes like "Stoned Drunk and Naked" and "Black Tar." Even though Osborne only got 4 hours of rehearsal with the symphony before they performed for the sold-out crowd, the rock combined with refinement to produce a dramatic and unique experience. The set closer of "Higher Ground" featured only Osbourne on the microphone singing with the symphony backing him up. With no guitar in his hands all of Osborne's energy was channeled to his voice which visibly shook the crowd, some to tears. For those who don't know who Osborne is, shows like this are going to quickly facilitate an introduction. A fan was overheard referring to Osborne as "the new definition of a rock god." He may not have been far off by the looks of the standing ovation.
Rodrigo Y Gabriela: The presence of these two performing to a sold-out crowd at Red Rocks restored my faith in "popular" music. The crowd was as diverse as you can get, and everyone was enthralled by the performance. The fact that two acoustic guitar players from Mexico City, presenting "foreign" sounds, can mesmerize 10, 000 people with no lyrics and no hoopla is quite pleasing. In a time when music has become more and more synthetically generated, the simple sounds of strings vibrating over wood can still appeal to the masses. Sure, some minimal effects and pedals are used at times but mostly it's just hard, fast and precise unadulterated acoustic tone.
The symphony brought Rodrigo Y Gabriela's music to new heights after the duo sat down in front of the stage and played without backup for 20 minutes. The energy and joy that Rodrigo Y Gabriela emit from the stage are a huge element of their performance. You can't help but feel their passion for playing and, after 20 years of doing so, they have built their performance into a spectacle of simplicity. When the symphony was added into the mix, the dramatic nature of the material was amplified and inflated, creating an balloon of emotionally driven music that rose high into the night air. Red Rocks is a crown jewel in Colorado's musical crown and both Rodrigo Y Gabriela and Anders Osborne donned the crown like royalty.
Energy: A+
Musicianship: A+
Sound: A+
Stage Presence: A
Set/Light Show: A
Overall: A
Brian Turk grew up in the shadow of the Catskill Mountains, near Woodstock, NY. He comes from a family of music lovers, audiopliles, Dead Heads and avid concert goers.The musical magic that can only be created in the Catsklills, both past and present, is what Brian cosiders the epicenter of his music addiction. The music of The Band, and most recently The Levon Helm Band, is the soundtrack of home for him. Brian's mother took him to his first concert at 5years old...it was Johnny Cash and Roseanne Cash at Jones Beach Amphitheatre. For Brian, music is a family affair. He feels the same way about live music...we all convene to celebrate together. Brian's writing life started when he wrote his favorite author, southern fiction writer Clyde Edgerton, a fan letter at age 13. When most kids were idolizing baseball players and television, he was worshipping writers and musicians. The two became friends and Clyde shared his craft with Brian. The next year Brian attended Duke University's Young Writers Camp. This is the extent, of what Brian considers, his "formal" training in writing. From then on his goal was to capture snapshots of life through words. Brian has been involved with live music in various facets over the years, and combined with his enthusiasm and love for Denver's music scene, he creates a vivid description of what he sees and hears. If you see him out at a show, dancing with a notebook in hand, say hello.