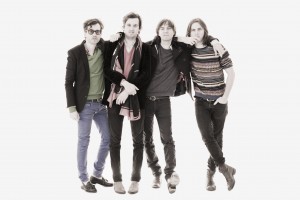 Denver knew Phoenix way back when.  We have a history.  The kind of history, upon reflection, that was described as "magical" and "iconic" when Listen Up Denver! sat down with Phoenix guitarist, Laurent Brancowitz.  Considering the Michael Jackson dance party that erupted at the band's first visit to Denver in 2009 touring for Wolfgang Amadeus Phoenix, it's not much of an exaggeration.  Jackson had passed away earlier that day and as songs from Thriller started coming on after Phoenix's set, the band joined the sold-out crowd at the Bluebird Theater in an extended collective dance tribute.  "It was something we shared with a lot of people, a really unique moment." Brancowitz remarked.  "We'll remember [that show] forever."
Unfortunately, upon inquiry, that Denver show was not the impetus for the band buying and using the now-much talked about console used to mix Thriller on its latest album, Bankrupt!  Nonetheless, Phoenix does have a kinship with the city, coming back to a sold-out show at The Ogden Theater in 2010 and then Dick's Fields for Mile High Music Fest.  Now, with Grammy in tow, those spontaneous moments may be a little harder to achieve, as Phoenix sets out to headline a number of music festivals, including Lollapalooza and Austin City Limits, before landing at Red Rocks on August 7th. However, the band remains committed to the art of the live show.  "Some people, they don't really know you, it's a different approach and you have to convince them to stay," Brancowitz said.  They have the option to go to a sandwich stand or buy a very expensive beer…still, it is worth trying."
Perhaps the band's tenacity can be attributed in part to their longevity and delayed commercial success over a decade into their career.   Now going on over 14 years together, Brancowitz explained, "We started from very low and we feel that we are always improving.  Some bands, when they are starting, they are excellent and then there is a decline.  We are very lucky because we have slowly ascended so we feel that we have a lot of things that we can improve."  This desire for continued improvement and experimentation is apparent in listening to Bankrupt!, most visibly through the title of Bankrupt! itself.  Referencing Andy Warhol's line of works based on tabloid headlines, the band was fascinated by the transformative power of the exclamation point [Editor's Note: We at Listen Up Denver! know this power well.].  "For us, it was the magnetic thing about it…[an] exclamation, it's suddenly becomes artistic imagination.  I know this is common sense, but for us it is very important."  Soon, this led to a short digression about the punctuation mark's current pervasiveness in modern communications with Brancowitz admitting succinctly, "I use them everywhere.  It can create a little tenderness suddenly you miss."  While this digression probably has nothing to do with the album, it's at least indicative that, as US Weekly has coined, Brancowitz is just like us!
Similarly, elevating the ordinary played a role in its cover art as well.  The cover's resemblance to the standard free Asian grocery store calendars featuring carefully staged fruit isn't lost on the band either.  "It has the power of something that is not meant to be art, [but] suddenly when you take and put it on a cover, it becomes an artwork.  But as Brancowitz explained, the reference went deeper than that, as shown on "Entertainment" and "The Real Thing."  "For sure we are fascinated by the ancient and complex cultures [of] China and Japan.  And these cultures come with these musical scales that are very exotic and fresh and they give us new tools to go in a new musical direction.  But also what I think what we are trying to play with is the exotic and a bit narrow-minded vision of a foreign culture by a European kid.  We are also playing with [that] cliché. And so it's a mix between those two things."  In playing with that cliché, the band relied on its imagination to apply its own particular twist. "It's always in our imagination to picture a musician in Hong Kong with these very big modern synthesizers.  I don't know why.  It's just something that comes in our mind and suddenly we are fascinated and cannot really escape from this emotion."
In the end, though, Phoenix's new musical directions might be an attempt to escape the pitfalls of success. And besides commercial success, now being their fifth album in, each successive album brings another burden of potential mediocrity.  "Popular music in general is very conservative and conformist.  There are a very limited amount of notes on a keyboard.  It can be very frightening, you are stuck with those twelve notes and sometimes it can make you really crazy.  It's a constant fight, but I think the possibilities of greatness are infinite…But the problem is that the possibilities for being very bad are even more infinite, if not greater." Laughing at this dilemma, Brancowitz still maintains a hopefulness with a warmth and maturity that only someone doing this for a long time could have.  "One of our main influences is David Bowie and he would always find a way to tweak a Pop song and make it fresh and interesting again.  There are a lot of things that can be done when you think about it."  If the past encounters between Denver and Phoenix are any sign, we'll be dancing no matter what.

Patty is a Washington State native that was lured to Colorado by the sun and the mountains. When not listening to music, there is a pretty good chance she can be found eating ice cream.