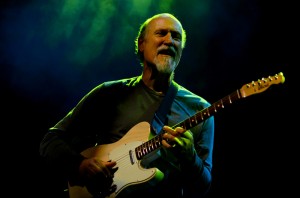 Photos by Todd Radunsky
Guitar virtuoso John Scofield showed off his impressive chops on the axe last week when he brought The John Scofield Uber Jam Band to the stage at the historic Boulder Theater.  Guitarist and sampler Avi Bortnick, drummer Luis Cato, and former Gov't Mule and Black Crowes bassist Andy Hess, who make up the rest of the Uber Jam band were equally impressive and a truly great fit around Scofield's mastery of so many different styles of guitar playing.  The many fans aged 20-40 grooved next to the many fans in the 50 and 60 age range, which just goes to show how universal of a sound the Uber Jam band brings with them city to city. A funky Nigel Hall Band was the supporting act.
I work in the music industry photographing bands live and offstage for publicity. My work includes shooting concerts, festivals, and portraits of musicians and bands. I shoot for promoters, record companies, publicists, magazines, band managers, and individual musicians. I also photograph weddings, and portraits and have traveled the world to do so. I've shot weddings in Cali, Ireland, Mexico, Cape Cod, and Amsterdam to name a few.