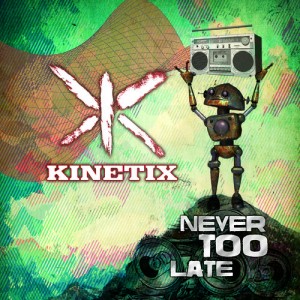 Kinetix.  Kinetic Energy (noun): Energy an object (or band, or crowd) possesses due to its motion.  Motion.  What will happen to you when you listen to Kinetix.  Oh, hello.  Just doing some word association.  Have you ever heard of Kinetix?  I'm sure you have.  They have a new EP out.  Let me extrapolate. Extrapolate (verb):  To project, extend, or expand to an area not known or experienced so as to arrive at a usually conjectural knowledge of the unknown area.  Conjecture, has nothing to do with Kinetix.  Shit is real.
The first thing I noticed about Kinetix's new EP Never Too Late was the sound quality.  It is recorded and mixed almost perfectly.  This is no doubt a testament to the extreme talent possessed by the band but can also be attributed to the state of the art studio where the band recorded the new EP, Scanhope Sound.  The studio is partly owned and operated by Kinetix's Funk master bass player Josh Fairman, and Kinetix, who formed at The Lamont School of Music at The University of Denver, are no strangers to the intricate working of the studio setting.  This great sound sets the tone for the three song EP.
The album kicks off with the infinitely danceable "Mo Luv."  While there are live drums there is also a drum machine presence adding to the club like feel.  Laced with sweet synth lines the song climaxes in a hyped breakdown before ending in dance hits.  The EP's tittle track "Never Too Late is next, which kicks off with a groovy bass line from Fairman before launching into yet another dance like beat.  Chris Beck's synth and electric piano work lead the song and there is a sweet exchange between the synth and Jordan Linit on lead guitar.  The EP concludes with "Another Day."  This song is about making it big in the world of Pop, something which Kinetix seems to be well on their way in doing.

Nate Todd was born on the central plains of Nebraska, but grew up on the high plains of the Texas panhandle. With not much to do in either place, music was his constant companion. His parents dubbed the first two albums he ever owned onto a tape for him. Side A was Bert and Ernie's Sing Along. Side B was Sgt. Peppers. His lifelong love affair with music started early as he practically grew up in a Rock & Roll band, with his father and uncle often taking him out on the road or into the studio with them. Nate began performing live at sixteen and hasn't looked back, having played in numerous bands from L.A. to Austin. At the age of twenty he was bitten by the writing bug, and upon moving to Denver decided to pursue a degree from Metropolitan State University where he recently graduated with a B.A. in English and a minor in Cinema Studies.