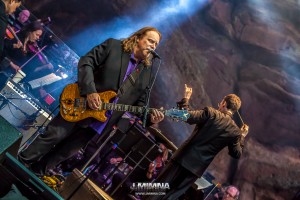 Photos by Jim Mimna
The Scene: Warren Haynes and The Colorado Symphony Orchestra performed the music of Jerry Garcia on a serene Tuesday night and Deadhead's came from out of the woodwork to unite. Young, old. Dentists, dopers and doctors. Birkenstocks and Baby Boomers, wookies and wanderers. Anyone who ever loved the music of Jerry Garcia and the Grateful Dead appreciated the special setting his tunes were being payed tribute in. Well, almost everyone. Groups of friends called songs in the first few notes, a couple in their mid-sixties awkwardly hi-fived and spilled their drinks as their favorite Jerry tune was played; possibly the one that made them fall in love 40 years ago under a San Francisco moon when their gestures of admiration were much less awkward, yet still fueled by Jerry. Or the young transients who surfaced from the surrounding hills and bushes, looking for an era that has long gone by, trying to identify with a past they will never understand, while huffing nitrous balloons with an empty stare. Everyone was looking for something.
Warren Haynes and The Colorado Symphony Orchestra: Warren Haynes came out dressed sharply in a black, slung Jerry Garcia's famed guitar "Wolf" across his shoulder, and opened the set with short and sweet "Dark Star." Haynes was joined by drummer Jeff Sipe, bassist Lincoln Schleifer, and vocalists Alecia Chakour and Jasmine Muhammad, and the symphony wove in and out of songs like "Bird Song" and "Morning Dew" with power and grace. When the funky and hard hitting bass line of "Shakedown Street" rumbled the rocks I felt as if my feet couldn't stop moving, but as soon as Haynes started singing and the symphony joined in, some momentum was lost. The same feeling arose during "Scarlet Begonias" and "China Cat Sunflower." The slower songs, like "Standing on the Moon," were beautiful and sweet, but again seemed to be missing something. At the end of the first set, I could acknowledge the fact it was a great show, but there was simply no Jerry, and I couldn't stop thinking about that. There wasn't Jerry's pain, his passion, his joy. These songs just aren't the same, and it hurts….still. I wish I could have experienced the joy the rest of the crowd was feeling, but I just felt loss.
"Mission in the Rain" opened the second set, and my mood had not changed; Although "West LA Fadeaway" got me moving, and I have to admit I did get a bit lost in the "Terrapin>Slipnot!>Terrapin." After a brief exit from the stage, "Patchwork Quilt" and "China Doll" were dished out as an encore. Nope, no "Sugaree"…the Garcia song Haynes does best. I often get this feeling of loss when others besides original members of the Grateful Dead play Dead tunes. I wish I could be drawn into the nostalgia, but I guess I don't see the point. Jerry Garcia was probably glowing as he looked down on Haynes and the symphony, hearing his songs played by a group of over 50 musicians, and I am sure Haynes felt his blessing.  I am glad most can hear these songs and be reminded of a man they loved, but I just look at the stage and feel something missing. We all grieve differently. He's gone, and ain't nothing gonna bring him back.
Energy: B
Musicianship: A
Sound: A
Stage Presence: B-
Set/Light Show: B
Overall: B
Brian Turk grew up in the shadow of the Catskill Mountains, near Woodstock, NY. He comes from a family of music lovers, audiopliles, Dead Heads and avid concert goers.The musical magic that can only be created in the Catsklills, both past and present, is what Brian cosiders the epicenter of his music addiction. The music of The Band, and most recently The Levon Helm Band, is the soundtrack of home for him. Brian's mother took him to his first concert at 5years old...it was Johnny Cash and Roseanne Cash at Jones Beach Amphitheatre. For Brian, music is a family affair. He feels the same way about live music...we all convene to celebrate together. Brian's writing life started when he wrote his favorite author, southern fiction writer Clyde Edgerton, a fan letter at age 13. When most kids were idolizing baseball players and television, he was worshipping writers and musicians. The two became friends and Clyde shared his craft with Brian. The next year Brian attended Duke University's Young Writers Camp. This is the extent, of what Brian considers, his "formal" training in writing. From then on his goal was to capture snapshots of life through words. Brian has been involved with live music in various facets over the years, and combined with his enthusiasm and love for Denver's music scene, he creates a vivid description of what he sees and hears. If you see him out at a show, dancing with a notebook in hand, say hello.