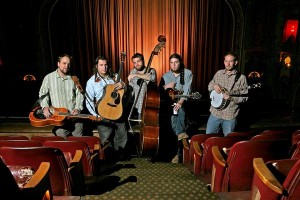 The Scene: The onslaught of rain we had been getting for days didn't keep the bluegrass fans away on Thursday night at the Bluebird Theater. I arrived at around 10 o'clock to a short line at the box office window and a few stragglers hanging out front smoking cigarettes while WhiteWater Ramble was finishing up what must have been a rather short set. I think it is safe to say that I was on the younger end of the age spectrum. It appeared most of the crowd were young professionals in their mid-20s to early 30s. While waiting in line for a drink, I quickly realized that Makers Mark was the beverage of choice for most of the folks in attendance.
Opener: WhiteWater Ramble. I walked into the Bluebird right as WhiteWater Ramble was finishing up their set with an awesome Talking Heads cover. Unfortunately, they went on, and finished, a lot sooner than I had anticipated and I wasn't able to catch most of their set. The Theater was rather packed on the main level so I made my way upstairs to the balcony to find a better view. The boys of White Water Ramble definitely warmed the crowd up and you could sense the collective excitement of people ready for Greensky Bluegrass to take the stage.
Greensky Bluegrass: The boys came on stage around 10:30 to quite the welcoming roar from the fans. I had a feeling they were going to bring the heat on this Thursday evening. You could tell they felt at home on the Colorado stage. I'm not sure if the room was sold out, but it sure looked close. They started their set with a nice traditional number to get warmed up and then segued into a mellow instrumental track. Next, they played an original song that had the rural feel of a traditional bluegrass standard. Paul Hoffman's lyrics are heartfelt and easy for almost anyone to relate too. Although they play original tracks, they do a great job of creating a nostalgic feel with their music. You may be hearing the song for the first time, but it feels as if it has been lingering around the edges of your mind for some time.
Something must also be said for their stage presence. It's great to see the band dancing around and having just as much fun as the audience. It adds to the experience and helps for the fans to tap into the beat and find their happy feet.
Greensky Bluegrass is known for not only having amazing original numbers, but for covering bluegrass standards as well as songs from all genres of music. I was filled with excitement as soon as I heard the line "Help! I need somebody." It was an amazing bluegrass interpretation of The Beatles classic. After a track I had trouble recognizing they went into the classic folk song "Salty Dog Blues." That ended with a nice jam right into the unexpected Prince favorite; "When Doves Cry." The first set concluded with a wild eruption of whistles and claps.
It seemed a lot of the crowd thinned out during the set break. Being that it was a Thursday night, I assumed most people had to work the next morning. I left the balcony and found myself right down by the stage for the second set. With the smaller crowd, there was much more dancing room and at least another couple of hours of bluegrass for those who stuck around. They came back out with the emotional number "Just to Lie," and followed it up by inviting Adam Galblum from WhiteWater Ramble out with his fiddle for the Bob Marley classic, "Stop that Train." Anders then took it home with his drop steel for a good five minutes. You could see that he was into the music as much as anyone else by the little smirk on his face while he plucked the strings and handled that slide. After the ripping solo they went into the song "You Can't Blame the Youth" and then back into a "Stop That Train" reprise with Adam on the fiddle once again. "Jay Walking" and the inspirational ballad "Can't Make Time" were the last two songs I recognized of the second set. They finished up around 12:30 and took another well deserved break.
I was beyond impressed with the first two and half hours of music. I really didn't think it could get much better until they came out for the encore. Their rendition of the classic Grateful Dead pairing of "China Cat Sunflower" and "I Know You Rider" was one of my highlights of the night.
Greensky Bluegrass did a great job of sticking to the Americana roots that this music was built on, while also staying hip to the times. It was clear to me after nearly 3 hours of music why these guys are considered one of the best Bluegrass bands out there right now. Not only are they hard working musicians who basically spend every waking hour on the road, but they are talented beyond belief. You could see on each of the members faces as they played their instrument that they wouldn't rather be anywhere else in this world than on that stage playing these songs for us. The chemistry they had with each other, along with the passion they have for music makes for an amazing atmosphere and a musical experience that won't soon be forgot by any of the dancing strangers last Thursday night at the Bluebird.
Energy: A
Sound: A
Musicianship: A
Stage Presence: A
Set/Light Show: C
Overall: A-

I rode my skateboard from school in 7th grade to my buddy Vince's house where he put on the song "Perfect Government" by NOFX and I was hooked. The next day I bought the album Duh by Lagwagon. The next year I saw Against Me! at the Starlight Theater in Fort Collins, my mom dropped me off. I've since devoted every waking hour to anything done with passion. My speakerbox bumps everything from Lil' Wayne to Pablo Casals. I was never very good at making music, but I am damn good at listening to it. I've been filling up yellow notepads with random thoughts and misspelled words for as long as I can remember. I enjoy whiskey of all sorts, Newport cigarettes and the company of my family. I've got an addiction to run-on sentences that I'll probably never cure. A solid handshake with a stranger who has become a friend over a few beers means the world to me. You'll often find me wide eyed and wandering with an ear to ear grin. I live for funky break beats and spreading the love.