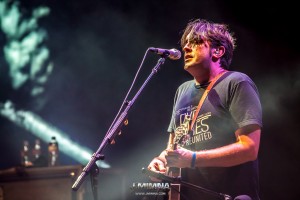 Photos by Jim Mimna
The Scene: Fresh off an epic summer tour, Yonder Mountain String Band cruised into Red Rocks Amphitheater on Saturday for another heartfelt Colorado homecoming performance. Banjo virtuoso Danny Barnes and Whiskeygrass pioneers The Devil Makes Three provided support and initiated quite the party in the waning hours of a steamy August day on The Rocks.  Although dark skies threatened to unload on us as we arrived in the south lot on Saturday evening, we escaped with only a dazzling lightning display and brief shower to cool our crew off.  If you have ever been to a Yonder Mountain show at Red Rocks or a Kinfolk Celebration at Planet Bluegrass you understand the overwhelming love and support given to the Yonder boys when they step foot on a Colorado stage.  Saturday's performance was no different as hoards of strings aficionados packed the lots early armed with instruments and an urgent desire to wildly dance the night away beneath Creation Rock.
Danny Barnes: Danny opened the show at 6 o'clock armed with a banjo and computer. Throughout the hour-long set he thrilled a small contingent of hardcore fans and proved why he has been able to forge such a loyal friendship with YMSB and Dave Matthews among others. During "Sunny Side" Danny's weathered voice ached and crawled across the rocks while his fingers effortlessly glided across the banjo and thousands of voices sang along in unison.  As the one time leader of old time Punk fiends, The Bad Livers, Danny introduced a new generation to the potential bad-assedness of the Banjo and brought a much-maligned instrument back to the forefront of popular music.  The unique hybrid of electric guitar and banjo that Danny calls a "Barnjo" allows him the freedom to play larger venues such as Red Rocks and had the crowd buzzing early on Saturday evening.
The Devil Makes Three:  Hailing from Santa Cruz, California, The Devil Makes Three turned up the heat with their unique Whiskeygrass-Honky-Tonk sound.  It was awesome to see the benches packed with people early on for this set and the band responded with favorites like "Old Number 7," "Gracefully Facedown,"  "Aces and Twos" and "Shades." Consider a cross between Flogging Molly, Hank Williams, and Todd Snider and you arrive at The Devil Makes Three. If you have lifelong drinking buddies and enjoy exploring the dingy confines of your local dive with a glass of good whiskey, this is the band for you.  I know I'll be grooving to their sassy drinking tunes in the next few weeks.
Yonder Mountain String Band: After three spot on performances in Omaha, Kansas City and Des Moines, Yonder arrived home at Red Rocks ready to conclude their 2013 summer jaunt across the United States. Jeff Austin and the boys took the stage to a roaring Red Rocks crowd. The first set was solid YMSB but only moderately appetizing to a party hungry contingent. Highlights from the first set include a haunting  "Mothers Only Son>On the Run> Too Late Now> Dear Prudence>On The Run." After 15 minutes, the band returned to the stage with love and fire in their Bluegrass souls.  Although "Honestly" got the crowd jazzed early on in the second set, I remember really losing my mind when Danny Barnes joined them on stage for "Rag Doll" and "Fun Time."  Watching Danny and Dave duel it out on the banjo was spectacular and awe inspiring.  Towards the end of the set I shifted locations and drifted into the 4th row of madness. I was promptly greeted with  "Peace of Mind" and teases into "Angel" "Follow Me Down to The Riverside" and very briefly "Losing My Edge" by LCD Soundsystem. I couldn't remove the cheesy smile from my face as bodies went flying all around me.  Looking at Adam, Ben, Jeff and Dave shining up at the crowd I couldn't help but think about how much this band has meant to the Kinfolk of Colorado and the tight knit Bluegrass community they helped to develop across the Front Range over the last 15 years.
You catch Ben and Adam at the annual Mabon Celebration in the Wildflower Pavilion at Planet Bluegrass on September 21st.
Yonder Mountain String Band-  8/10/13- Red Rocks Amphitheater, Morrison, CO
Set 1: New Horizons> Goodbye Blue Sky> Only A Northern Song> New Horizons, Straight Line, All The Time, Don't Worry Happy Birthday, Mother's Only Son> On The Run> Too Late Now> Dear Prudence> On The Run
Set 2: Honestly> Casualty> Fine Excuses> Honestly, Rag Doll (1), Funtime (1), Pass This Way, Lay It On The Line, Another Day, Damned If The Right One Didn't Go Wrong, Peace Of Mind> Angel> Follow Me Down To The Riverside> Angel> Peace Of Mind
E: Southbound, Rambler's Anthem, Town, What The Night Brings
(1) W/ Danny Barnes
Energy: A-
Musicianship: A-
Sound: B+
Stage Presence: A-
Set/Light Show: B+
Overall: A-
I've worked various positions in the music industry with Madison House, Rock The Earth and Bohemian Nights. My dream is to travel the world and seek out all the good tunes, beer and food that make life so special. I have a healthy obsession with live music and I'm thrilled to share the epic moments with you.