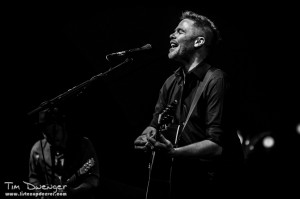 Photos by Tim Dwenger
The Scene: In a state where we are fortunate enough to have some of the most beautiful venues to hear music in, The Denver Botanic Gardens is right up there on the list alongside Red Rocks, The Mish, and Planet Bluegrass.  It's picturesque gardens and lush, "in the round" grass amphitheater, is an almost ideal place to enjoy a summertime concert and last week a modest crowd gathered with their picnics for an evening with The Milk Carton Kids and Josh Ritter.  Though dark clouds started to gather over Denver right about the time the doors opened for the show, things went on as scheduled and the rain held off until just before Ritter and his band hit the stage.  What started out as a light rain quickly turned into more of a downpour which kept up for much of Ritter's 90 minute set and forced some to call it a night early.
The Milk Carton Kids: They have drawn comparisons to Simon & Garfunkel and it's undeniable that their deft finger-picking and rich harmonies validate those comparisons, but anyone expecting to see this duo and witness a standard Folk concert will be taken by surprise.  Sure, they deliver poignant ballads with soul stirring imagery, but their stage banter is as dry and witty as a stand-up comedy team at the top of their game.  In between note perfect versions of songs from their most recent record, The Ash & Clay, like "Hope Of A Lifetime," "Honey, Honey" and the title track, Joey Ryan had the audience in stitches as he dryly delivered punch-lines and Kenneth Pattengale hung back from the mic tuning his guitar and smiling.
While Ryan was typically the one delivering the jokes, Pattengale found an opening when he called out to a teenage girl and an older bearded man dancing in front of the stage "hey, you know your Dad is high as a kite right now, don't you."  Hilarious patter continued on this subject between songs for most of the rest of the set as the duo joked about how "no one's ever danced at one of our shows before" and eventually we found out together that the bearded dancer was not in fact the girl's father.  While it's tough to convey the real humor of the situation, suffice it to say that music was only half of The Milk Carton Kids' performance and when their painfully short 45 minute time slot came to an end, they received a full standing ovation from a crowd of new fans.
Josh Ritter: Just before Ritter took to the stage, the rain started to fall but it didn't seem to deter his devoted fans who crowded to the lip of the stage or huddled under umbrellas in their rain gear on the grass.  After opening the show solo, his band kicked in full force for a powerful "Good Man" that got the crowd singing along.  From there Ritter dropped into "Hopeful," one of the most popular tracks of his recent album, The Beast In The Tracks, and had the soggy crowd eating out of the palm of his hand as his infectious smile radiated through the darkening Gardens.  
As the rain picked up during an electrifying version of one of my personal favorite Ritter tracks, "Rumors," we started to think about how to keep ourselves and our stuff dry and headed back up under a big tent at the top of the lawn.  As we dried off, Ritter took the audience on a journey through his catalog touching on material from throughout his 15 year career including "Snow Is Gone" from his 2003 album Hello Starling and another favorite of mine, "Wolves" from 2007's The Animal Years.
As the night drew to a close Ritter capped things off by inviting Joey and Kenneth of The Milk Carton Kids to the stage for a take on "Folk Bloodbath" from his 2010 album So Runs The World Away.  It was a perfect ending to a great night of Folk music from two insanely talented groups.  If only the rain had stayed away, it would have been a perfect night.
Energy: B+
Musicianship: A
Sound: A-
Stage Presence: A
Set/Light Show: B-
Overall: A-
Music has always been a part of my life. It probably all started listening to old Grateful Dead, Peter Paul & Mary, and Simon & Garfunkel records that my parents had, but it wasn't long before they were taking me to concerts like Starship, Crosby, Stills & Nash, and Huey Lewis & The News. I got the bug to write about music after reviewing an Eric Clapton concert for a creative writing project in high school but didn't really take it up seriously until 2002. Since then I have published countless articles in The Marquee Magazine and done some work for Jambase.com, SPIN Magazine, and various other outlets. I started Listen Up Denver! as a way to share the music information that is constantly spilling out of my head with people who care. Please enjoy!