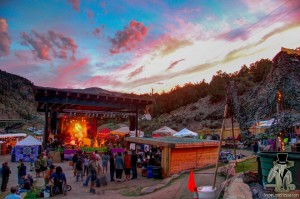 Photo by JohnRyan Lockman
Why You Should Go: Set to the beautiful backdrop of the Colorado River, YarmonyGrass is one of Colorado's preeminent Bluegrass festivals, but it's not just Bluegrass.  Split between State Bridge and Rancho Del Rio, there is plenty to hear and see this year.  Headlining is Honkytonk Observatory (EOTO w/Billy Nershi) and Drew Emmitt featuring Andy Thorn (Leftover Salmon) Keith Moseley (String Cheese Incident) and Scott Law.  But the stellar music doesn't stop there.  Festival-goers will be treated to sets from Whiskey Tango, The Drunken Hearts, Oakhurst, Chris Thompson and Coral Creek, Bluegrass Delta Force, The Olora Bros., She Said String Band and many, many more. Camping is available so come for the weekend and dance to some beautiful music with some beautiful people in a beautiful place!
Venue: State Bridge 127 Trough Rd, Bond, Colorado 80423 (970) 653-0113
Doors: 5:00 pm Friday.
*Price: Weekend Pass $60.00. Single Day Pass $35.00. Buy Tickets.
*All prices are gathered from other sources and we are not responsible for mistakes or inconsistencies. They are intended only as guidelines. Please, always call the venue if you desire the most accurate information possible.