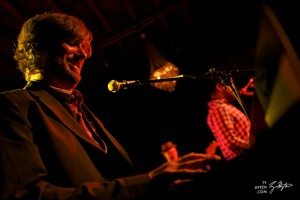 Photos by Ty Hyten
The Scene: Cervantes Other Side has given me some of the best nights I have experienced in Denver. The room seems to just be made for funky, soulful music, and considering the history of Cervantes Masterpiece Ballroom, I guess it was. The presence of Robert Walter's 20th Congress soaked the walls with more Soul. The night had a special meaning for local openers Fox Street Allstars, whose bond as a band has been solidified by trips to New Orleans Jazz Fest in search of Jazz, Funk and Soul.  Fox Street's lead guitarist James Dumm excitedly stated before walking on the stage, "You gotta realize man, we have been listening to this band since we were 16. This guy means a lot to us." Well, Fox Street sure didn't sound like kids playing before an idol, and I am sure Mr. Walter would agree.
Fox Street Allstars: Three years after releasing their debut album, and six years since forming, Fox Street Allstars in full stride. Or strut I should say. Being a music journalist in Denver has it's perks, but watching local bands supersede your expectations as you watch them grow over years is my favorite fringe benefit. Fox Street Allstars are one of the best examples of the above for me. Each musician has developed, the lineup additions have added tons of flavor, and lead guitarist James Dumm has really found his voice, both vocally and on the fretboard. Keyboardist Chris Speasmaker was absent from the gig, and mad scientist Blake Mobley from Tiger Party took a guest spot behind the keys for the evening.
The extended opening slot started off with "Do Me on The Floor," the first track off their 2010 release Welcome To Mighty Pleasin', followed by "Too Good," the opening track off their latest release Tough Talk. As the crowd filled in, the band gained steam, feeding off the energy. Even though this band has been around Denver for a few years, they are still gaining tons of new fans. I stood next to someone hearing the band for the first time, and his comment "that voice should not be coming out of that man" spoke volumes. Lead singer Jonathan Huvard has soul, and to see it pouring out of a caucasian Texan of Jewish descent surprises most.
The last third of the set was simply explosive, and the fuse was lit by a drum and bass solo by Eric Low and Dave Solzberg. Low is a student of Stanton Moore, and it sure shows in his playing. Hard hitting yet extremely nuanced, Low's style is mesmerizing as his long arms work their way across the kit while he is in a head shaking trance only broken by the occasional smile. Solzberg thumped and pumped adding boom to the beat, and when Mobley came out to join the two for a three way, shit got wonderfully weird. The rest of the band came back on stage and the transition into "Ride With Your Baby" was seamless. The first set ended with a cover of Stevie Wonder's "Livin' For The City," made extra saxy by horn player Mirco Altenbach, the newest addition to the band. This band just keeps getting better every time I hear them, and their limited dates in Denver always make their show feel like a breath of fresh air.
Robert Walter's 20th Congress: When Robert Walter first called his 20th Congress to session over a decade ago, his work with Greyboy Allstars had already established him as a skilled master of jazzed up Funk and Soul. Greyboy's Karl Denson formed his Tiny Universe in order to sing more, and Walter brought his electrified keys and Hammond B3 to the forefront with 20th Congress. Walter has built a large following of free form Funk lovers, and their dancing shoes created sparks that brightened the room with Soul shine.
Three songs into the set we were told to "Get Thy Bearings," and under Walter's direction we all moved our feet, turning to our friends stating "I Can't Help It." It's hard to express exactly what Walter's possesses in his fingertips, but I would say it's a "Soul Thing."  The fluidity of the Jazz elements. The danceability of the funk and soul. Walter's willingness to explore the far reaches of his B3. All these factors combine with an enthusiastic approach to create sounds that never seem to land anywhere, but take you everywhere.
The second set was served, and we all commenced to do some "Chickin Lickin." Our "twitchy feet" shuffled as we dug deep into "Funky Soul." The "Crux" of the evening was fun. Key inspired, booty shaking, throw your hands in the air kinda fun. Clap your hands like you got the spirit in ya kinda fun. Sweat like you got the devil in ya kinda fun. Funky good fun. Walter and his 20th Congress put the fire in us and there wasn't a libation strong enough to extinguish it.
Energy: B+
Musicianship: A-
Sound: A-
Stage Presence: B
Set/Light Show: B
Overall: A-
Brian Turk grew up in the shadow of the Catskill Mountains, near Woodstock, NY. He comes from a family of music lovers, audiopliles, Dead Heads and avid concert goers.The musical magic that can only be created in the Catsklills, both past and present, is what Brian cosiders the epicenter of his music addiction. The music of The Band, and most recently The Levon Helm Band, is the soundtrack of home for him. Brian's mother took him to his first concert at 5years old...it was Johnny Cash and Roseanne Cash at Jones Beach Amphitheatre. For Brian, music is a family affair. He feels the same way about live music...we all convene to celebrate together. Brian's writing life started when he wrote his favorite author, southern fiction writer Clyde Edgerton, a fan letter at age 13. When most kids were idolizing baseball players and television, he was worshipping writers and musicians. The two became friends and Clyde shared his craft with Brian. The next year Brian attended Duke University's Young Writers Camp. This is the extent, of what Brian considers, his "formal" training in writing. From then on his goal was to capture snapshots of life through words. Brian has been involved with live music in various facets over the years, and combined with his enthusiasm and love for Denver's music scene, he creates a vivid description of what he sees and hears. If you see him out at a show, dancing with a notebook in hand, say hello.