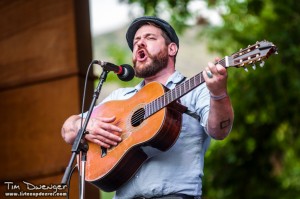 Photos by Tim Dwenger
This year was my 7th Rocky Mountain Folks Festival and it was a bit different than past August weekends at Planet Bluegrass as I now have a daughter.  Did she stop us from going to enjoy the peaceful afternoons by the St Vrain?  No, she didn't.  That said, she does need to get her beauty sleep, so we we were headed home before sunset each night this year.  While some of you may think that all the good music happens after dark, hopefully this review will change your mind.  Sure, we missed John Butler Trio, Patty Griffin and John Prine, but we were on hand to catch stirring and memorable sets from the likes of Seryn, Foy Vance, Nathaniel Rateliff and Charles Bradley among others.  If these names don't mean anything to you, read on, go take a listen, or better yet, catch them live when they come your way!
While this year's Folks Fest line-up didn't necessarily have the heavy hitting names that it has in the past, word on the street months before the festival was that the organizers and staff of Planet Bluegrass were more excited by the acts this year than they had been at any time in recent memory.  Frankly, I doubted them, but as usual, The Planet did me right and introduced me to some fantastic new music.  Kudos!
SATURDAY, AUGUST 17th
We arrived on site shortly after noon on Saturday and within a couple of minutes the sweet and layered harmonies of Seryn soared from the stage and filled the air around us as we showed our daughter the river and dipped her toes in the water.  Their ethereal and haunting voices blended and built on each other to produce a richness and fullness that brought to mind Jim James voice drenched in reverb.  It's not that they sounded like My Morning Jacket persay, but I will say that the two bands stir my soul in similar ways.
After a romantic set from JOHNNYSWIM that featured a solid cover of Dolly Parton's "Jolene" and reminded me a bit of The Civil Wars, the Northern-Irish Foy Vance took the stage and proceeded to inject a little rawness into the afternoon.  Clad in worn blue jeans, a white tank-top and a Newsboy hat, Vance played up his working class roots as he worked the crowd with a bluesy brand of Folk music that struck a real chord with me.  Early on in his set I jotted down that Vance "had a little Joe Cocker in him" and while I'm not really a Cocker fan, his voice carries the same kind of power.  Late in his set the Irishman got the crowd into the mix with a stripped down version of U2's "I Still Haven't Found What I'm Looking For" and followed it up with a gritty take on Sam Cooke's "A Change Is Gonna Come" before serving up some Hendrix.  Vance is a powerhouse of a singer and his stage presence won the crowd over and they saluted him with a standing ovation when he left the stage.
Following Vance cannot be an easy task, and the organizers of Folks Fest clearly understood that as they chose to place Canadian spoken word artist Shane Koyczan in next slot on the bill.  Though accompanied by several musicians, his 75 minute proved a little long for me.  His delivery was heartfelt and passionate and his messages were important, but frankly, it was a little bit of a downer at the height of the afternoon.  Koyczan has made major waves in the past 6 months since posting his "To This Day" video on YouTube.  It has received over 10 million views (yes, you read that right) and those views are deserved.  Koyczan is a moving artist and the highlight of the set was his unique take on the Marvin Gaye classic "Sexual Healing."
SUNDAY, AUGUST 18th
Sunday dawned and we made our way into Lyons for breakfast with our little "Festivarian in Training."  After a meal at The Lyons Fork, we headed over to The Planet and settled in for another day by the river.  Chic Gamine's Gospel set to start out the day turned out to be a little less Gospel and a little more Rock, but these girls entertained for sure!  It wasn't until Nathaniel Rateliff took the stage that I truly focused my energy on the stage and boy was I glad I did.
Hailing from Denver, Rateliff has been on my radar since he blew my mind opening for Bon Iver at The Ogden several years ago.  He expressed a sincere and humble thanks to the festival for including him and said that he had long wanted to be a part of it before wowing us all with his unique brand of Sea Chanty Folk that bewitched and entertained.  He brought the energy up with "Laughing" and enchanted us with a tale of a one legged pony pulling a plow.  Rateliff ended his fantastic set with a rousing rendition of "Nothing To Show" that brought people to their feet.  Here's hoping he becomes a regular on the Lyons stage!
After Rateliff and his band left the stage we headed into town to grab a bite to eat and a beer at Oskar Blues.  While the festival grounds themselves are beautiful, it is a nice perk that Festivarians are able to freely come and go to enjoy all the quaint little town has to offer and, for a town its size, there a decent amount.  When we returned Ariana Gillis was closing her set with a fiery version of her "favorite Dylan song," "All Along The Watchtower."
Now, I'm not sure this Folk loving crowd knew what was about to hit them when Charles Bradley's band "The Extraordinaires" took the stage, but from the first horn blasts I saw toes tapping to funky beats that reeked of honest-to-goodness Soul music.  The dancing area soon filled up and Bradley himself emerged from the wings of the stage in a bright red jumpsuit and sequined black jacket.  Bradley is not your "typical" Folks Fest act and, as a good friend of mine said, this "might have been the balliest booking ever" for this festival.  That said, the crowd ate up every second of the set as Bradley growled and moaned his way through several tracks from his recent release Victim of Love and even nodded to the Folky nature of the festival with a funked up cover of Neil Young's "Heart Of Gold."  At the end of his set Bradley made is way down from the stage and spent about 30 minutes giving out free hugs in the crowd.  His energy was a much needed break from the norm in the late afternoon the festival's third day.
As the brass instruments were being loaded up and hauled away, I ran into Colin Meloy backstage and wished him well on his rapidly approaching set.  It wasn't long before Meloy was up on stage, sipping wine from a plastic cup and making dryly humorous comments about the picturesque setting as he began a solo set that surely introduced many in the crowd to the music of his band The Decemberists.  Meloy dug deep in the band's catalog offering up "July, July!" from the band's first proper album Castaways and Cutouts, and the beloved "Apology Song" from The Decemberists 2001 EP 5 Songs.  Throughout the set Meloy took full advantage of having the stage all to himself to talk about his recent hiatus from writing music and even share anecdotes about songs including the full story behind the lost bicycle named Madeline that prompted the writing of "Apology Song."  It was a quirky and enjoyable set that featured at least one brand new song that Meloy was trying out, a tender take on "Hazards Of Love" and one of my personal favorites, "The Engine Driver," from The Decemberists breakout album Picaresque.
Meloy's set was our last of the weekend and though I heard from several people that John Prine a great way to close out the festival, I was happy putting my daughter to bed with Meloy's slightly nasal voice and distinctly intelligent lyrics still echoing in my head.  Sure, doing a festival with a six month old was a little different but I wouldn't have it any other way these days.  One day soon she'll be playing with the other kids in the river and building sand castles on the beach while telling her friends how she has been coming to Folks Fest every year since she was born.
Music has always been a part of my life. It probably all started listening to old Grateful Dead, Peter Paul & Mary, and Simon & Garfunkel records that my parents had, but it wasn't long before they were taking me to concerts like Starship, Crosby, Stills & Nash, and Huey Lewis & The News. I got the bug to write about music after reviewing an Eric Clapton concert for a creative writing project in high school but didn't really take it up seriously until 2002. Since then I have published countless articles in The Marquee Magazine and done some work for Jambase.com, SPIN Magazine, and various other outlets. I started Listen Up Denver! as a way to share the music information that is constantly spilling out of my head with people who care. Please enjoy!