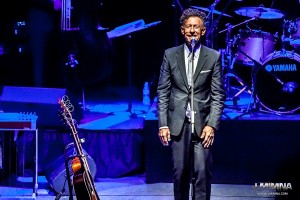 Photos by Jim Mimna
The Scene: This has been a busy summer for me, and Red Rocks has been the host to the majority of the shows.  Each show has its own unique collection of attendants who create the vibe, and this one was no different.  The audience was largely comprised of Khaki and plaid wearing baby-boomers, with a healthy number of their underclassmen 40-somethings filling in the empty spaces.  Despite the empty top section at the start of the show, the place did fill in nicely by the time Lyle Lovett's set began.  As I scanned the audience during the show, one thing impressed me the most: no one was standing or dancing anywhere in the house.  Jubilant applause between songs was the norm, but then an eerie silence like a church service ensued.  It was almost creepy.  So, if every audience generates a unique vibe, this one was like a church service sans passing the offering plate.
Opener: Kris Kristofferson. As one of the dominant threads in the American pop-culture quilt, Kris Kristofferson has more than earned the right to have the entire stage of Red Rocks to himself.  During the headlining set Lovett called Kristofferson one of the most influential song writers of modern history . . . quite the compliment, it's true, but given the incredible career that has influenced so many other artists along the way, I don't think he is wrong.  Kristofferson came out with nothing but his guitar and a harmonica and played for the appreciative crowd.  His repertoire is massive and I did not know what to expect, so I was happy to get to hear his iconic song "Me and Bobby McGee."  He even made a joke about it being one of his favorite songs, "Well, me and Janis."  His set was raw and simple and almost embodied all his years of living with each note and lyric like a page in his personal history book that referenced back to all the previous pages in its reading.  I was glad to attend the composition of a new page in such a long and detailed book that has educated and influenced so many along the way.
Lyle Lovett & His Large Band:  Lyle Lovett's ability to cross-over musical genres is equal only to his ability to cross-over from the performance stage to the big screen.  Rarely in any performance will you hear so many different flavors of music.  From Gospel to Rock, he covered a lot of miles while never leaving his Texas Swing roots.  Couple that level of diversity in material with his "Large Band," and you have a show as predictable as Colorado weather.
From the very beginning Lovett made sure that the spotlight was shared by all, leaving the entire opening number for the band to perform, including a spot lit solo by each member before he ever walked on stage.  As the conductor, he let us know this was a team effort from the onset.  In that same selfless mindset, they covered "Temperance Reel" and "Let Me Fall," originals by fiddle player, Luke Bulla, and guitar player, Keith Sewell, respectively.  Lovett also plugged his band member's albums and told us about his history with each person up on-stage with him.  Lyle's connection with the band of musicians around him was as strong as his bond to the music played.  Without a doubt, this was his home team.  I found the rendition of "I Will Rise Up" to be particularly compelling; the largeness of his band really had impact on that song.
The show started with a focus on his current album, Release Me and Lovett invited Kristofferson out to join him on the album's title track, singing the vocal part that K.D. Lang sings on the album. As they covered the new material, I was surprised by the number of fans who sang every word.  This was a tried and true group of faithful fans.
The last leg of the long, two hour and forty-five minute set was a hit parade, playing fan favorites like "If I Had a Boat" and "She's No Lady (She's My Wife)."  Lovett's inner storyteller was at work throughout the night.  He told stories about his life, both personal and professional, and they all seemed to have one theme: Texas.  Perhaps being a Texan makes that a given.  He even closed the show with "San Antonio Girl" and "That's Right (You're Not from Texas)."  Overall, this performance was enjoyed by all who attended, whether they were from Texas or not.
Energy: B
Musicianship: A
Sound: A
Stage Presence: B
Set/Light Show: C
Overall: B
Capturing life in various forms is what I do. I consider myself an archivist by nature. It is not a career choice that I consciously made, but it is something that has called me. I strive to freeze a moment in time with every frame, a moment that can retell its story with each viewing, forever. I also have a deep passion for music and have been photographing and recording live music for years. Capturing the energy and magic of a live performance in a photograph is one of my passions. In addition, I enjoy photographing in a wide variety of settings, from wildlife scenes to family portraits and everything in between. I am a lover of the earthscapes that we see all around us every day, both natural and manmade, and aim to make unique images that do justice to their beauty. Where others see darkness, I see streaks of light through long exposures. I shoot a very wide variety of subject matter including individual/family portraits, event coverage, landscapes, live concert/performance, HDR, product and commercial photography, architectural, weddings, food, and editorial photo journalism. With artistic expression, I aspire to create visual art that speaks volumes.