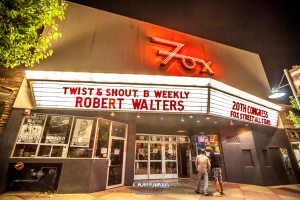 Photos by Jim Mimna
The Scene: With Pretty Lights at Red Rocks and The Arise Festival in Loveland, Boulder felt like a ghost town.   That didn't stop those in attendance at The Fox Theater from taking in a night of Soul, Funk, and Jazz from keyboard master Robert Walter and openers Fox Street Allstars.   While it was a bit of a disappointment to walk into an empty room, things did fill up a bit and it was nice to enjoy the impeccable sound at The Fox without being slammed in shoulder to shoulder with other sweaty music fans.
Opener: Fox Street Allstars. Let's be real.  Fox Street Allstars are one of, if not the, most soulful and hard rocking bands to come out of Denver in a very long time.   At their core they are a Rhythm and Blues juggernaut capable of bringing any room to its knees.   The addition of saxophonist Micro Altenbach has truly brought out that big band sound often channeling thoughts of a groups like The Blues Brothers or G.E. Smith and The Saturday Night Live Band.  "Been Tryin," a soulful track off the group's 2nd album Tough Talk, highlights the bands propensity for this big band soul sound.  Altenbach's solo took things to new heights while front man Jonathan "Skippy" Huvard's gritty vocals captured the pain of any man that's been trying way too hard to please a woman who just doesn't want to hear it.
Not to be pigeon-holed, the guys shed their R&B  coils and brought some serious Funk with "Somebody In This World for You."  While you wouldn't expect a full on four on the floor dance party from a band like this, drummer Eric "Pappy" Low and bassist Dave "Pump" Solzberg threw down what ended up being the groove of the night while keyboard player Blake Mobley (Tiger Party) showed why the band recruited him for the weekend.  As anyone familiar with the band would know, you can't have a Fox Street show without some serious guitar fireworks from slide guitar wizard James Dumm and tonight was no different.   Arguably the best slide guitar player this side of the Mississippi not named Derek Trucks, Dumm's ability to move from oozing Funk to ripping peaks was on full display as the band closed with a rowdy version of "Ride With Your Baby."     Fox Street showed why they are one of the best local bands in Colorado and set the stage perfectly for what was to come.
Robert Walter's 20th Congress: What it lacked in size, the eager crowd at the Fox surely made up for in anticipation for one of the premier keyboard players in the Jazz/Funk/Jam scene.   There are very few who rock the B3 Hammond like Walter does and right out of the gate he showed why he is among the best.    Within the first few ass shaking minutes I realized, to my surprise,  the quartet did not feature a bass player.   It is amazing to think that a band as funky as these guys do it most of the time  (their guitar player picked up the 4 string on a few tunes) by relying on the left hand of Mr. Walter.   Aside from the lack of a bass player, what immediately jumped out at me was how tight this band sounded.        Whether they are bringing that upbeat, old school Funk or dropping into some surf style grooves on "Trash Truck," the band flowed seamlessly from locked in compositions to free flowing Jazz improv without the pitfalls that can come with that type of genre hoping.    Even more impressive was the band's ability to stay locked in with each other while at the same time stretching things out and giving the Jazz loving crowd what it came for.  To this point, and  I am not going to lie,  I am easily lost when it comes to potential Jazz odysseys but The 20th Congress held my interest with the perfect mix of groove laden Soul and booty shaking Funk to go along with what would have satisfied even the most jaded Jazz aficionado.
The entire night had a laid back vibe that is tough to come by these days and was a perfect fit for a band like this.  What started as a night with a disappointing feel due to the poor turn-out ended up turning into one of the more fun shows I have seen in a while.    Maybe Boulder needs to turn into a ghost town more often.
Energy: B+
Musicianship: A
Sound: A-
Stage Presence: B
Set/Lightshow: C
Overall B+
Gary is a lifelong music fan raised in Chicago. He is the "G" of J2G Live, a Denver based music production company that brings you "Dance Party Time Machine," "Revenge of the 90's" among other great events.