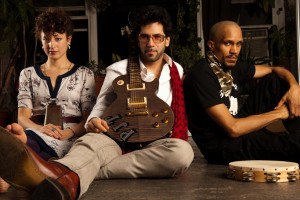 Why You Should Go: If you have yet to encounter the Brooklyn-based band, The Pimps of Joytime, prepare to take a funky ride! The PJT's live events and recordings have captivated fans all across the country as they have begun writing their own success story, show-by-show, and track-by-track.  Bandleader Brian J is a charismatic and soulful visionary, whose well-crafted songs invite the listener to enter a world of infectious dance grooves and indelible melodies.  In 2005, Brian began to assemble a group of righteously soulful vocalists and musicians to assist in bringing to life the musical concept that would become The Pimps of Joytime. The band's diverse sound and spirited attitude is strongly influenced by the Brooklyn DJ culture and live music scene from which they emerge. Recent collaborations with legendary artists Cyril and Art Neville of the Neville Brothers and Roy Ayers have helped vitalize the band's connection to its roots.  Don't miss these high octane, higly danceable shows!
Venue:  Cervantes' Other Side, 2635 Welton Street, Denver, CO 80205 – 303/297-1772
Doors: 8:00 pm. Show starts at 9:00 pm.
*Price: $12.00 Adv. $15.00 DoS.
Buy Tickets
*All prices are gathered from other sources and we are not responsible for mistakes or inconsistencies. They are intended only as guidelines. Please, always call the venue if you desire the most accurate information possible.