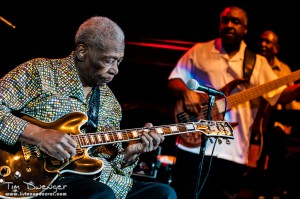 Photos by Tim Dwenger
The Scene: Last week Peter Frampton's Guitar Circus rolled into Red Rocks and it brought with it an eager crowd of Baby Boomers who were on the edges of their seats in anticipation of some serious guitar heroics.  While there were some fireworks from opener Sonny Landreth and headliner Peter Frampton, the man many had come to see was a bit of a let down and the crowd was painfully aware of it.
B.B. King: At 87 years old, B.B. King is the true elder statesman of Blues guitar.  He is a legend, pure and simple, but sadly his performance last week proved that may be all he is these days.  King was on stage for about 45 minutes and I think he played four, or maybe five, songs.  Sure, when he played it was brilliant.  His signature tone was there and his fingers danced on the fretboard like a man half his age, but he didn't play enough.  Frankly, aside from the signature riffs to the few songs he did play, he hardly played at all.  He spent a large part of his time on stage talking to an increasingly uneasy audience who obviously had come to a "guitar circus" to hear him play his guitar!   The crowd around me started out mumbling to their friends things like: "Is he going to play anything" and "let's get this show on the road" but it wasn't long before a couple people shouted out "Stop talking and play!"
Last year when King stopped into Red Rocks to open for Tedeschi-Trucks Band he did the same thing, and sadly played almost the exact same set, so it was tough for me to hear the same jokes and when the "kiss cam" went around the audience during "You Are My Sunshine" I threw my hands up in despair.  It's a tired shtick that should be reserved for Hockey games.  Last year I bought into King's act because it was new to me, but if it's really all he is doing when he plays shows, it's tough to support.
I will admit that King almost redeemed himself when he invited Frampton out to play with him during "The Thrill Is Gone."  In fact, he had the lighting director turn the two follow spots on Frampton and allowed him to play most of the song.  Sure there were moments when Frampton sat there awkwardly as King rambled on, but when it was all said and done it was great to hear the two men play a few licks together.
While personally I'm not sure I'll waste my time seeing B.B. King again, if you haven't see him I still recommend going.  The man is a legend and seeing him up on-stage playing those licks is a bucket list kind of thing.  Don't miss your chance . . . he's 87 years old and even he tells the audience every night that he "might not be back."
Energy: B-
Musicianship: A-
Sound: A
Stage Presence: A
Set/Lightshow: B-
Overall: B
Music has always been a part of my life. It probably all started listening to old Grateful Dead, Peter Paul & Mary, and Simon & Garfunkel records that my parents had, but it wasn't long before they were taking me to concerts like Starship, Crosby, Stills & Nash, and Huey Lewis & The News. I got the bug to write about music after reviewing an Eric Clapton concert for a creative writing project in high school but didn't really take it up seriously until 2002. Since then I have published countless articles in The Marquee Magazine and done some work for Jambase.com, SPIN Magazine, and various other outlets. I started Listen Up Denver! as a way to share the music information that is constantly spilling out of my head with people who care. Please enjoy!