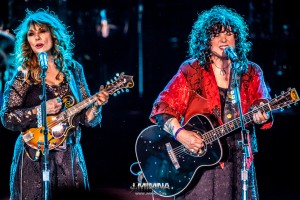 Photos by Jim Mimna
The Scene: Fiddler's Green is what most folks around the US would expect from their local amphitheater, a segregated sea of seats and concrete.  Unfortunately, in the Colorado music scene we have way too many gorgeous venues to be satisfied by this setting.  Albeit the largest capacity venue in the Denver metro area, the setting for me was cold and far away.  I found myself watching a screen for the majority of the show, something I would rather do at home where the beer is affordable and there is no line for the restrooms.   But despite the lackluster setting, the audience was in good spirits and excited to see their favorite rock star sisters lay it down.  The audience was an even mix of 30-somethings and up and the common thread was the concert T-shirts of tours past.
Jason Bonham's Led Zeppelin Experience:  By all rights, Jason Bonham is a great drummer, but this set was more about his father's accomplishments than his.  Starting the set with "Oceans," they rolled into a drum heavy "When the Levee Breaks" in homage to his dad.  As the set unfolded, I found his repeated insistence of audience participation a little contrived.  I, for one, do not give accolades to those who have not earned them just because they told me to and he had not proven anything to me yet.  As most top tier cover bands do, they covered a wide swath of Led Zeppelin's catalog focusing on songs that showcased Jason's fathers iconic drumming.  I found their energy to be high, keeping the audience on their feet dancing.  All in all, their set was on point, hard rocking and a worthy tribute to Mr. Robert Plant, who celebrated his 65th birthday this day.
Heart: "Barracuda" opened Heart's set with fire and brimstone and gave Ann a chance to impress the whole place with her strong vocals right out of the gates.  It was impressive to hear her belt out tunes with all the range she has ever had throughout the night.  The 70 minute set was packed full of hits like "Magic Man," "Little Queen," "Mistral Wind," and "Alone."  Nancy not only wielded her axe in classic fashion, she also provided solid backing vocals on most songs.  Her stage presence was huge as she threw high kicks and practiced guitar gymnastics all over the stage, a feat for any musician her age.  The set was well played and they impressed me with how good they sounded after all these years.
The encore played out like a set of its own; its solitary goal was to "Get the Led Out."  The Wilson sisters started it off  with Nancy and Ann out front on mandolin and guitar, respectively.  They played a rendition of "The Battle of Evermore," a song that they have made their own over their career.   Heart has always incorporated a fair amount of Led Zeppelin into their repertoire and really went all in on this finale asking Jason Bonham to join them as they paid tribute to their heroes.  The remainder of the set was electric and loud.  They finished the finale with a great cover of "Kashmir" followed by a show closing "Stairway to Heaven" which even included a full chorus on the backing vocals, a fitting arrangement to such an iconic song.  All in all, this was a rousing concert full of hit songs from days gone by.
Energy: A-
Musicianship: A-
Sound: A
Stage Presence: B
Set/Light Show: A
Overall: A-
Capturing life in various forms is what I do. I consider myself an archivist by nature. It is not a career choice that I consciously made, but it is something that has called me. I strive to freeze a moment in time with every frame, a moment that can retell its story with each viewing, forever. I also have a deep passion for music and have been photographing and recording live music for years. Capturing the energy and magic of a live performance in a photograph is one of my passions. In addition, I enjoy photographing in a wide variety of settings, from wildlife scenes to family portraits and everything in between. I am a lover of the earthscapes that we see all around us every day, both natural and manmade, and aim to make unique images that do justice to their beauty. Where others see darkness, I see streaks of light through long exposures. I shoot a very wide variety of subject matter including individual/family portraits, event coverage, landscapes, live concert/performance, HDR, product and commercial photography, architectural, weddings, food, and editorial photo journalism. With artistic expression, I aspire to create visual art that speaks volumes.