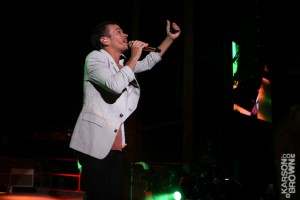 Photos by Karson Brown
The Scene: A very soggy but ecstatic crowd packed the drenched benches at Red Rocks Amphitheater last Thursday night. The energy was seething from the thousands of teenage girls anxious to see the rather charming and animated group that is fun. Peppered throughout the majestic outdoor theater was a smaller and, at times, more enthusiastic group of 30 to 40 something's be-bopping and dancing around like young adolescent followers.
Opener: Tegan and Sara. At first glance you think, "isn't that cute, young, beautiful, petite, identical twins in a band" – but they aren't cute at all. Tegan and Sara are hard-hitting musical veterans who have been writing and performing for over 15 years with seven studio albums to their name. Touring with the likes of Neil Young, The Black Keys and Death Cab For Cutie – to name a few – they have gained a following that spans genres, age and gender. I was stunned by the scope of musical ability and depth the Canadian duo had. Sure I had heard their song "Closer" (from their 2013 Heartthrob album) here and there and thought it had a memorable hook and unique sounding synths – but discovered that there is so much more to this Indie Pop/Rock duo. Tegan and Sara experiment with the sounds of the acoustic guitar, piano, xylophone, keyboard and synthesizers and put it all together in a way that is distinctive yet relatable from the passion and intensity of the lyrics.
Tegan and Sara performed crowd favorites "Back In Your Head," "Living Room" and "Alligator," all from pervious albums that highlighted their variety coupled with the electronic feel and crispness of their perfectly harmonious voices. The duo also showcased powerful songs from their Heartthrob album, including "Goodbye, Goodbye" and "I Was A Fool." The sisters were gracious and captivated by the grand scale of the amphitheater commenting that the audience was on a stage of our own, that although we were watching them perform they were also watching each of us enjoying the show in the rain.
fun.: Surprising the completely soaked Red Rocks crowd, suddenly appearing all in three-piece suites, under a single spotlight and with severe expressions – fun. looked like old crooners from the rat pack era. They belted out a tame "Some Nights (intro)" while the crowd nearly lost their minds – hoping for more. Then, with a quick flick of the lights, the group appeared again on a colorful vibrant, multi-tiered stage in their expected attire: Nate Ruess in a sports jacket and later bare feet; Jack Antonoff in a crazy get up including black leggings under shorts and Andrew Dost looking dapper and unassuming in all black. The night had begun and neither the rain nor the crowd were letting up.
In the midst of their Most Nights Summer Tour, fun.'s performance was a perfectly balanced compilation of new crowd pleasers and old underground favorites. The show featured songs "We Are Young" and "Carry On" from their latest, and very popular, album Some Nights. Other songs from their first studio album Aim and Ignite released in 2009 included "Walking the Dog," "All the Pretty Girls" and the dreamy tune "The Gambler." The fans in the amphitheater were effervescent and chanting the lyrics to all of the songs which Ruess encouraged and at times demanded.
The final song in the set was one that I'd never guess could be covered by the lovable pop group; the 80's classic hit from the great and powerful Bruce Springsteen, "Born to Run." Looking around I could tell that the "youngsters" had no clue what song fun. was singing. This was highlighted by the fact that one young girl next to me was talking to her friend wondering if it was a new song and why she hadn't heard it. For the rest of us, it was a thrilling surprise and it really seemed to fit perfectly in their Pop/Rock big anthem style. With Nate Harold on saxophone the teens were excited to see a new side of this band. Although Harold was no Clarence Clemons, they stayed true to the song which seemed to gain them a little respect for the older fans.
For their encore the barefooted front man Nate Ruess connect to the fans with a sincerity that was quite endearing. In the middle of the sparkling sounding song "Stars," he told stories of their earlier days and how, on their first tour, our very own capital city was the first place they had performed on road. Ruess was also sentimental about playing at Red Rocks and how it was culmination of their work this far and that he could "die happy."
Energy: A
Musicianship: A-
Sound: A
Stage Presence: A+
Set/Light Show: A
Overall: A
Karson Brown is Colorado native, local concert photographer and travel photographer. An Art Institute of Colorado gradate, she has a strong background in photography and design. With a passion for nearly all genres of music, Karson has the vision and love for performances which is infused in her written word and photographs. Karson's connection and roots in Colorado keep her grounded and involved in local events and concerts.