Below is a feature that I published in The Marquee Magazine last year.  Sharon Jones & The Dap-Kings are returning to Denver tomorrow to open the annual summer concert season at The Botanic Gardens.  It should be great fun to catch this funky band in such a unique venue so read a little about how they got to where they are today, and then go check out the show under the stars and among the flowers.  You'll be glad you did.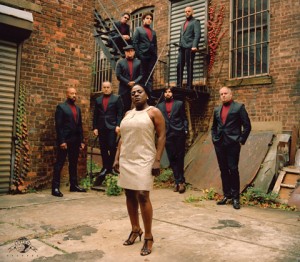 The 60's was a magical time for music in this country.  It was the decade that saw The Beach Boys mesh 50's harmonies with Rock-N-Roll, the Stones and The Beatles lead The British Invasion onto our shores, and The Grateful Dead and Jefferson Airplane bring the Psychedelic San Francisco scene to an entire country of hungry young people desperate to rebel against authority.  All the while, Soul music was enjoying its heyday and there were two record labels, Stax and Motown, pumping out hit after hit by the likes of Otis Redding, Marvin Gaye, Booker T. & the MG's, and Stevie Wonder.  Though both studios folded in the early 70's, their legacy lives on.
Today, musician, producer and label owner Gabriel Roth is carving out a career molded in the spirit of those classic labels and carrying the torch for Soul, Funk and R&B musicians of the future to follow.  Roth ran his first record label, Desco Records, with partner Philip Lehmann for several years.  "It was an independent label where we made our own records and we put we put out 45's and there was a lot of vinyl around," Roth said in a recent interview with us from his home in Los Angeles.
In the early days of Desco, Roth and Lehmann found that music lovers who were into Soul, Funk and R&B weren't interested in buying new records by current bands instead preferring to dig up old releases.  In an effort to get this music they loved out there to people who would no-doubt appreciate it, the brains of Desco hatched a plan to get these "purists" to buy their records.  "Early on we did a record and released it as a reissue of the soundtrack to this Kung-Fu movie we had made up called The Revenge Of Mr. Mopoji. That record sold great, it sold thousands and thousands of copies.  When people asked questions about that record, we just wouldn't really answer them and then people would start to bullshit us, they would tell us 'oh, I got the original,' and a few people even told me thing like 'oh, my cousin has the videotape,' and I was like 'great, I'd love to see it.'  Anyway, we were so surprised at how many we were able to sell that we kept the same band name, The Soul Providers, put out another record, took it back to the same people who bought the first one and said 'guess what, we are a legitimate, modern band.'   I think it was a much better record but it only sold maybe two or three hundred.  We couldn't sell them, nobody was interested."
Despite facing that kind of resistance Desco pushed forward and slowly built up a stable of artists who were beginning to attract attention in the New York scene and beyond.  As things began to pick-up speed, Desco disintegrated and Roth moved on to form Daptone Records with Saxophone player Neal Sugarman.  Together the pair formed a "house band" in the tradition of Motown and Stax made up members of The Soul Providers and anther Desco band The Mighty Imperials.  With Sugarman on Tenor Sax and Roth holding down the low end on the Bass and serving as band leader, The Dap-Kings were born.
Though The Dap-Kings have backed up numerous other musicians the most notable combination features "Soul Sister Number One" Sharon Jones as the bands lead singer and frontwoman.  Jones is a commanding performer who honed her skills singing in church and, for years, with a wedding band.  Her first real break in the music business didn't come until she was 40 years old and got the opportunity to sing background vocals on a Lee Fields record that Roth was recording while with Desco.  "Our Saxophone player at the time said 'oh my girlfriend can come in and sing the background parts.'" Roth said.  "We thought she was going to bring a couple girls with her, but Sharon came in by herself and did all the harmonies.  She sounded great."
It was at that moment that Roth realized a very special talent had wandered into his studio and decided to give her a try on another track they were working on.  "There was this track called 'Switchblade' and we wanted her to do the backgrounds on it and our idea for the lead was to have this other guy, Rhett Clarke, do this whole funny rap he had been working on about how he got out of jail and he had this switchblade.  I guess he wasn't there yet or something and we told her about it, and when we went to record her backgrounds she just started vamping and she was so funny she cracked us up.  So we set up a tape machine and she did a whole rap right off the cuff and we ended up using hers.  So the first thing I ever recorded with her leading wasn't even her singing, she was just talking shit."
Since that day, Roth and Jones have had their wagons hitched to the same star, and while The Dap-Kings are a top notch ensemble of some of the best Soul and R&B musicians in the business, Roth was adamant about the fact that Sharon Jones and The Dap-Kings are playing to packed houses across the country is because Jones is out front doing her thing.  "She sang in church and she sang in a wedding band.  If you think about those two things it is pretty revealing.  There is nobody that has the kind of energy and the ability to connect with people in a live venue the way that she does," he said.  "In a wedding band your job is to get up there and make everyone have a good time, from the old folks to the little kids.  There is a certain humanity in that; an almost proletariat commonness.  You've got to get down on the floor and do the Chicken Dance with some old lady and it's that kind of a attitude that is a really big part of our performances, we like to make the audience a part of the show.  Anybody that has really toured with us before, even in the crew, could tell you that the crazy shows we do, where everyone is sweating and crying and dancing and puking and making babies, those are the shows where the audience gets really into it and gets heated up.  That's when Sharon will go nuts and the band gets heated up cause everyone is feeding off each other.  Her ability to create that type of situation and to engage everybody in the room is amazing.  It becomes about the whole room celebrating and feeding on this sense of ecstasy.  That's wedding band stuff but that's also church stuff."
While their live shows are the stuff of legend, Jones has put out four albums with The Dap-Kings that are equally impressive.  The most recent, I Learned The Hard Way, was released in April of this year and was produced by Roth under his pseudonym Bosco Mann.  Recorded in Daptone's own, all analog, studio in Brooklyn, Roth's style aims to capture the essence of the bands live sound while keeping everything as tight as possible.  "Making a record is about the musicians.  The equipment is a lot less important than the people who sell it make it out to be.  It's the performance, and you get a different performance from people when they are in a live situation and feel like they are doing something permanent," explained Roth.  "If somebody goes to play something and they know that their part is isolated, controllable, can be retuned and moved into rhythm, and they can do eight different passes at the solo and the best notes will be put together, they don't play the same way as they do when they get onstage in front of a few thousand people.  When we use an 8 track tape machine and record something and somebody says 'ok, I think I'd like to try and do that solo again,' you can do that but you are going to permanently record over what's there. It's that idea of permanence, that kind of liveness, that forces musicians to be better and producers to be better and engineers and arrangers all to be better."
Clearly this is a process and a mindset that is working for Daptone Records and for Sharon Jones and The Dap-Kings.  They are a current band that is successfully harnessing an old school work ethic and old school techniques to make their music sound the best that it can.  It's been an uphill climb but at this point it's safe to say that Roth, Jones and Sugarman have succeeded in their efforts to bring the essence of 60's R&B, Soul and Funk music back to the fans in a truly pure form.

Music has always been a part of my life. It probably all started listening to old Grateful Dead, Peter Paul & Mary, and Simon & Garfunkel records that my parents had, but it wasn't long before they were taking me to concerts like Starship, Crosby, Stills & Nash, and Huey Lewis & The News. I got the bug to write about music after reviewing an Eric Clapton concert for a creative writing project in high school but didn't really take it up seriously until 2002. Since then I have published countless articles in The Marquee Magazine and done some work for Jambase.com, SPIN Magazine, and various other outlets. I started Listen Up Denver! as a way to share the music information that is constantly spilling out of my head with people who care. Please enjoy!