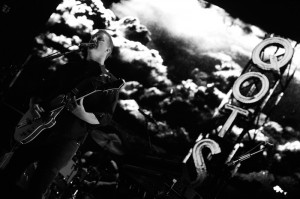 Photos by Mitch Kline
Queens of the Stone Age had already sealed "Album of the Year" for me, with their latest release …Like Clockwork. September 15th at Red Rocks, they also secured Concert of the Year honors in my book. Bold statement, I know, but very few bands can take an audience on a ride like Queens of the Stone Age does. From the slugdy, Kyuss-inspired "Keep Your Eyes Peeled" opener to the late set "Sick, Sick, Sick," this band covers every possible genre influence imaginable while also avoiding direct comparisons.
Touring behind their latest release, the band leaned heavily on …Like Clockwork for this set but they dug into nearly all of their albums during including multiple songs from Rated R, like "Feelgood Hit of the Summer," an obvious nod to the legalization of Marijuana in Colorado. What makes a show like this "Concert of the Year" for me is that they can sandwich a three song run of incredibly mellow songs, like "Long Slow Goodbye," "The Vampyre of Time and Memory" and "In the Fade" between riff-heavy rockers like "If I Had a Tail," keeping the audience completely engaged throughout. Sludge, love songs, jamming, groovy metal riffs, and soul, Queens of the Stone Age delivered that and more on a perfect night at Red Rocks.
Setlist: Keep Your Eyes Peeled, You Think I Ain't Worth a Dollar, but I Feel Like a Millionaire, No One Knows, My God Is the Sun, Monsters in the Parasol, Burn the Witch, Long Slow Goodbye, In the Fade, The Vampyre of Time and Memory, Kalopsia, If I Had a Tail, Little Sister, Better Living Through Chemistry, Make It Wit Chu, Sick, Sick, Sick, Smooth Sailing, Go With the Flow
Encore: Feel Good Hit of the Summer, I Sat by the Ocean, A Song for the Dead