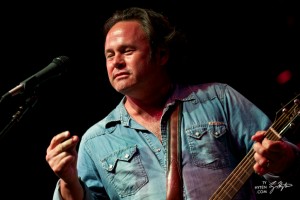 Photos by Ty Hyten
The Scene: The Denver Botanic Gardens were blooming with concert goers who came to be serenaded by two very different singer-songwriters. The small spurt of rain, and the threat of more, didn't keep middle-aged couples and sprouting families from spreading their blankets and uncorking their love of the simple songs. Both Shawn Colvin and Martin Sexton evoked emotion, inspired hand holding and had the audience in a sort of romantic state, but it was Sexton who sealed the deal.
Shawn Colvin: Shawn Colvin has been on the Folk scene since the 1980's and she has impacted listeners of all ages. Her debut album Steady On won the Grammy for Best Contemporary Folk album in 1989 and she has been accumulating acclaim since. The crowd seemed to connect to the songs in a nostalgic way but didn't seem sucked into the performance. Colvin, who gave detailed commentary to her songs, like the hit "Sonny Came Home," played material that spanned her near quarter century career but, sadly, she just didn't seem to have much energy. I spotted a few die hard Colvin fans who glared at those chatting during the performance, but overall, the audience seemed uninterested. No matter how many awards someone has won for their studio albums, or how meaningful the songs are to people, it takes work to capture an audience with a lone voice and a guitar. Unfortunately for Colvin she took the stage before a performer who can cast a spell on an audience with his smile before even playing a note and when Martin Sexton came on stage, he did just that.
Martin Sexton: Martin Sexton is robust. His build, his voice, his guitar playing, his personality, his charm…all have a charismatic fullness to them. He mesmerizes the crowd and reaches right into their chests with his emotional performance and witty demeanor, and he seems to do it every time. I would go as far as calling the man a national treasure and he shined as dusk began to envelop us.
The emotional journey began with "Freedom of the Road" and the once chatty audience was silenced except for the sporadic shouts of near pentecostal fervor from a few women connecting to Sexton on a deeper level. Sexton has masterful control of his voice and instrument, yet his music has an extremely organic feel. At one point during the song Sexton leaned back and belted, his mouth nearly two feet from the microphone, but the message came through loud and clear. This is no ordinary man and this was no ordinary performance.
Sexton eventually scatted his way into "Digging You" before laying into an awe inspiring "Taking My Chances." The sound in the Denver Botanic Gardens was impeccable. I would go so far as to say it was better than the last time I heard him at the Ogden, and the clarity from the speakers amplified the precision with which Sexton was performing. I felt like I was truly "Living the Life" when Sexrton broke into one of my favorite songs, Billy Preston's "Will It Go Round In Circles," but it was Sexton's beatboxing skills that made me realize that this main epitomizes the term entertainer. Sexton's captivating style has kept him in the forefront of Folk and his live performances are full of an energy his studio albums could never capture. It was a truly powerful presentation.
Energy: A
Musicianship: A+
Sound: A+
Stage Presence: A
Set/Light Show: A
Overall: A
Music has always been a part of my life. It probably all started listening to old Grateful Dead, Peter Paul & Mary, and Simon & Garfunkel records that my parents had, but it wasn't long before they were taking me to concerts like Starship, Crosby, Stills & Nash, and Huey Lewis & The News. I got the bug to write about music after reviewing an Eric Clapton concert for a creative writing project in high school but didn't really take it up seriously until 2002. Since then I have published countless articles in The Marquee Magazine and done some work for Jambase.com, SPIN Magazine, and various other outlets. I started Listen Up Denver! as a way to share the music information that is constantly spilling out of my head with people who care. Please enjoy!